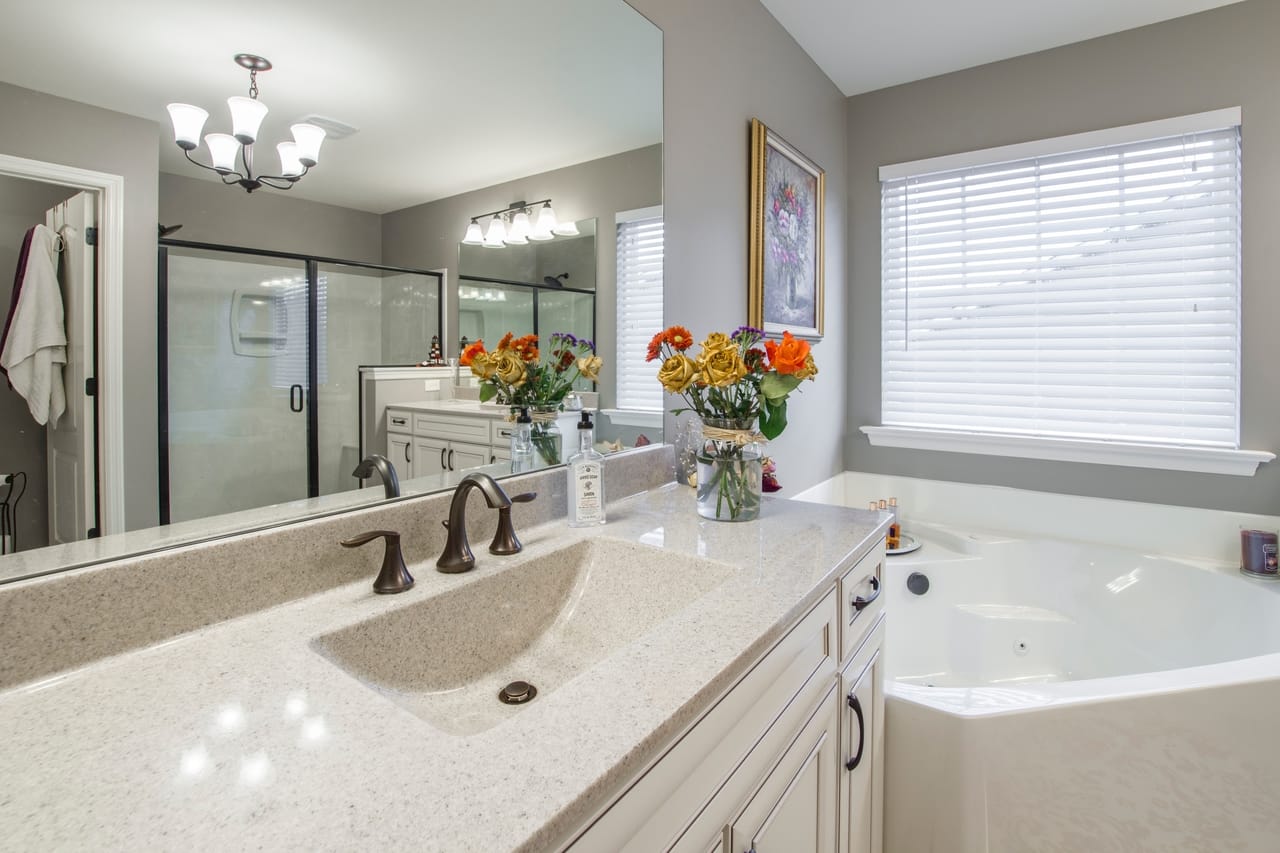 You use your bathroom every day. After a while, it can start to feel a little blah. Fortunately, with a little inspiration and foresight, you can remodel your bathroom into a space you can enjoy. Check out these six remodeling tips to update your bathroom.
FRESHEN UP THE PAINT
A little bit of paint can go a long way, especially in a small space like the bathroom. Don't choose an overly saturated color, as this can be overwhelming and make the bathroom feel cramped. Instead, choose a soft, neutral color to give your bathroom the feeling of a relaxing spa. Grey, taupe, and cream are easy go-to colors that can be dressed up with fun accent colors throughout the bathroom. Pale blues and greens give your bathroom an earthy, organic feel. For a classic look, choose a clean white, anchored with black accents or tilework.
MAXIMIZE YOUR MIRROR
The mirror is a fun way to add personality to your bathroom. Instead of choosing a standard, beveled-edge mirror, choose one with an interesting frame or design a custom mirror at your local frame shop. The profile of your mirror's frame can add dimension and interest to your design. You can also play around with the shape of your mirror. While a portrait rectangle seems to be the norm in basic home design, try switching it up with a large circular mirror or even a landscape rectangle. If you really want to mix things up, try a grouping of mirrors to create a unique shape.
CHOOSE A STATEMENT PIECE
Whether it's the vanity, a light fixture, or even a textured accent wall, your bathroom needs a focal point. Search for a statement piece that works well with the rest of your home design. For example, if the signature look throughout your traditional colonial home is the use of ornate rugs, incorporate one in your bathroom design, too; if your mid-century bungalow features period-inspired pendant lights, hang one in the bathroom. Whatever element you choose will be the highlight of your bathroom, so choose something that reflects your personality and style.
INCREASE YOUR STORAGE
Have you ever heard someone complain about having too much storage? Of course not! You'll be using your bathroom every day, so it needs to be as functional as it is beautiful. Get creative with your bathroom storage. Maybe add a linen closet or some built-in shelves. Maybe you designate an entire wall to mirrored cabinets that function as both a vanity and storage. You'll never regret planning ahead for your storage needs.
SWITCH OUT THE FIXTURES
It's a small change, but switching out your bathroom fixtures can make a huge difference in the appearance of your bathroom. Faucets, drawer handles and pulls, and towel bars and racks don't necessarily have to match, but they should at least be cohesive. One of the top design trends at present is mixing metals within a space, so have fun and branch out with the finishes you use.
HIDE THE THRONE
It's probably the least pleasant area of the entire bathroom, so why have it out for all to see? As you're planning your remodel, work with your design-build contractor to develop a plan for concealing your toilet. Whether it's a separate area with its own door or simply an alcove tucked in the corner of the room, you'll be glad you kept this area separate from the rest of your beautiful bathroom.
Make your home a dream again with the help of Thomas Buckborough and Associates. Our team of design-build professionals has served the greater Boston area with excellence for more than 30 years. We're dedicated to making the remodeling process stress-free and successful. Book your appointment today to get started on your project.