Looking for the best deck materials for your patio? 
Installing a new deck on your home or refinishing an old deck is a great way to remodel your home. Not only can homeowners can expect a deck to help them increase their home's value and recoup nearly 70% of the cost to install a new deck, but they will also have a beautiful new space to enjoy for years to come!
Imagine it now, a spacious deck where you can place a reclining chair and put your feet up with a cup of coffee before work. Or a place to gather with friends and family and form new relationships. If this sounds good to you, it might be time to start thinking about what material is best for your deck. Let's dive into the best deck material options to consider in 2023.
Best Deck Material Options for Homeowners
Beyond just the wood or composite boards that make up the decking, there are other costs. But deck materials are by far the largest financial consideration.
These are the top decking materials used by homeowners:
IPE Hardwood Decking
Redwood
Cedar
Bamboo
Mahogany
Pressure-Treated Pine
Composite Decking
Aluminum Decking
Plastic or PVC Decking
Here's more info on each of these materials.
IPE Hardwood Decking
IPE hardwood decking is a great material choice for homeowners. It's extremely durable and can last on average for up to 40 years. The wood is imported from Brazil, making it a premium and expensive option but unique and durable.
IPE is also insect and rot-resistant, perfect for wet or humid climates.
Pros:
Long-lasting
Durable
Resistant to scratching
Beautiful dark color
Cons:
Very expensive
Difficult to repair
Cost: $20-$25 per sqft
Redwood Decking
Redwood trees can be hard to come by in some areas of the United States, but the West Coast is full of these trees. Redwood decking is a popular choice for homeowners because of its natural beauty and resistance to rot and decay.
Redwood decking is red and looks unique.
Pros:
Beautiful grain patterns
Widely available
Unique colors and features
Very Affordable
Cons:
Naturally fades
Prone to scratching
Cost: $4-$6 per sqft
Cedar Decking
Cedar is arguably one of the most popular decking materials because it's been widely used throughout history. Cedar offers a natural resistance to rot and termites, making it famous as a premium building material.
These decks can look great as natural wood color, but they quickly fade when exposed to sunlight.
Pros:
Long lifespan
Can be easily re-stained
Similar benefits to redwood
Cons:
Expensive material
Starts dark or red and fades to grey quickly
Cost: $17-$22 per sqft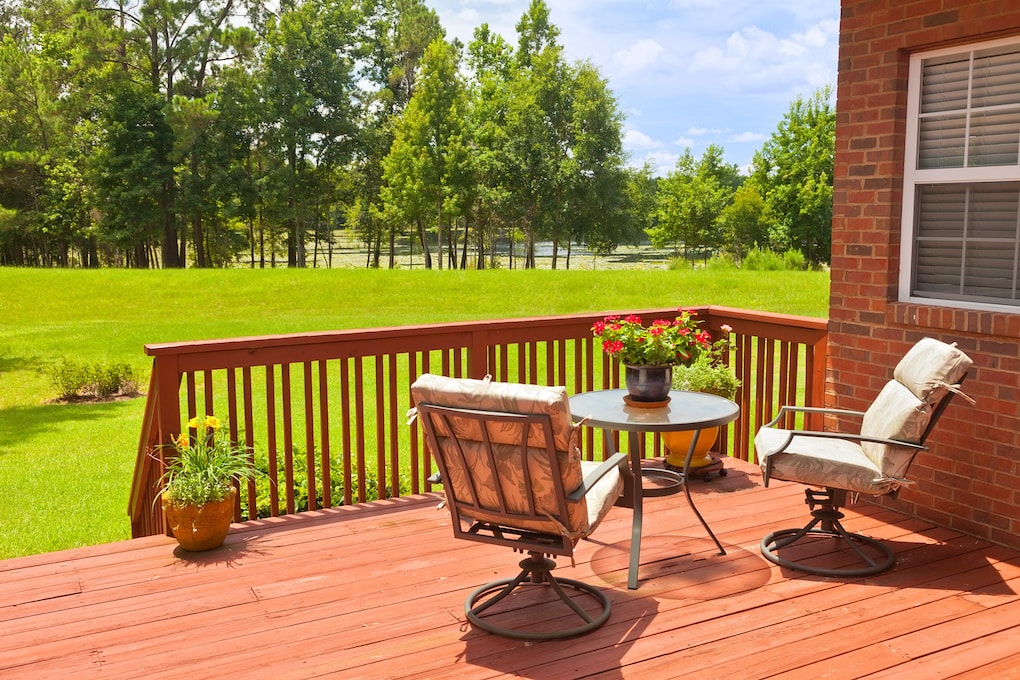 Bamboo Decking
Bamboo isn't wood, but the material does seem like wood after being manufactured. It shares many benefits of wood decking but is also very environmentally friendly.
Bamboo decking can be harder to find than traditional deck materials, but it's affordable. Because bamboo can grow back within 3-5 years, it's a very sustainable choice.
Pros:
Sustainable
Growing industry means better products all the time
Works well in damp and humid climates
Cons:
Durability isn't clear
Hard to find
Cost: $4-$6 per sqft
Mahogany Decking
Mahogany is another exotic decking material. This material is specifically hardwood and is very strong and durable. Mahogany decking is a great choice for homeowners in dry climates, but it can be hard to come by.
Pros:
Very strong
Beautiful wood grain and color
Dries quickly and doesn't warp
Cons:
Very expensive
Hard to find
Can be difficult to install
Cost: The cost can range dramatically but expect between $10-$30 per sqft.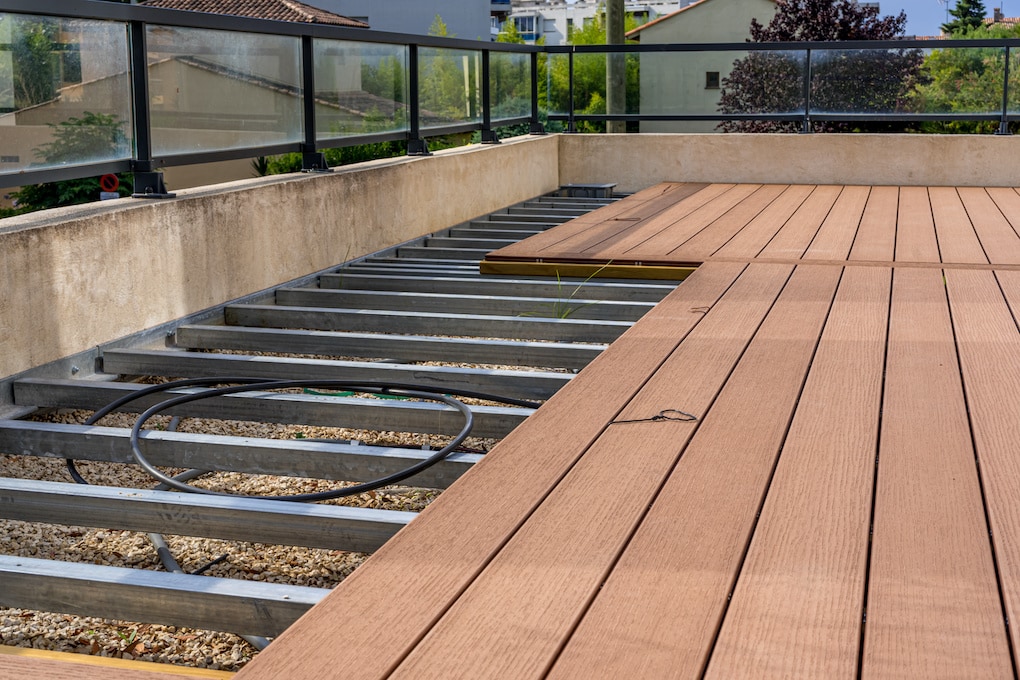 Pressure-Treated Pine Boards
Pressure-treated pine boards are some of the most common decking materials used throughout the country. Pressure-treated decking is affordable and durable. It's also resistant to rot, pests, and weathering.
The downside to this material is that it can be expensive and needs to be stained or painted regularly.
Pros:
Good lifespan of 15-20 years
Cost-effective
Takes stain well
Cons:
Can be expensive
Looks green until it's stained or painted
Cost: $10-$15 per sqft
Composite Decking
Composite decking has been slowly growing in popularity because it's a maintenance-free decking option that can last more than 25 years and still look almost new. Composite decking is made from a mix of wood fiber and plastic.
The downside to composite decking is that it's not as environmentally friendly as wood but can be made from recycled materials or recycled when removed from a home.
Pros:
Long-lasting
Cost-effective
Maintenance-free
Looks like real wood
Cons:
More expensive than some materials
Not always eco-friendly
Can't refinish or change the color
Cost: $8-$15 per sqft
Aluminum Decking
Aluminum decking is a slightly newer material that has been growing in popularity. This metal decking option doesn't warp, rot, or rust. It's also very lightweight, which can be good or bad depending on your deck location.
Of course, there are some downsides to choosing metal for your decking option, and heat is one of them. Aluminum reflects heat and can get really hot when in direct sun.
Pros:
Maintenance-free
Easy to clean
Long-lasting
Never rots or warps
Cons:
Can be dented or scratched
Reflects heat
Saltwater causes corrosion
Cost: $8-$30 per sqft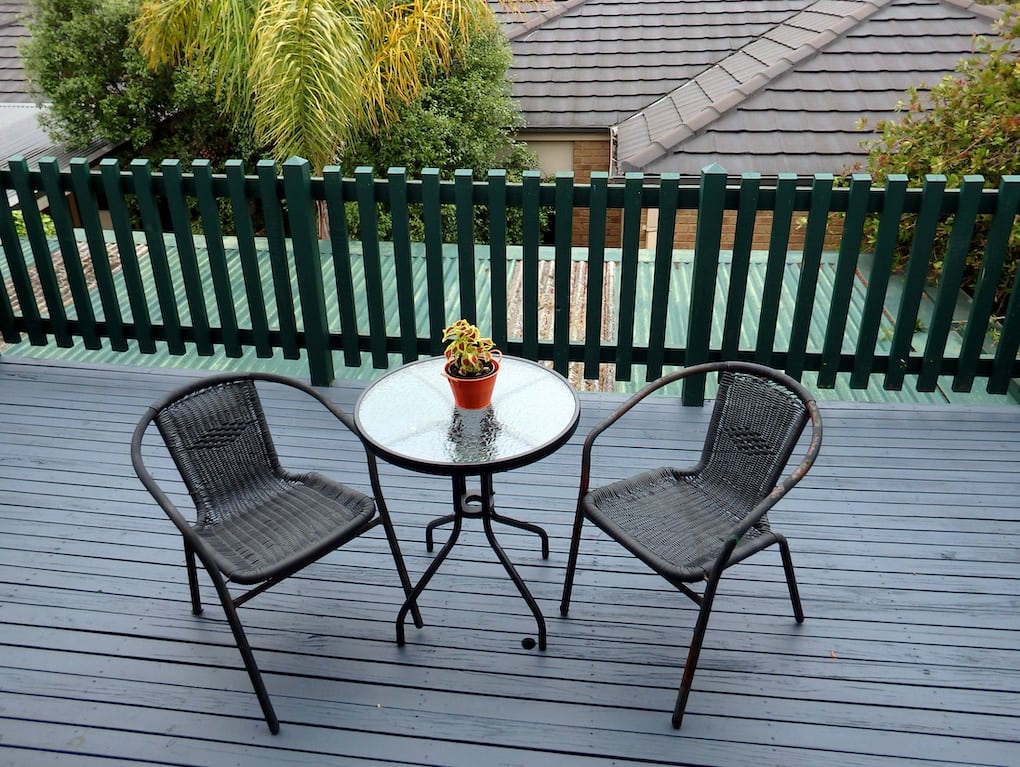 Plastic or PVC Decking
PVC, plastic, and vinyl are all alternatives to composite or aluminum. They come in many colors, styles, and price points. These materials can come in a variety of styles and sizes. But plastic and PVC can fade over time and crack or chip as they age.
Pros:
Eco-friendly
Smooth and splinter-free
Lightweight and strong
Cons:
Expensive
Fades over time
Prolonged sun exposure causes damage
Cost: $15 per sqft
When to Add a Deck to Your Home
Everyone wants to add a deck to their home, but it can be a costly project, and you'll want to time it just right. If you plan on living in your home for several more years, then you should choose a long-lasting material.
For homeowners who plan on moving within the next 2-3 years, a more affordable material might offer a better ROI. Regardless of which route you choose, the most important factor is ensuring your deck is built correctly! Homeowners can expect around a 70% return on most quality decks. The key word there is quality. Too many times have we heard about disappointed homeowners when they find their deck has issues, fails an inspection, or produces a low ROI. To avoid this, make sure you hire a quality contractor to get the job done right! This will ensure your investment is safe and you'll enjoy your new deck for years to come!
What Season Is Best for Installing a New Deck?
During the winter, you might start thinking about getting a deck installed as part of your home's outdoor space. While it might be tempting to head off to your nearest hardware store and get started, installing new decking in the winter isn't easy and likely isn't worth the challenge. Instead, call your contractor and start planning a spring or early summer installation. Not only will this be an easier job, but it will also keep the costs down since there won't be snow, ice, and frozen ground to dig the foundation into.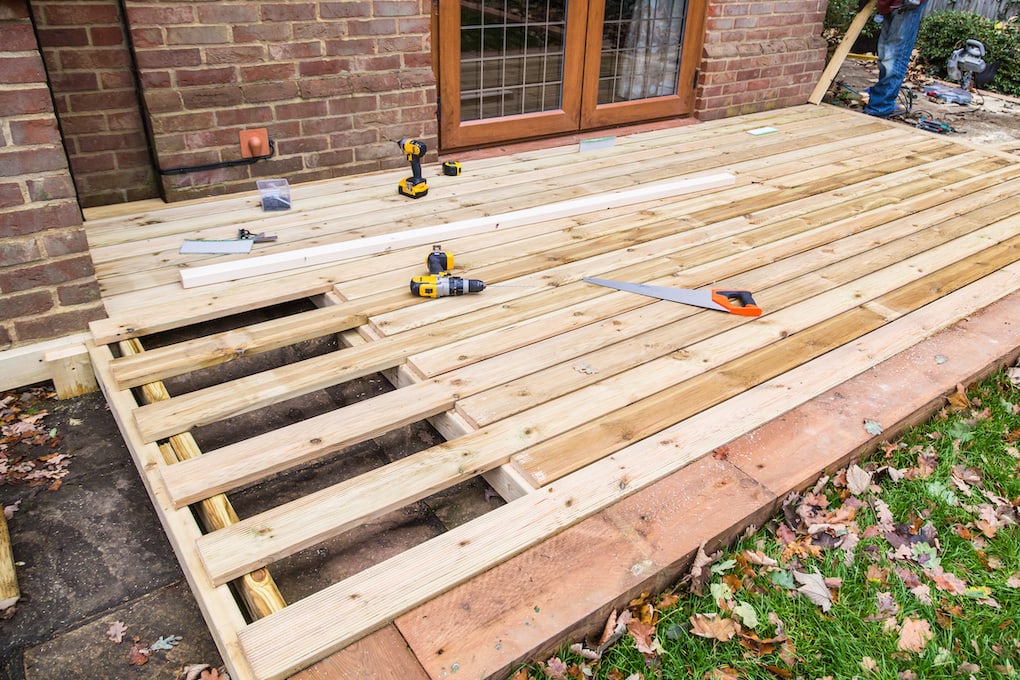 Patios vs. Decks: What's Right for Your Home
Many times, homeowners will choose between a concrete patio area or a deck. It's difficult because patios offer a lot that decks can't, but they also aren't quite the same.
Benefits of a Patio:
Patios are cheaper to install
Patios last longer
Patios are maintenance-free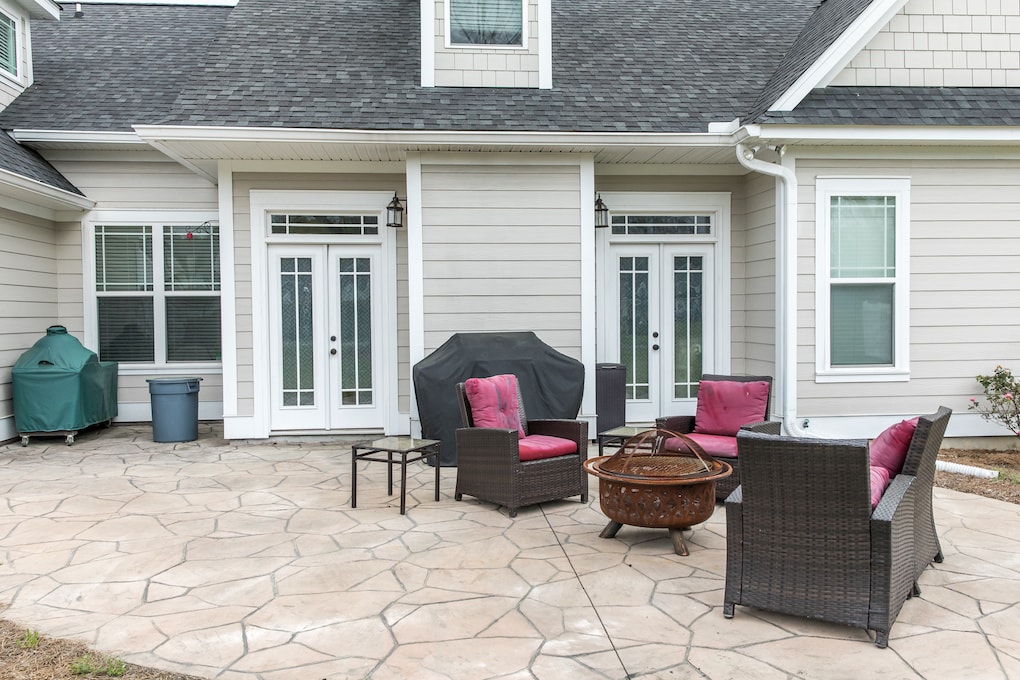 Benefits of a Deck:
Built above ground level for greater comfort
A great view of the yard and surrounding area
Decks can be built on uneven terrain
Decks absorb and retain less heat
Decks offer a higher resale value
When you're trying to choose between a patio and a deck, talk with a contractor who has experience with both. Our design team at TB&A would love to chat with you about your options and what might be right for you and your home.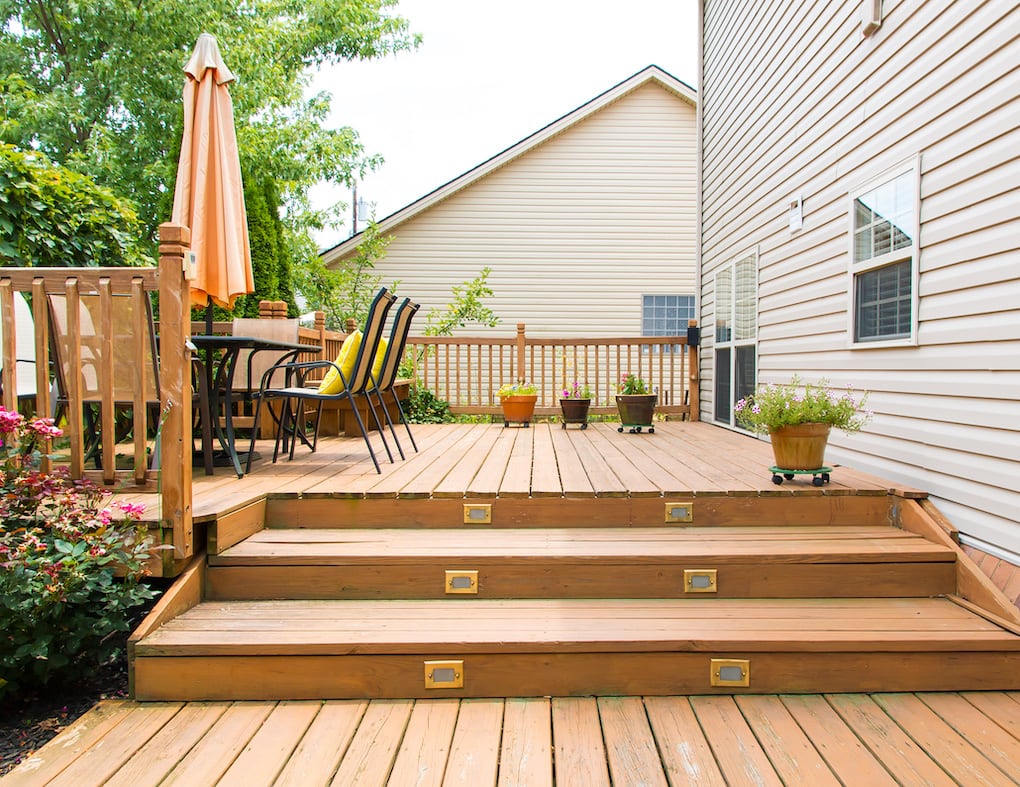 Add a Deck During Your Remodel
If you're remodeling, renovating, or adding on to your home, installing a deck simultaneously may be the perfect addition to your home. You could add a deck off your kitchen, master bedroom, dining, or family room.
When adding a deck during your remodel, you'll need to consider the decking material and deck installations extra cost.
Finding the Right Contractor
The TB&A team would love to help you add a deck or patio to your home. As an experienced design-build contractor with 30+ years in the industry, we've found many creative ways to incorporate outdoor spaces.
You shouldn't have to work with more than one contractor to add a deck and remodel your home. We'll help you take care of both projects in one easy timeline.
Contact our team today to start our design-build process and learn more about adding a deck to your home.