When the time comes to start designing a new kitchen, you'll need to be ready to make a lot of decisions.
Thomas Buckborough & Associates regularly works on kitchen designs and helps to create beautiful kitchens for homeowners.
Floor Plan Considerations
As you start thinking through the design and floor plan for your new kitchen remodel, there are several key features present in every kitchen, but also a number of different variables that you may or may not want in your kitchen.
Below are some of the features that we think everyone should consider before digging too far into their kitchen remodel or renovation.
Create a Smart & Convenient Floor Plan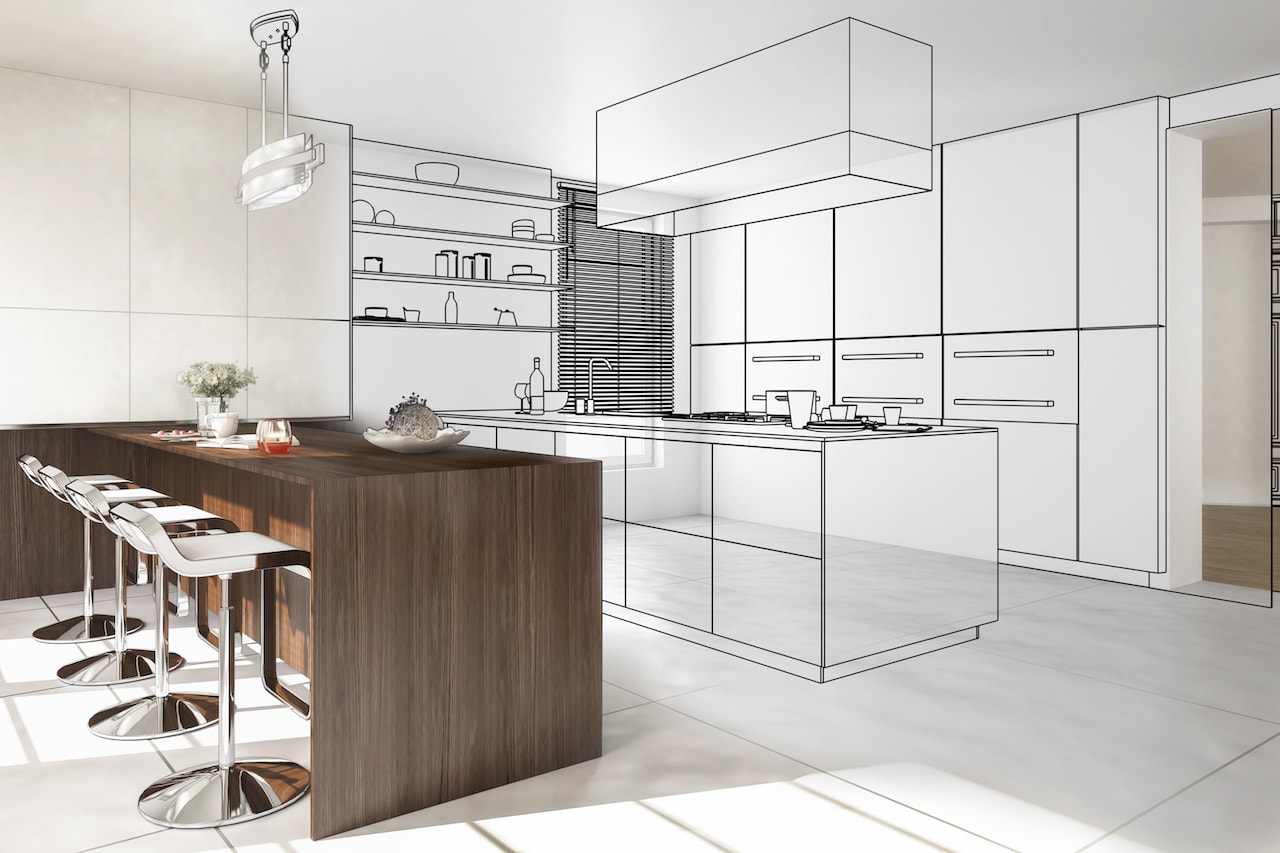 First up, you'll need to start addressing your floor plan. It's one of the most important parts of your kitchen. You'll want your garbage and recycling to be close by your sink as well as your stove, fridge, and oven to all be within a few steps. If you end up with some of your commonly used workspaces several feet from each other, you'll be spending a lot of time walking through your kitchen as you're preparing meals.
Create Wide Walkways
Kitchens are always very high traffic areas in your home, and they regularly face the problem of small walkways. When you're designing your kitchen, plan on having a lot of people present in it and even more that are going to be walking through it. Make the walkway as wide as possible without sacrificing square footage. This is especially true when you have an island in the center of your kitchen. Walkways should reach at least 36 inches and ideally closer to 42 or 48 inches if it's high traffic.
Smooth Traffic Flows
The walkways and space around your island, as well as any hallways or doorways in your kitchen, will determine the traffic flow in your kitchen. This isn't always something that you can affect, but be aware of it, especially when you're looking for places to put your appliances.
Watch Out For Corners
The corners in your kitchen are tricky areas to work with. There are quite a few ways that you can go about using these corners in a way that adds value to space vs. ways that take away from it. One such thing to consider is how you want the doors of both cabinets and appliances to open. If appliances or cabinets are placed in a corner, watch for how the doors open and how this can impact the function of your kitchen.
Ensure Appliances are at the Right Heights
When you're mounting things like microwaves, vents, and ovens in your kitchen, you'll need to ensure that they're at the proper height. If you fail to keep them at the right height, they can be difficult to reach and utilize, thus making them less than ideal appliances for your home.
Add All the Appliances You Want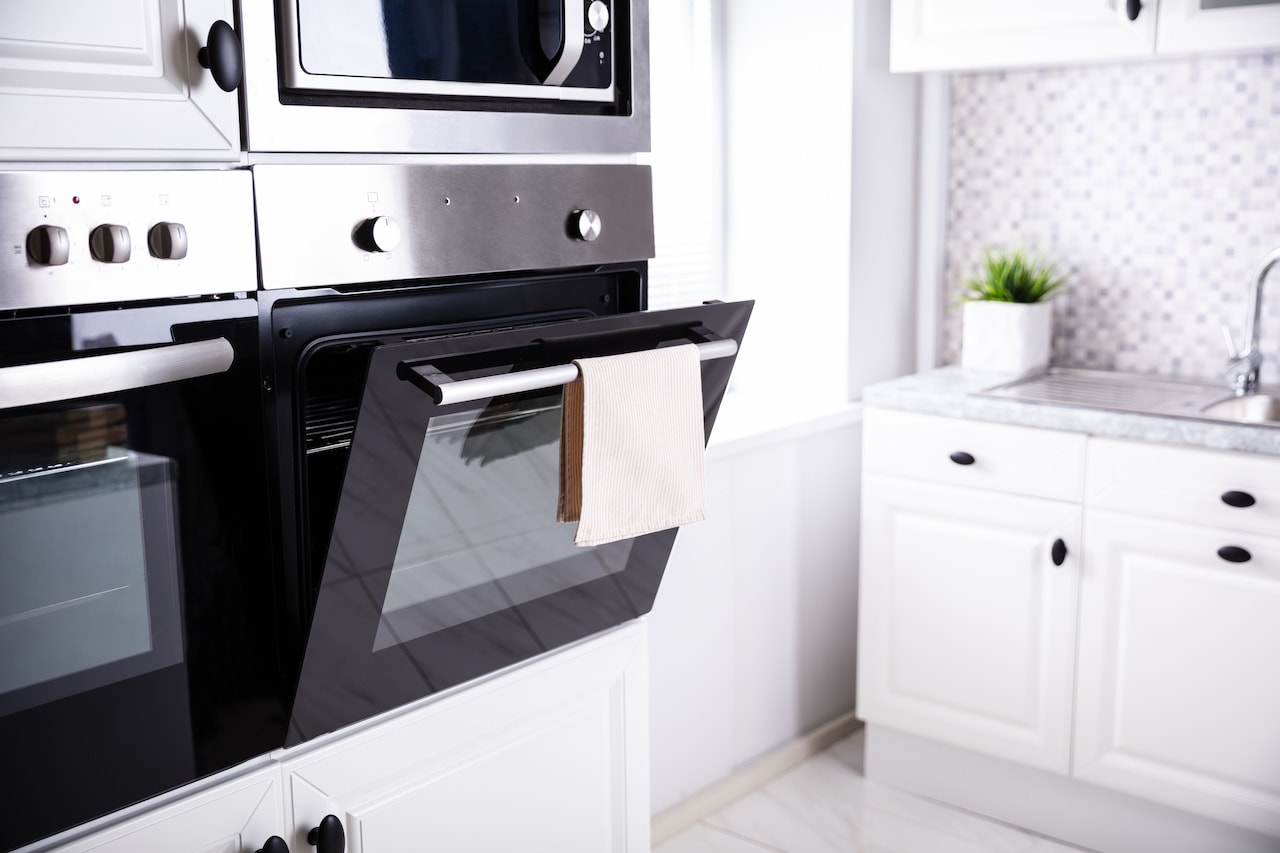 When you're doing a one-time kitchen makeover or remodel, think of all the different appliances that you might want in your kitchen. Do you want a double oven, walk-in style fridge, coffee bar? The chances are that this is going to be the only time that you remodel your kitchen, thus making it an important time to get all the upgrades you want.
Decide How You Want to Use Your Island
The kitchen island is a huge part of any kitchen and can be used in any number of ways. Some homeowners use them as a place for their sink, stovetop, or oven, while others just use them as prep and storage space. The sky's the limit, and you'll need to decide what works best for your kitchen layout.
Landing Spaces Around Appliances
When we're talking about landing space around appliances, we're specifically referring to the area where you work around that appliance. That could be where you look through the fridge or the area where the doors swing open, the space around the sink or stove, or even where your dishwasher opens. Each of these spaces is important and needs close attention to detail to ensure it works efficiently.
Think About Your Countertops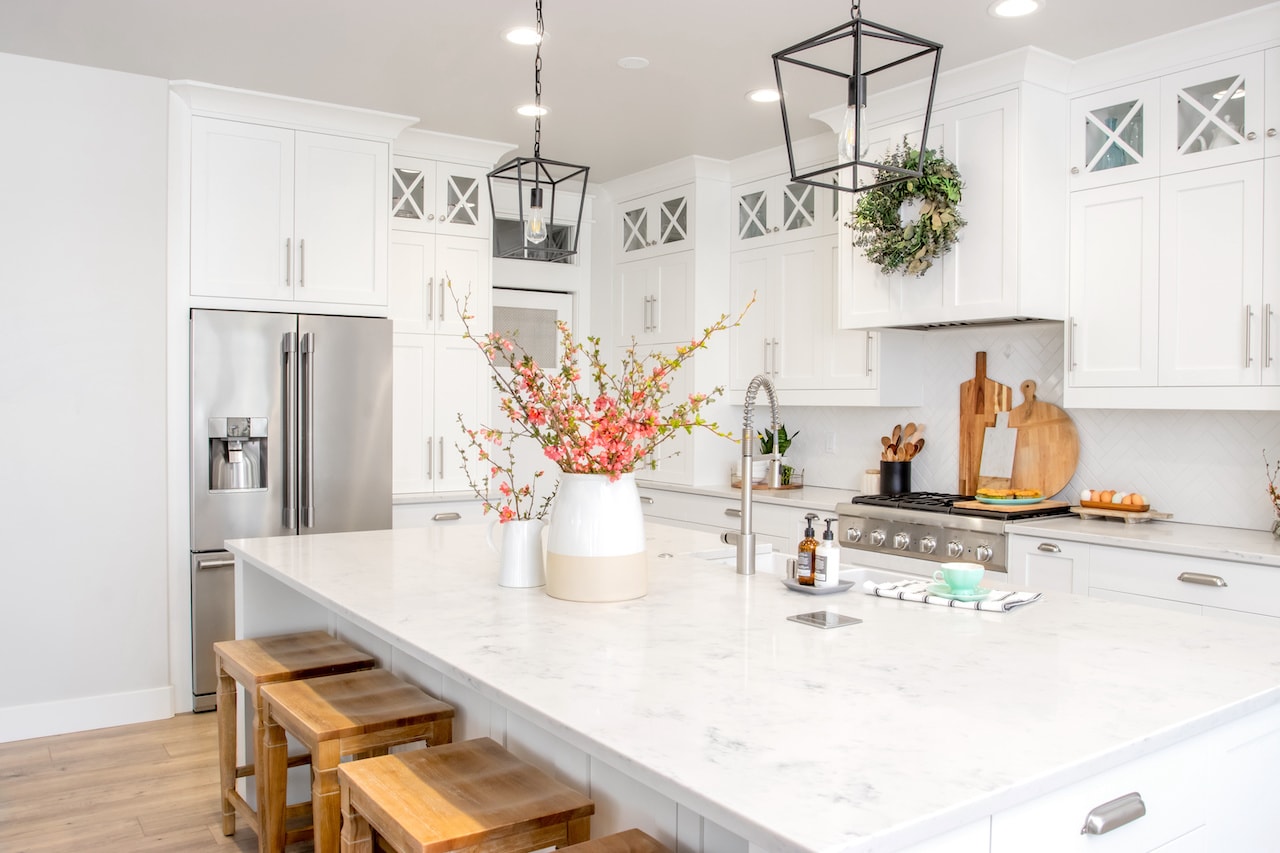 If you're going to be preparing large meals or serving a large number of people, you might want to add additional counter space to your kitchen design. The last thing you need is to have a large kitchen without the counter space to work with. Another thing many homeowners prefer is two different countertop heights. This fits in some kitchen designs and not so much in others, so work on a case-by-case basis when it comes to countertop heights.
Design the Perfect Kitchen Fan
The kitchen fan helps to carry steam, smoke, and heat away from your stovetop and oven. Not all homes have these, but modern and up-to-date homes often feature them because of the advantages that they offer to homeowners. When it comes to designing the perfect range fan for your kitchen, be sure to look for inspiration on places like Pinterest.
Install a Pot-Filler
Pot fillers have been increasingly popular in kitchens. Whether you think you would use it regularly or not, it might be a nice feature to have. A pot-filler can make for much easier prep work while heavy pots are on your stove. And how cool is it that you'll be able to fill a stockpot with more water even while it's boiling on the stovetop?
Find Fun Places to Store Knives
Storing knives can be a pain, especially if you have a smaller kitchen or one that doesn't have a large amount of counter space. One way to overcome this struggle is to find a wall in your kitchen that you could install a magnetic bar on. That magnetic bar would then act as the resting place for all of your clean knives. Just be careful where you place them because you don't want it to be within reach of kids or in the way of other activities that regularly go on in your kitchen.
Hide Your Trash and Recycling
A pull-out trash and recycling bin are must-haves if you want to hide them well. There's no sense in having your garbage sitting out in your beautiful clean kitchen when it could be neatly stored away. You'll also want to keep this area close to your sink and dishwasher, where you likely will be chopping foods and scraping food off dishes regularly.
Keep Your Pantry Area Organized
Your pantry area can be large or small depending upon the size of your home, but ultimately it will need to stay organized if the space is going to be valuable. Categorizing your foods and placing them in accessible locations based on how often you use them will make a world of difference.
If you like to keep other items in your pantry, such as a broom, mop, or other cleaning supplies, then be sure to find a designated space for them as well. You won't want your cleaning supplies sharing space with your food.
Add a Message Board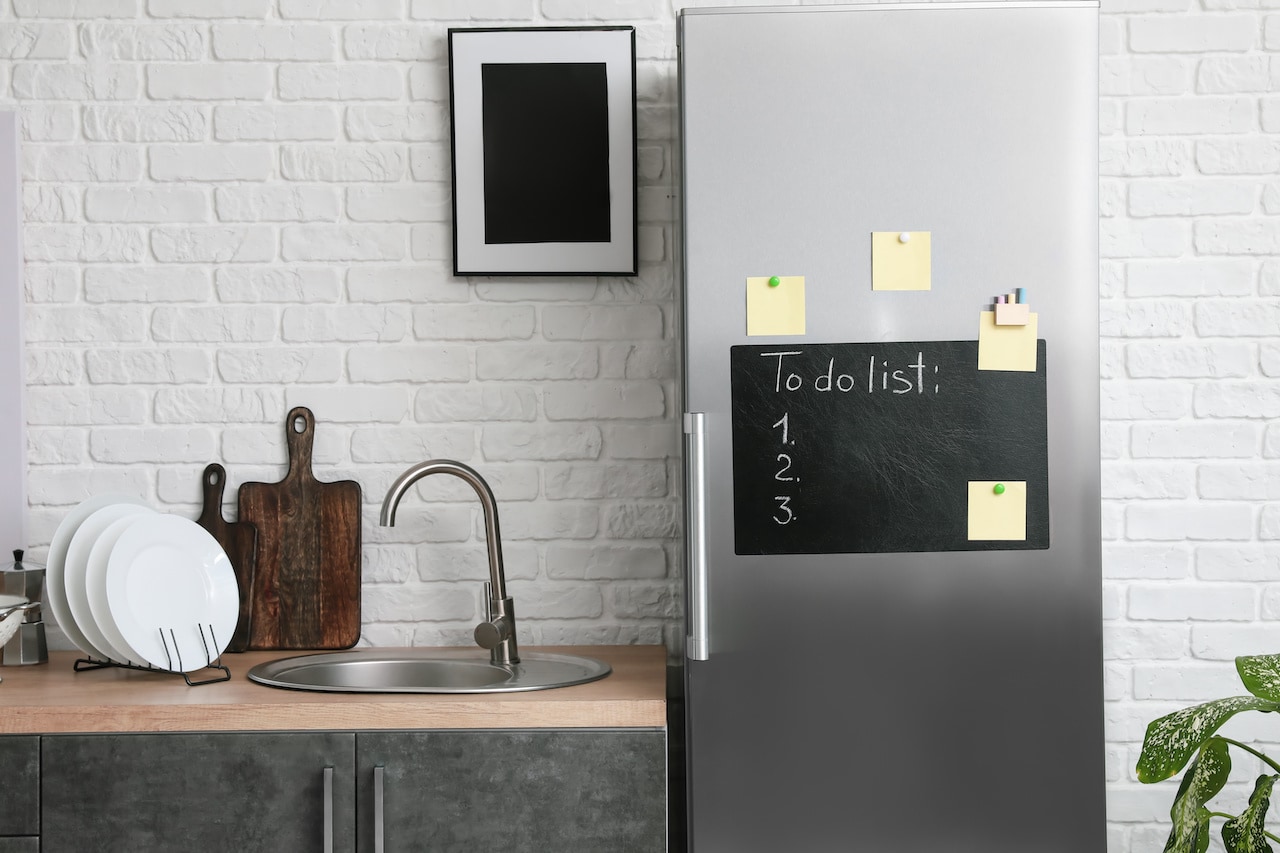 A whiteboard or chalkboard can work great as message boards for your whole family. You can share your schedules, inspiration for the day, or meal plan. Whatever fits your needs, it's a great way to use an empty wall and make a fun interactive place for your family.
Electrical Outlets in Smart Places
Electrical outlets are one of the most overlooked items in many construction and remodeling projects. All too often, they become an afterthought and thus a potential problem. Before you start on the project, map out the different places where you could place outlets for your new kitchen remodel.
Break Up Cabinetry with Different Types of Storage
A wall of cabinets can be pretty intimidating, especially if you have a large kitchen. But, you can break up that space in a few different ways by using open shelving or artwork. In a larger kitchen, you might not actually need all the space that can be provided by cabinets. So, utilizing it in another way can make for a fun change in the wall space and utilization.
Use Light Colors to Make a Space Feel More Open
Smaller kitchens will feel small. There's not a whole lot that you can do about that. But, one thing you can do to make the space feel lighter and perhaps slightly larger is using bright colors. Whites, creams, and brighter tone colors will help a smaller kitchen feel more open and inviting to whoever gathers in it.
Choose a Focal Point for Your Kitchen Space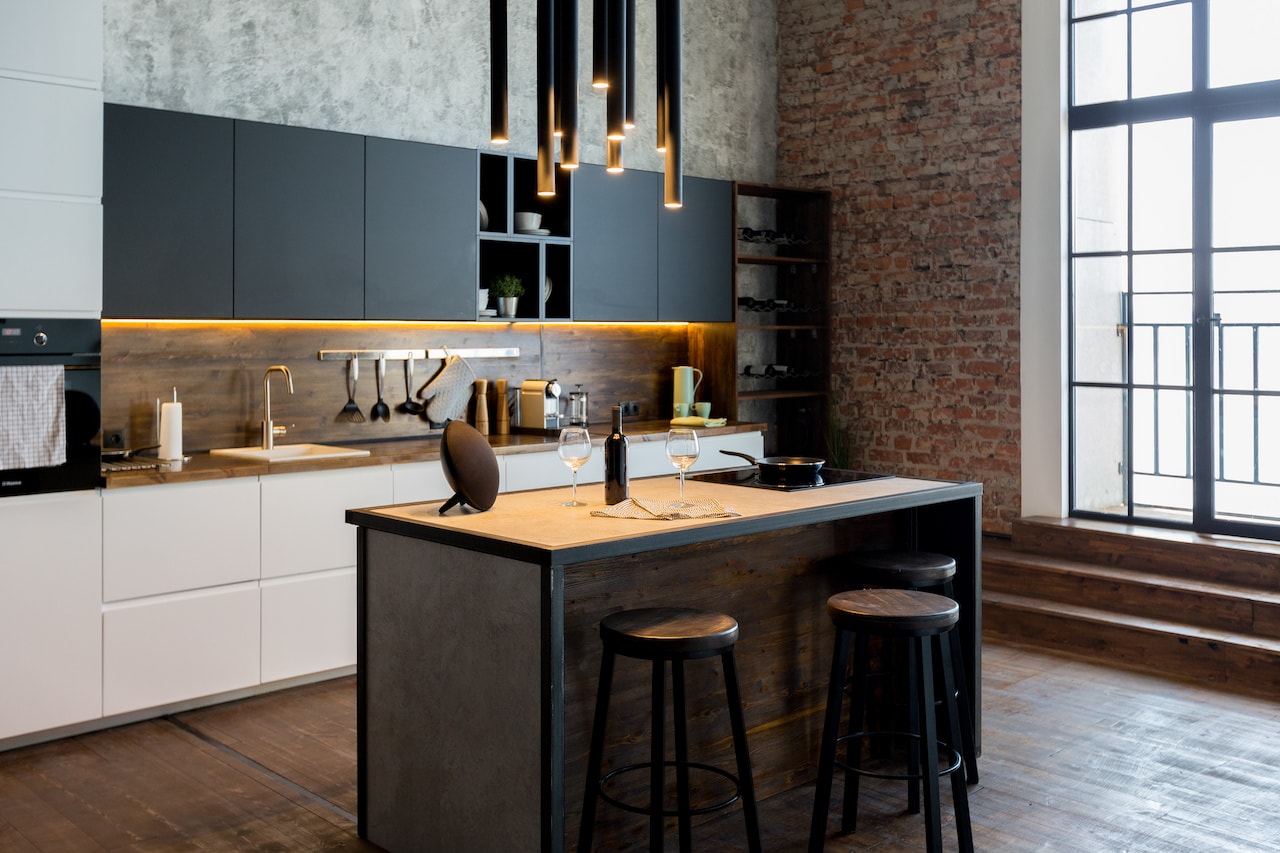 A focal point within your kitchen can do a lot. Whether you're trying to make the space revolve around a certain area or simply add some spark to the room, finding one point to bounce everything off of is always a smart and modern design idea. Some homeowners use their backsplash for this, while others focus on an island or even seating area. You'll need to find what's right for you and go for it.
Design Tools
There are lots of design tools out there, but it can be somewhat difficult to find good design tools that don't cost a lot of money. The ideas below each offer a free way for you to quickly design your kitchen and play around with some of the different features that you want to include in your kitchen.
The simple Lowes Kitchen Designer is a great way to see all of the different changes that you can use throughout your warehouse. We love the way that this tool creates an accessible place for homeowners to see different designers, even if you're not going to be using Lowes as a provider for your project.
Draw it Out
There's nothing wrong with a black and white drawing or something simple like it. You can get a lot done and a solid feeling on how you want your kitchen to look without having to learn design software or spend any time on the computer. And, if you want to add some color to it, you can!
This is a free easy-to-use tool that you don't need to download. A lot like the solution from Lowes, you can select floor plans, cabinets, colors, flooring, and more. Whether you're looking for something simple out of your kitchen design or you want to make it more extensive. Be sure to check out the features and availability of this product before you take too much time trying to design your space.
Finding a Remodeler to Work With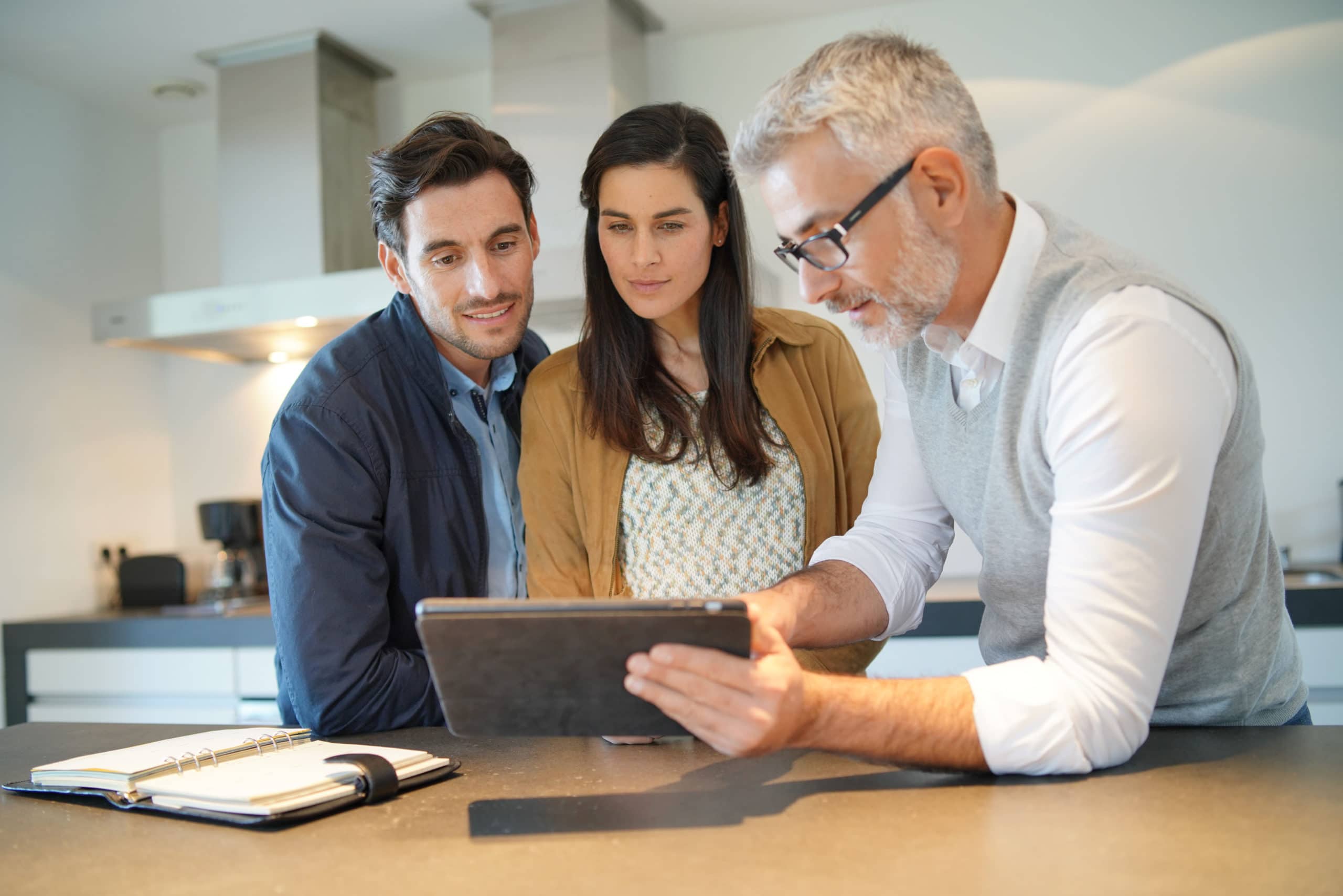 After you have a good idea of all the different things you'll want to do with your kitchen, you can either get started on the project by yourself or start looking for a contractor to help you.
If you're not familiar with designing spaces like this, then finding a design and build contractor that can bring your ideas to life and walk you through what is and isn't possible will be very important. For those living in the greater Boston or northern Virginia area, contact Thomas Buckborough & Associates. TB&A is a premier design-build firm that offers exceptional services to homeowners that are in need of remodeling and renovation work.
For more inspiration, check out some of our projects and our blog.