Knowing how to style your master bathroom can be difficult. We get it, that's why we're curating a list of master bathroom layout ideas for modern homes. You can certainly use these ideas on other styles of homes, such as contemporary or farmhouse. However, they lend themselves best to modern houses.
We hope you enjoy this list, and if you'd like to learn more about transforming your master bedroom or bathroom space, reach out to us today! We'd love to talk about the potential your space has to be something truly incredible. Now let's dive in!
7 Master Bathroom Floor Plan Ideas
There's a lot that you can do with your master bath. There are definitely quite a few different ways that we've built them for clients in the past. Depending on how much floor space you have to work with, you may or may not have room for a soaking tub, double doors, jacuzzi tub, walk-in shower, pocket door, and more. But that doesn't mean we can't still create a beautiful bathroom design for you. Even a small bathroom with just a toilet can be transformed into something marvelous. Here are some of the projects we've completed!
Modern, Warm, and Natural Bathroom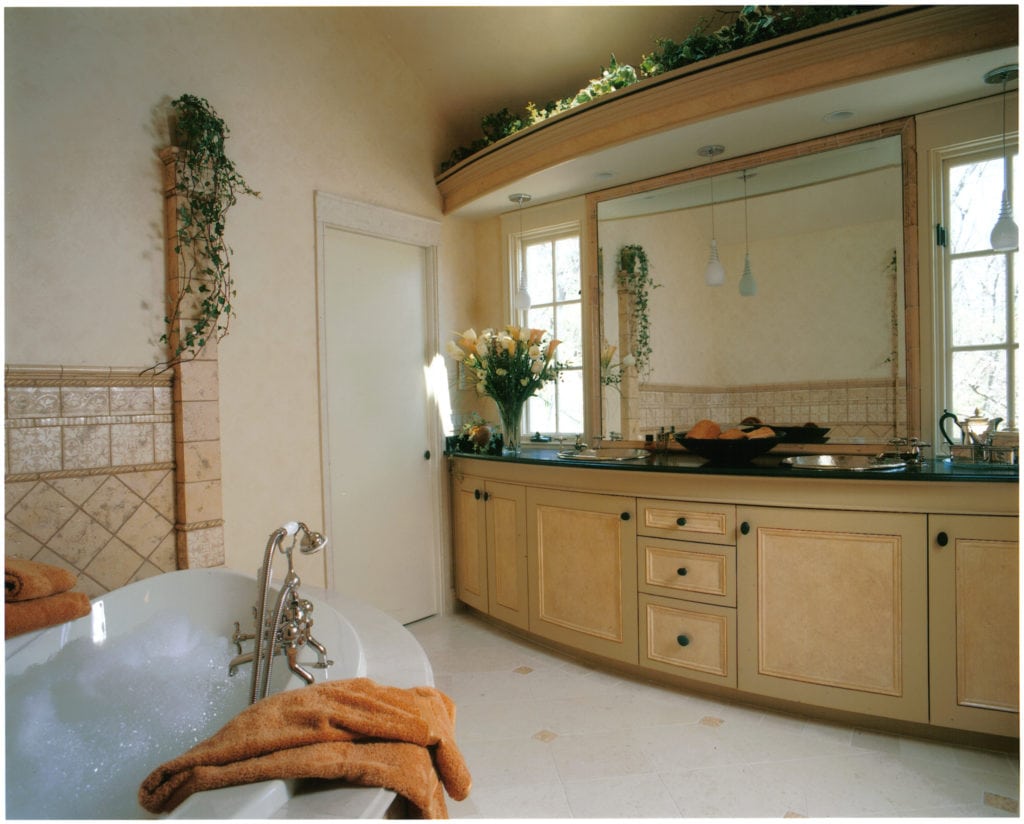 This is a great example of careful bathroom planning by using your space as wisely as possible. The use of natural light near the vanities, large mirror, and soaker tub all make this a stunning master bathroom. With this new bathroom layout, there are now two sinks and ample counter space for more than one person.
Modern Shower and Tub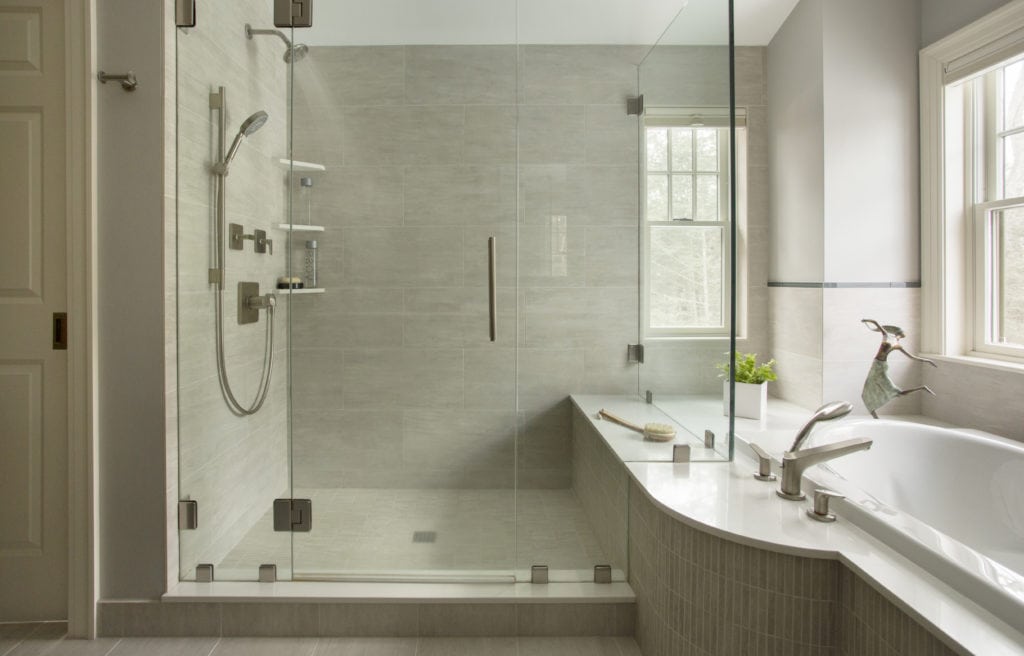 This is one of our favorite bathroom remodel projects to date! We loved putting all of it together and creating a "spa-like" retreat for this homeowner. One of the most notable features in the shower is the dual shower heads and ledge for sitting. Having a shower head that you can remove from the fixture is always an added benefit, and it's better when there can still be consistent water flow from another showerhead above it.
The ledge in the shower room was incorporated nicely into the design so that it doesn't feel unnatural or forced in any way. This feature, along with the intricate tile work throughout the shower wall and the beautiful tub, makes this bathroom truly unforgettable.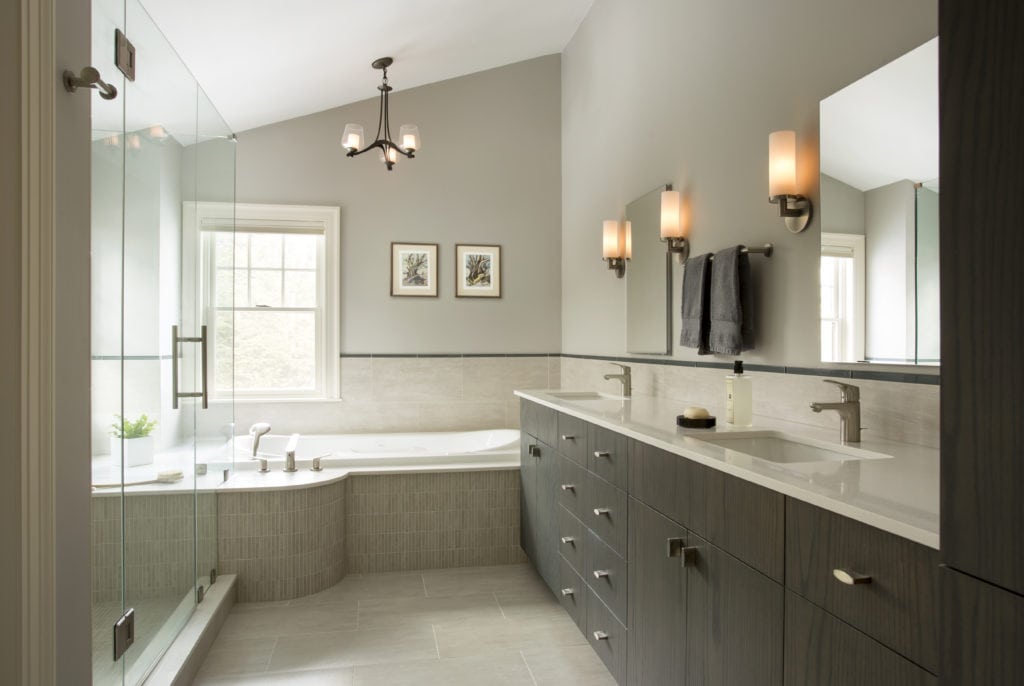 Another angle of this bathroom allows you to see the beautiful and clean double vanity that's been put in. The wood color compliments the tile and the paint color extremely well. There's nothing we'd change from what the client chose for this bathroom.
Jacuzzi Tub and Glass Shower

One of the biggest setbacks to master bathrooms is that their location is often an afterthought and there isn't enough natural light to fill the room. We love how this design defied the odds and brought beautiful natural light into the bathroom. The glass block, half-wall creates a beautiful aesthetic. Another benefit of having a large window like this is that you won't have to have as many lights on in order to enjoy the space. Natural light will save you money by keeping the lights off and energy bills low.
Other features of this bathroom included the light fixtures, tile work, and the size of the tub. This separate tub can easily fit two and offer a romantic getaway from the craziness of life. There's a lot to love about this jacuzzi tub getaway.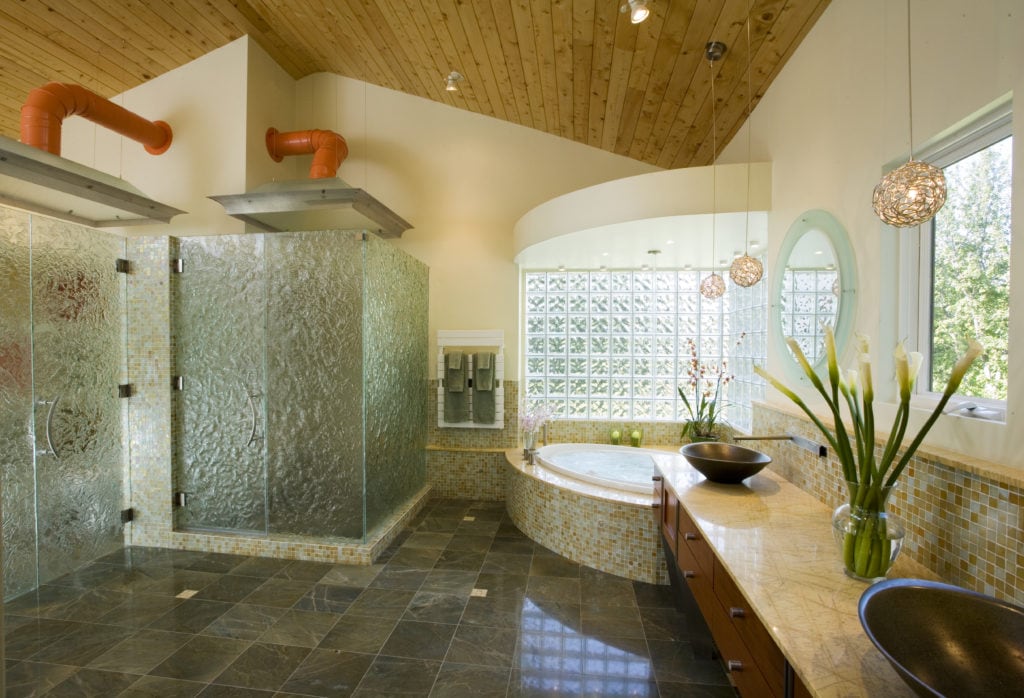 Another view of this bathroom shows off the gorgeous tall ceilings with wood paneling, as well as the glass shower that offers a great contrast to the jacuzzi. Everything about this bathroom captures awe in the eyes of the beholder. If you've been wanting to do something new and different with your master bathroom, this is a great option. This bathroom does take up a significant amount of square footage, but we'd say it's worth it after seeing the finished product.
Modern Tight Fit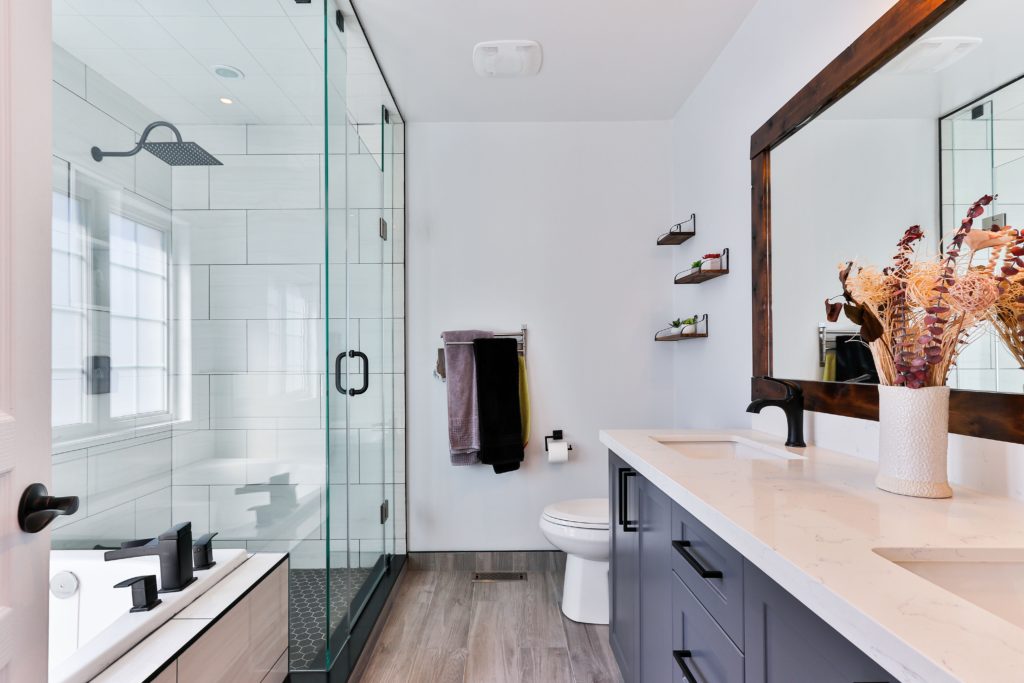 We didn't build this square bathroom, but we love it nonetheless. For smaller homes, choosing a layout like this is a great way to utilize more space and still have a beautiful master bath. We love the use of tile in the corner shower and that there is a rain shower head. You'll also notice that the tile used on the bath matches the tile used in the large shower. Huge countertop space with double vanities is not usually a part of common bathroom layouts.
There's nothing about this project that isn't appealing to the eye. For a small space, it's really well done.
Luxury Layout with Built-in Closet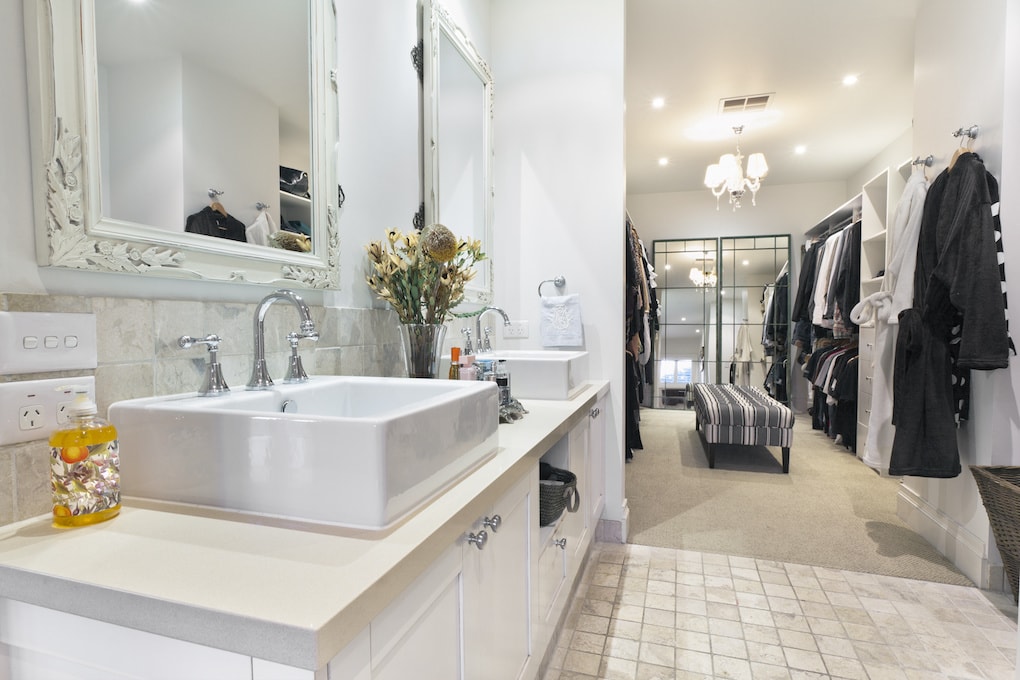 One thing that most bathrooms lack is the added closet space. In some countries, it's very common to include the master closet space and bathroom in the same room, and it's one of the ideas that we're drawing from here. A luxury room filled with everything you need to enjoy a quiet evening or get out the door on a weekday. By adding a built-in closet to your master bathroom, you're taking advantage of the space and making your bathroom the one-stop for getting ready.
This design will best suit those who have the extra space to use. If you're cramped for space and need to be more conservative with how large your bathroom will be, don't opt for this choice. However, with the right amount of space, a large closet could be the perfect thing for your home.
His and Hers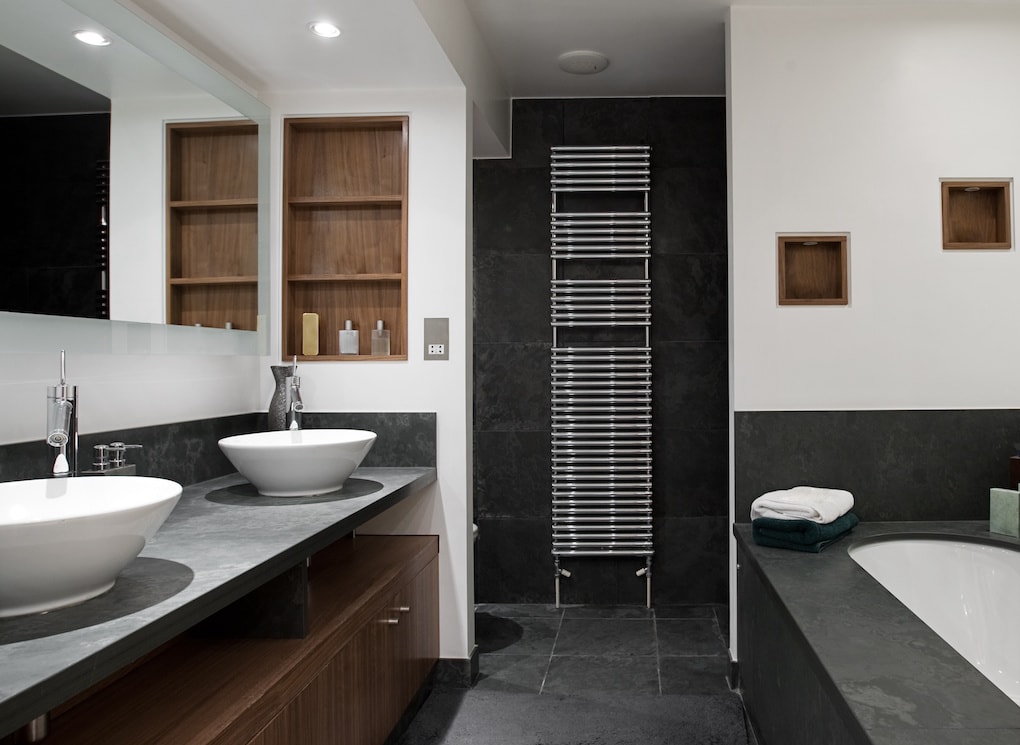 The his and hers layout is perfect for couples that find themselves using the space at the same time but not wanting to be running into each other. When this design is done right, there will be two sinks, one toilet in a neutral location, and often two small closets or cabinets for personal items. A shower on one side and a bathtub on the other is the most common configuration for this layout.
These bathrooms can be built in tighter spaces fairly easily so don't be shy if you think you want something like this for your space. It can also be a great way to design your bathroom if you're working with a large room and looking to break things up a bit.
Walk Through Bathroom with Spacious Margins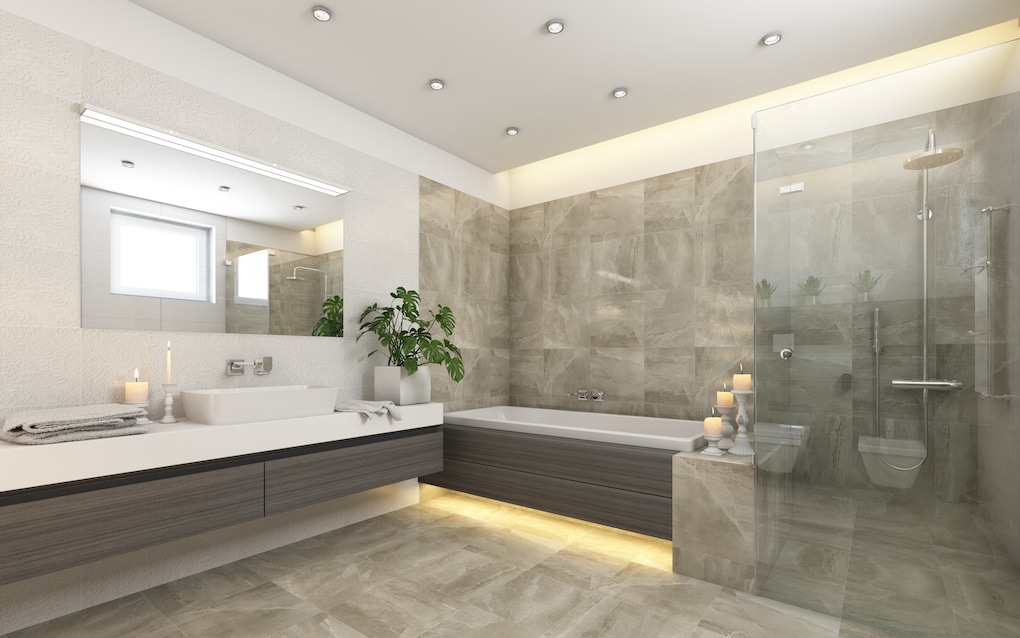 If you have the space, then why not use it? A walk through bathroom implies that you'll be walking from your bedroom to your bathroom and then through that to a closet on the other side. It's a luxurious use of space that will make you feel like a king or queen in your own home. When building this design, it's important that your closet has ample room for clothes and that you're able to easily walk into it.
You can also combine this bathroom design with a his and hers or add a jacuzzi tub, steam room, or walk-in shower. Whatever you prefer, the sky's the limit when it comes to a walk-through bathroom. And, you'll enjoy being able to enter your bathroom, get dressed, and ready for the day without disrupting your partner's sleep. It's the perfect layout for a couple that's always on the go or seeking a getaway from the stresses of life in their own home.
How to Build Your Dream Bathroom
Every homeowner has ideas for how they could improve their bathroom, and finding layout ideas is a great place to start! The next step is to talk with a contractor to start the planning process.
If your home is near the greater Boston area, we'd love to help you build the bathroom of your dreams! Reach out to Thomas Buckborough & Associates today. We can work within your budget to create something magical.
To learn more about our bathroom remodeling process, check out our website or contact us today.