A mudroom in your home doesn't have to just be the place that jackets and shoes are left all over the floor. After all, it is the first room that people see as they enter your home and it can give the first impression of your decor styles and design choices if you let it.
Today we're giving you helpful tips to help modernize the mudroom and make it a more inviting place for both your family and your guests. By the end of this blog, with these mudroom ideas, you should feel confident to redecorate, rework, and make your mudroom a beautiful space.
Styling Windows and Doors
We're going to start with windows because they're one of the easiest items in your home that can be dressed up or down to help bring both a modern and clean sense to your home. There are a few different ways you can style windows, so choose what feels right for you and what fits with the rest of your home.
1. Add Curtains or Blinds
Curtains and blinds are a great way to add some color or pattern to your mudroom as well as help protect it from the elements. While it might seem like just a simple step, you'd be surprised how much something as simple as a curtain can impact your home.
When you're choosing curtains and installing them don't forget to let the light into your mudroom.
2. Blend Outdoors and Indoors
One of the easiest ways to make a mudroom feel like an extension of your home is by blurring the lines between indoors and outdoors. Having lots of windows and even glass doors can make for a more "outdoor" feeling indoors. Plus, you'll get more natural light.
3. Consider a Dutch Door
Adding a dutch door can make the mudroom feel cozier and inviting. It is the perfect way to create that separation between outdoors and indoors while still being able to enjoy either side of it.
Dutch doors are fun in fall or summer weather as well because you can swing the top open and enjoy a warm breeze.
4. Paint Your Door a Fun Color
Paint is the easiest and cheapest way to make a mudroom feel like your own. Instead of just painting the walls, try painting your door an accent color like blue. This can help to make the space more bright and inviting!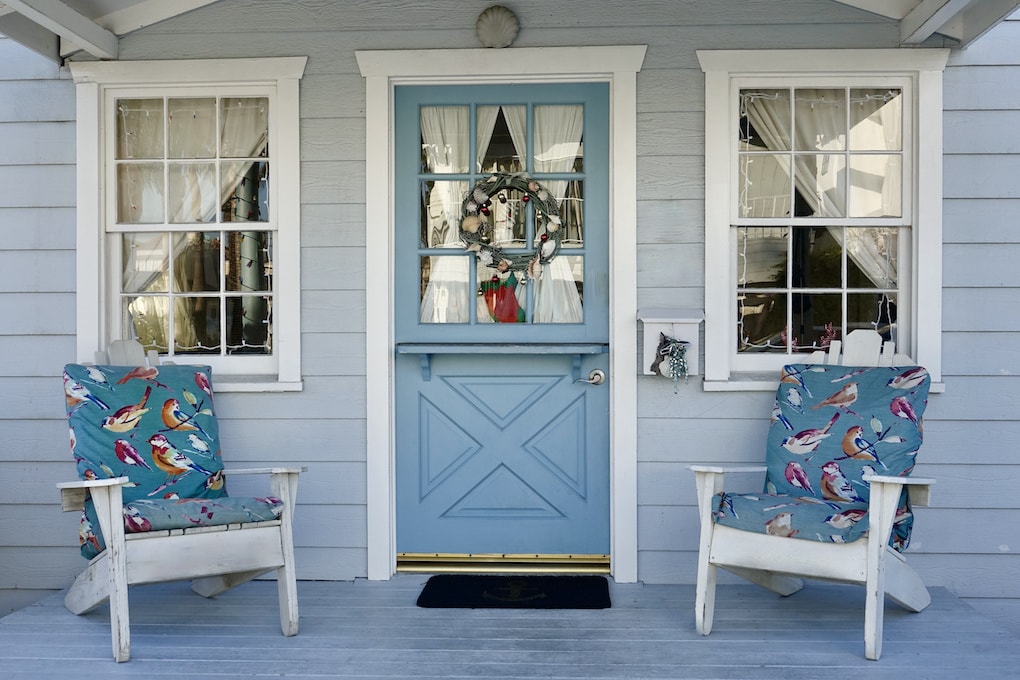 Making Room for Storage
Mudrooms are all too often designated as storage rooms for homes. At least, they're used to store shoes, jackets, and other things of the like. But, making that storage fit in the space without overwhelming guests as they walk in is important!
6. Add Cabinets for Storage
Adding cabinets can offer more room for storage while also helping solve the issue of clutter. There are all different types of cabinets to choose from, so find something that both fits your needs and suits your style.
Here are a few cabinet options:
Built-in cabinets
Cabinets with seating
Closet door cabinets
Hanging cabinets
7. Hide Storage With Curtains or Closet Doors
Hiding mudroom storage in a closet or behind curtain doors can help make the mudroom feel more inviting and less cluttered. Whether you choose curtains or closet doors is totally up to you, but there are benefits to both.
Doors present a more permanent option while curtains can be more decorative and offer eclectic beauty to the space.
8. Use Decorative Items for Storage
Rather than using cabinets or mudroom furniture, consider adding decorative items in your mudroom for storage. This can help to add color and character instead. Galvanized metal baskets, wicker baskets, and other similar items are all great for storage.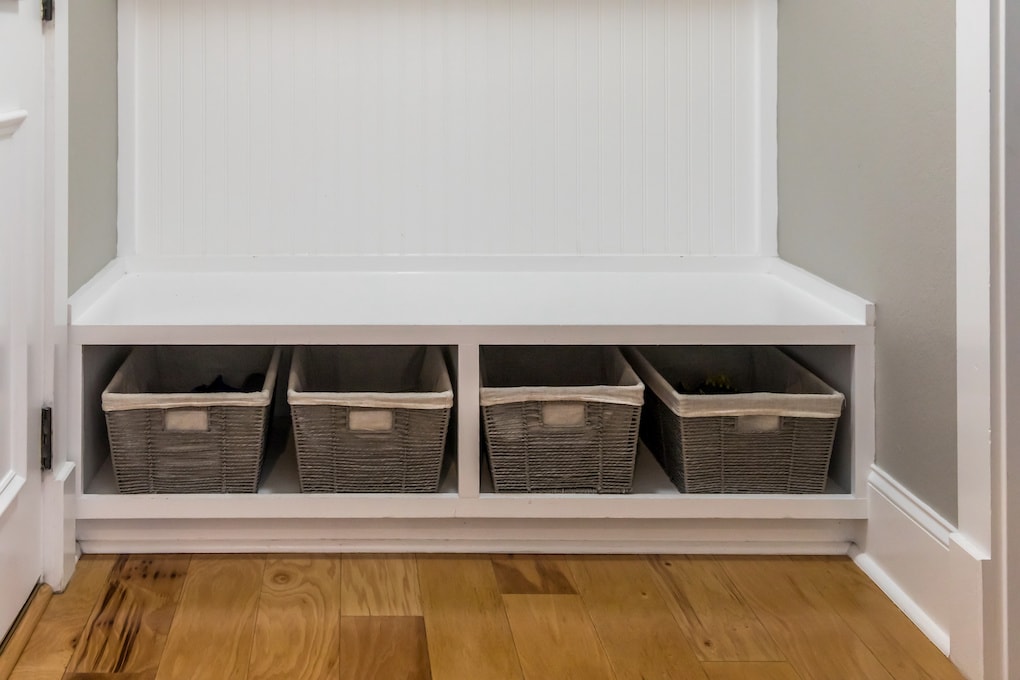 9. Add Plenty of Hooks
Adding hooks to mudrooms can help with multiple things. First, it helps guests hang their coats up while also providing a place for kids to put backpacks and school bags. Hooks also can hold:
Umbrellas
Keys
Hats
Purses
10. Skip Furniture
While furniture in the mudroom looks beautiful, sometimes the space isn't fit for it and it's better to leave it out.
This can be a tricky decision if you have a big family and need the extra storage that furniture and other items offer, but it might be better to leave the space open if you need to improve the flow in a small mudroom.
Choosing the Right Flooring for Your Mudroom
There are all different types of flooring options that you might choose or find useful in your mudroom. But, it's almost always best to use tile or laminate floors that won't absorb moisture.
Tile is ideal for mudrooms because it helps absorb excess moisture that shoes bring in. This is especially helpful during the winter or spring months when snow and mud can be tracked in on shoes.
11. Choose Simple Patterns
When you're choosing tile, go for a simpler pattern if you want it to compliment your walls, doors, and windows and not make the floors your focal point.
12. Do Something Fun With the Floors
Sure, you can go the simple route and keep your floors from being the focal point in your home, but you can also choose to do something more fun in your mudroom.
Look into different patterns and ways to spice up the flooring. Making a fun and beautiful floor is something you likely won't regret.
13. Use Wood Styled Tile
A complaint of tile is that it doesn't look like wood. It's not as earthy, warm, or welcoming when compared to a lot of the other flooring on the market.
But, you can find and purchase wood-styled or patterned tile. Sometimes these tiles look so much like wood floors that it's hard to tell the difference.
Choosing Wall Colors
When it comes to choosing the right paint for your walls, there are lots of options that will look great and offer a lot of style for your home. Here are a few of our favorite choices to use.
15. Decorative Wallpaper
Wallpaper has made a huge comeback in the last few years and there are so many great options to choose from— from floral prints to modern patterns and everything in between.
We love the idea of using wallpaper on at least one wall. Using it throughout the whole room might feel like overkill to some extent.
16. Neutral Paint Colors
The beloved neutral colors are always a good choice. Neutral colors obviously won't add nearly as much to your home as accent colors or bright colors, but sometimes that's the point.
White walls will help your furniture pop out and look great. Just be sure to be careful with bright colors because they'll get dirty much faster.
17. Accents Walls and Patterns
Last on our list for walls and paints is accent colors and patterns. Whether this means painting stylish lines on your walls or painting a wall with bright colors, an accent wall can make the room come together.
Here are some great examples of mudroom accent walls from Pinterest.
Decor Ideas for the Room
The right decor for your mudroom can make all the difference in the overall style and make-up of the room. These are a few of our simple ideas that we think can work for almost any home.
19. Add an Area Rug
Adding an area rug can make a big difference in the mudroom. It'll help define the space and give it a more cozy, homey feel that's easy to gravitate towards when you come in from the cold or rain.
You might consider adding two rugs, one for muddy or wet shoes and another one that looks good and is more stylish.
20. Use Vintage Pieces
If you're looking for mudroom decor that has a vintage feel then you're definitely onto something! Vintage pieces don't have to be expensive either. There are lots of options out there that you can find at local antique shops or thrift stores.
21. Try a Large Lighting Fixture
Adding a large chandelier or lighting fixture to your mudroom is definitely not something that everybody will love. But, if you want some more style and modern elegance then it might be the perfect choice for you!
The exact lighting fixture you choose doesn't need to be specific to the mudroom and can definitely match the rest of your home.
Useful Things to Add
When you're designing the mudroom, try to find different elements that you want to add to your mudroom both for convenience and value to your home.
22. A Mudroom Sink
A sink in the mudroom is one piece that will add a lot of convenience and value to your home. Whether you're looking to wash your hands after a day of hard work, soak dirty laundry, or be able to fill up water pails for plants just outside the mudroom, there is an endless amount of value in adding a sink.
23. Laundry Room
Many homeowners consider combining both the laundry room and mudroom. This is a great way to add value to your home and make the mudroom more functional.
If you're considering this then just be sure that the mudroom is big enough to accommodate everything you want to use it for. Sometimes squeezing too much into one room will do a lot more harm than it will good.
At Thomas Buckborough & Associates, we offer full design and build services for different rooms throughout the home. Whether you're looking to remodel your kitchen, bathroom, or mudroom, we can help you turn your current home into the home of your dreams!
Our team has over 30 years of experience and we've been serving the East Coast for equally as long. Reach out to us today to get started on your next project.