Kitchen cabinets are the backbone of your kitchen design. Between your floors, cabinets, and counters, there aren't too many other central features to the kitchen.
But what do you do when your cabinets just don't fit the style you're going for? Before you decide to rip all your old cabinets out, it could be wise to consider refacing or resurfacing your kitchen cabinets. In some cases, the benefits of repainting or restaining can far outweigh those of replacing kitchen cabinets. Let's break down what you need to know about refacing vs. replacing kitchen cabinets.
Cabinet Refacing 101
Cabinet refacing is a simple process that involves giving your cabinets new doors, adding some new paint or stain, and replacing the hardware. It's basically like putting on a new face for your cabinets so that they look brand new again.
The best part about cabinet refacing is that it's a faster and simpler process than installing new cabinets. You don't have to take out the old cabinets and replace them with new ones–you can just update the look of your current cabinets. You'll be saving time, money, and choosing the sustainable option.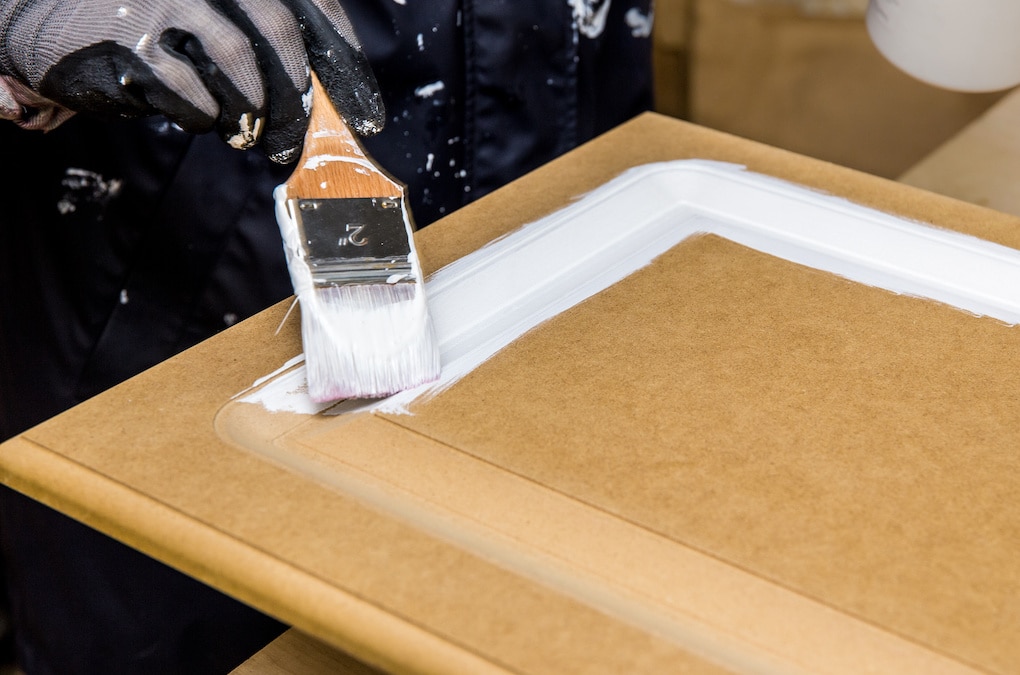 How to Refinish Cabinets (DIY)
There are two ways to facelift your cabinets. You can refinish them easily by painting them or freshening up the stain.
Refinishing your cabinets is a great way to save money and add some personality to your kitchen. You don't need any special tools or skills, just a little bit of know-how and elbow grease. For this project, you'll need:
Sandpaper (medium grit)
Primer
Paint or stain of your choice
A paintbrush or foam roller
Start by sanding the cabinets down to the bare wood and then you can paint them any color or stain them however you'd like. To learn more about how to refinish cabinets, check out this article.
Refinish vs. Reface: What is Refacing?
Refacing cabinets is different than refinishing. Most homeowners don't even know about the option of refacing cabinets. To reface them, you'll need to buy a kit and any additional hardware that you're looking to add to the existing kitchen cabinets.
Similar to refinishing, refacing cabinets is a great way to change the look of your kitchen without spending too much money. You can do it yourself, but the process is a bit more difficult.
If you're looking to DIY your cabinet refacing process, here are the steps you'll need to follow:
How to Reface Cabinets (DIY)
Refacing your cabinets is a great way to save money and add some personality to your kitchen. You don't need any special tools or skills, just a little bit of time. To do this project, you'll need to first purchase a cabinet refacing kit and then gather the following supplies:
Hardware for the cabinets
Table saw
Glue
Application tools
To cover the cabinets correctly and evenly, you'll need to use a table saw to cut down the pieces of your refacing kit. After that, it's just a matter of following the instructions that come with your kit. For a more detailed guide on how to reface kitchen cabinets, check out this guide by Family Handyman.
✅ Pros of Cabinet Refacing
There are many benefits to cabinet refacing, both financially and environmentally.
Saving money on materials
New hardware makes your kitchen look great
Fast and easy process
❌ Cons of Cabinet Refacing
You don't get new cabinets
Paint or stain might not match
If your cabinets are old, they won't be made any sturdier
Should You Replace Your Cabinets?
There are a few key factors to consider when deciding whether or not to replace your kitchen cabinets:
The age of your cabinets
The condition of your cabinets
Your budget
Plans for the rest of the kitchen
If your cabinets are more than 15 years old, it may be time for a replacement, or if they're in poor condition – water damage, peeling paint, etc. – a refacing may not be the best option for you.
Cabinets in good condition offer prime candidacy for refacing. Keep in mind that if you replace your cabinets, you'll want to replace countertops and appliances at the same time for a cohesive and updated look.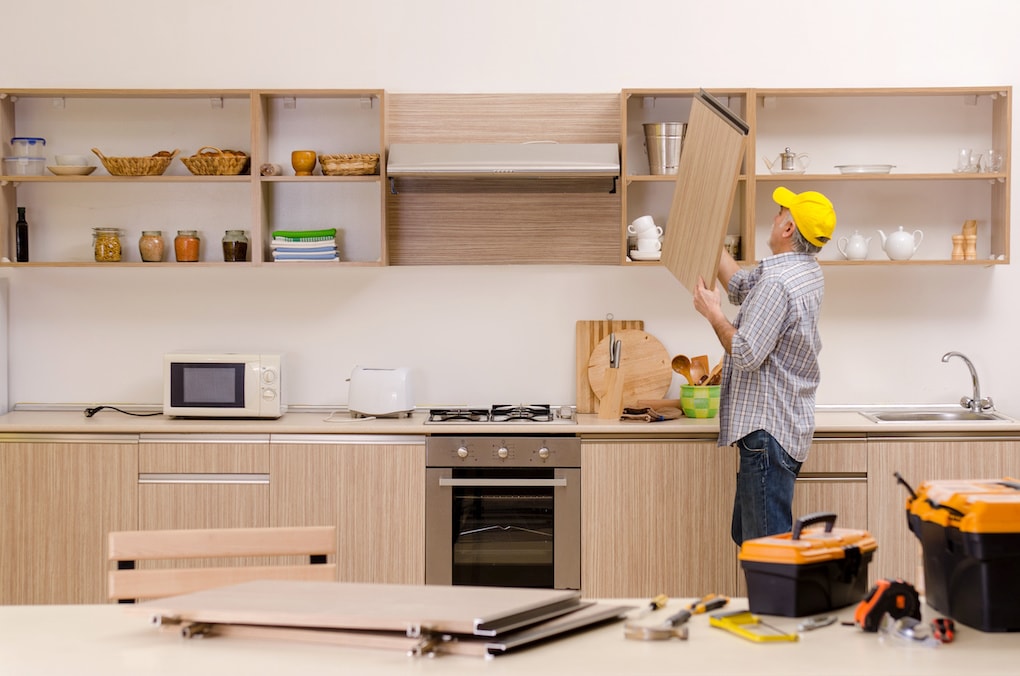 ✅ Pros of Replacing Kitchen Cabinets
There are lots of benefits to replacing cabinets, and of course, everyone loves a free new design. Here are some of the specific benefits that we use with our customers:
New cabinets can be designed to fit your specific needs and preferences
There's a wider range of materials, finishes, and styles to choose from
Greater stability and stronger materials
Can be made to look any way you like
❌ Cons of Replacing Kitchen Cabinets
The greatest downside to replacing something like cabinets in your home is the cost. These items are not cheap, and it's a challenge to replace them.
The cost is typically more than refacing or refinishing kitchen cabinets
There may be some demolition required – removal of the old cabinets and installation of the new ones
Can be very time consuming and a longer process
Can I Replace My Own Cabinets?
Replacing kitchen cabinets is a big job, but it's not too big that you can't do it yourself. If you're handy and have some experience with construction or renovation projects, don't be afraid to get after this project.
To get started, you'll need to decide whether you want to custom order them or buy stock cabinets, measure your kitchen, and get started on the demolition. You can replace almost any cabinet – even ones that are recessed into the wall – as long as you have the right tools and some patience.
Steps for Replacing Cabinets
If you've decided to replace your kitchen cabinets, there are a few steps you need to take before the project can begin.
Measure your kitchen and take note of the dimensions – you'll need these to order or buy your cabinets
Create a plan for your kitchen – this will help you figure out what kind of cabinets you need and where they should go
Order or buy your cabinets
Remove the old cabinets and install the new ones
Paint or finish your cabinets to match your kitchen
Tools Needed for Replacing Cabinets:
Tape measure
Level
Chisel
Hammer
Jigsaw
Circular saw

Hire a Pro for Your Next Kitchen Remodel
Once you have decided between refacing vs. replacing kitchen cabinets, now is the time to consider hiring a professional to take your kitchen remodel to the next level. Going the professional route is always the best option if you're not comfortable with taking on a project this big, or if you just don't have the time. A pro can replace your cabinets quickly and efficiently, ensuring a smooth and seamless process for you.
When you're ready to start your kitchen remodel, give Thomas Buckbourough & Associates a call. We can help you install new cabinets and redesign the kitchen of your dreams.