Have you been looking for inspiration for your next bathroom remodel project? We're here to help! In today's guide, we're talking all about shower remodels. This includes showers that we've remodeled and some that we've found and used as points of inspiration, as well as some classic bathrooms and showers that anyone can admire.
If you like what you see in this post, be sure to reach out to us! We'd love to help you breathe fresh life into your bathroom or kitchen. Thomas Buckborough & Associates has been creating custom homes for our clients for more than 25 years. Over those years, we've been able to refine our processes and develop some beautiful designs for our clients.
Design Ideas for Shower Remodels
One of the big items to consider when you start dreaming up a shower remodel is what features you'll want to include. Oftentimes, homeowners will think that all they can choose between is the tile and size of the showerhead. But, there are actually some awesome additional features that you should definitely look into if you're already going through the remodeling process.
2 Inch Drain Pipes
First off, we have an upgrade that you'll never "see" the benefit of, but it can be a huge advantage. Most older homes were built with 1.5 or 1.75-inch drain pipes, which can sometimes get clogged or backed up. With a 2 inch pipe, your water will flow down the drain better, and you won't have to worry about any clogs.
Include a Window
Natural light is something that's often overlooked in bathrooms, and especially showers. Consider including a window to help bring some natural light into the shower. You can install full-size windows or even just smaller ones so that you can enjoy the sunshine. Remember, there are always lots of different types of glass that can promote privacy so that no one can see into your showers.
Build-In Niches for Small Storage
Small storage in custom showers can be a pain. One of the most common solutions is built-in niches. These small cutouts in the walls of the shower will give you a place where you can place your soaps and shampoos. Some homeowners like this to be as small as possible, while other homeowners think that making them a bit larger is an added bonus.
Raise Your Roof for Better Ventilation
It's not all that common but, one thing that can truly make a bathroom into an entirely unique space is raising the roof for better ventilation. Not every home will be able to raise roofs, but be sure to look into it because it can make for an incredible new bathroom and shower space.
Clean and Simple Shower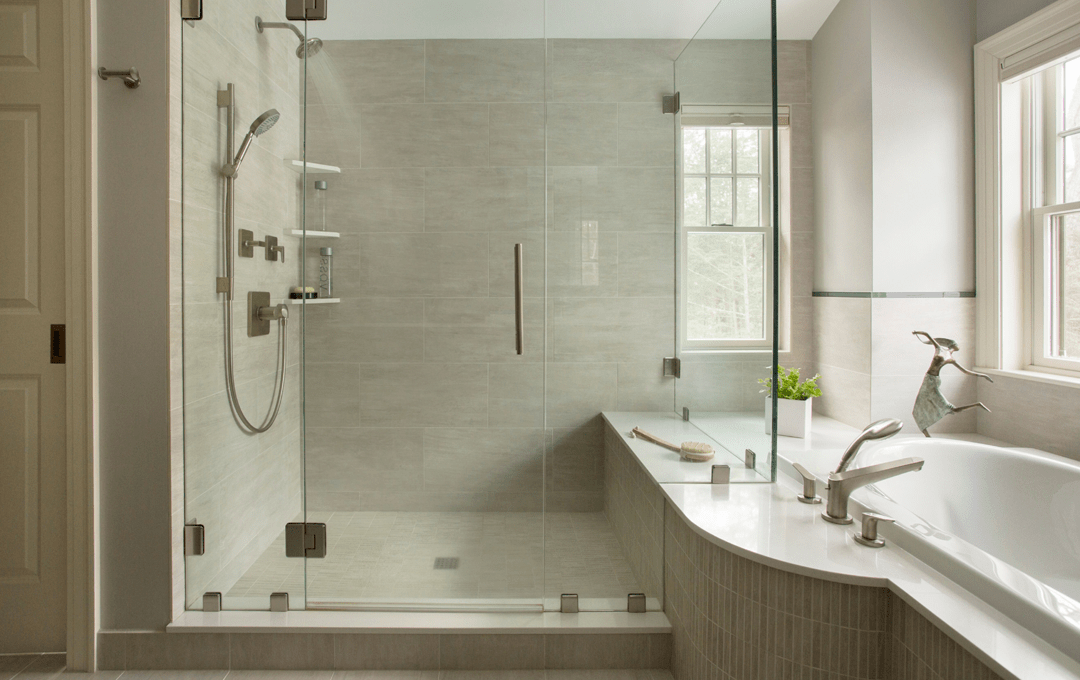 This shower is a great example of how beautiful something that is entirely clean and simple can be. It also includes some of the best features that we've mentioned above. A window and tall ceilings can be easily seen in this picture and help to breathe a lot of warmth and freshness into the shower area. Another thing we loved about this project was the clear glass doors and walls. Whenever you're working in a slightly smaller space, clear glass can make it look much larger.
Oversize Steam Shower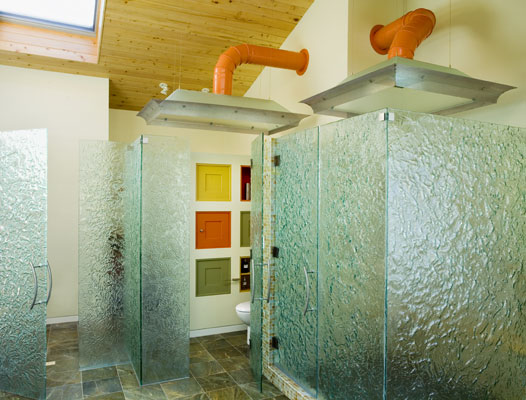 The shower you see in this picture is one that we designed and built for a client that wanted a walk-in steam shower. The large hoods that you see over the glass help to capture the moisture as it rises so that the entire room doesn't fill with steam and fog. There's also a bonus with the large jacuzzi tub that can be enjoyed. If you ever had the privilege of walking into this bathroom, one of the first things that you'd notice is the vaulted ceilings and large open spaces. The wood used to finish the ceilings helps to give the entire room a very natural and welcoming feel.
Rustic Tiled Shower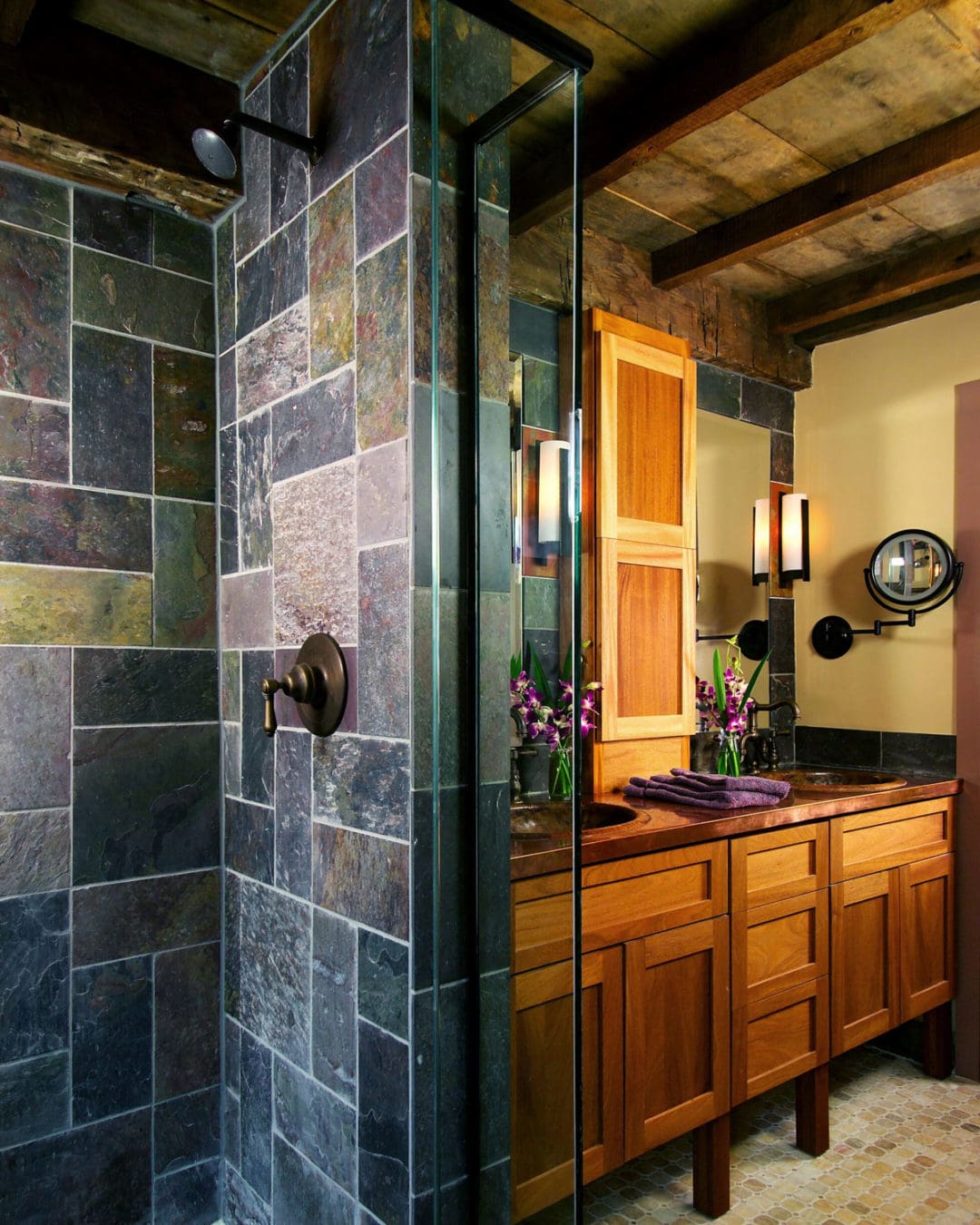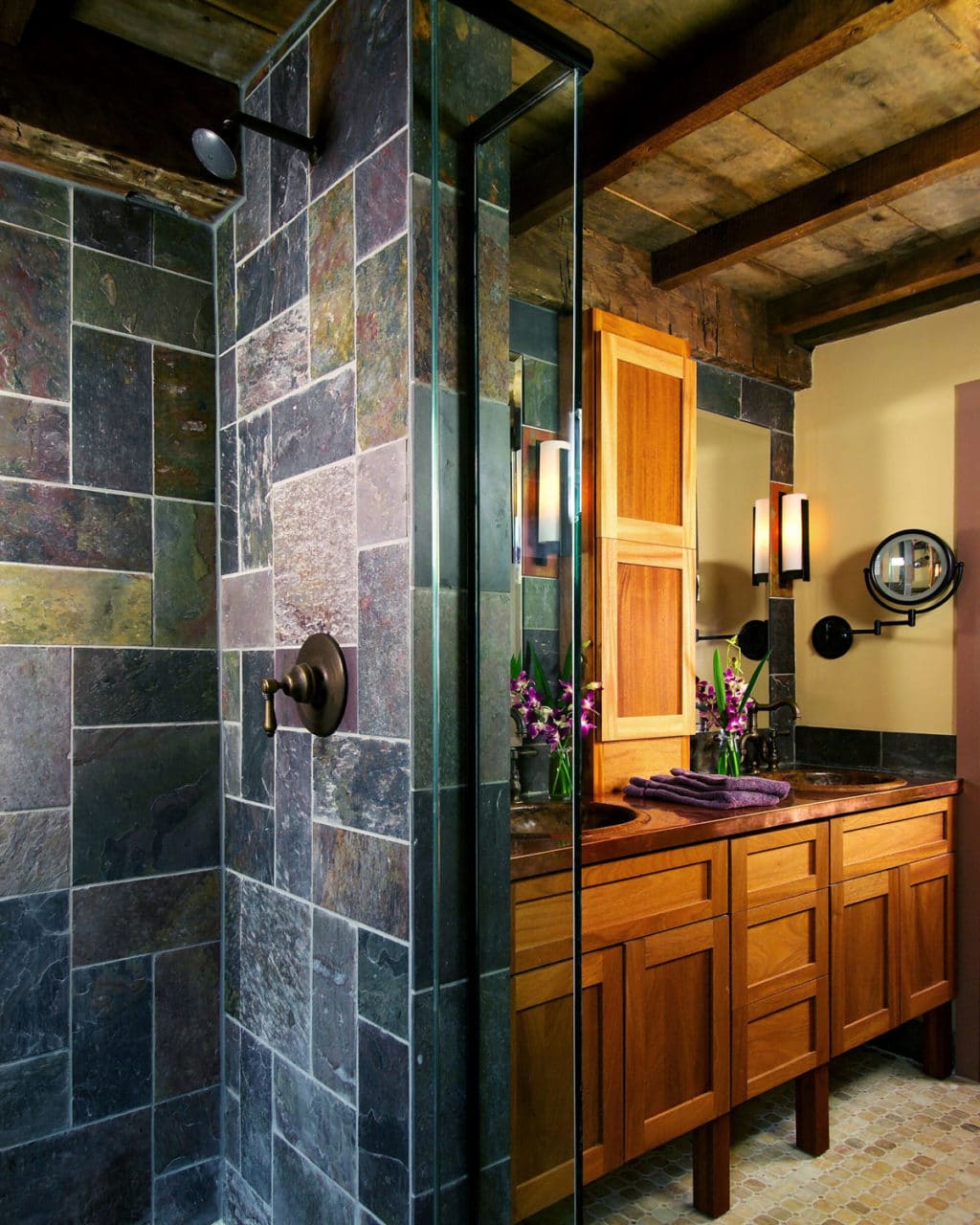 This shower has lots to offer throughout the design and implementation. One of the first things you're likely to notice in the dark tile that was used throughout the interior of the shower. We love this and think that it adds a lot to the bathroom's overall feel and vibe. We'd also like to draw your attention to the ceilings and the floors. Booth of which use materials in their raw forms to help accentuate each other, causing the bathroom to feel warm, inviting, and relaxing.
Simple and Efficient Shower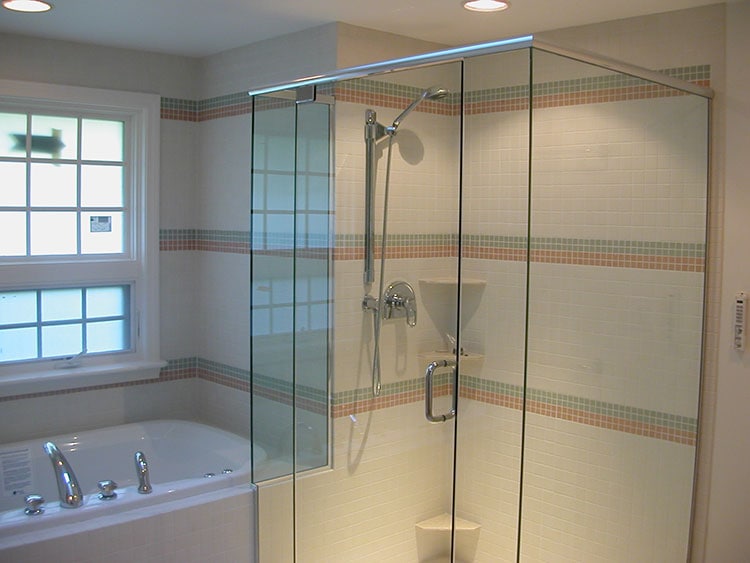 Sometimes all you need is a shower that can get the job done without taking up too much space. It's true that not everyone has the luxury of large walk-in showers, and some people will need to be more creative with how they use the space and how large the shower ends up being. We love the way that this shower came together. The tile on the walls helps to connect both the shower and the tub and gives the room a more seamless transition. The glass walls used for about 3/4ths of the shower give the room a larger feel and don't make it feel quite as cut apart.
If you're looking to remodel your shower or bathroom and you live I the greater Boston area, we'd love to help you! At TBA Designs, we love helping to bring your ideas to life. Reach out to us today for more info on our processes and to learn how we can help you.