Are you tired of wasting your square footage by not using your basement space? Many homeowners have an unfinished basement or even a semi-finished basement, but it's not often used for living space. Instead, laundry and storage are usually found below. Since people are spending more and more time at home, doing a basement makeover could drastically improve your living space.
Now, although a basement renovation can become an expensive project, there are small DIY projects that can significantly reduce costs. If you're tired of not maximizing your basement, it's time to add more functional space for you to enjoy. Discover some inspiring small basement ideas to improve your space that won't break your budget.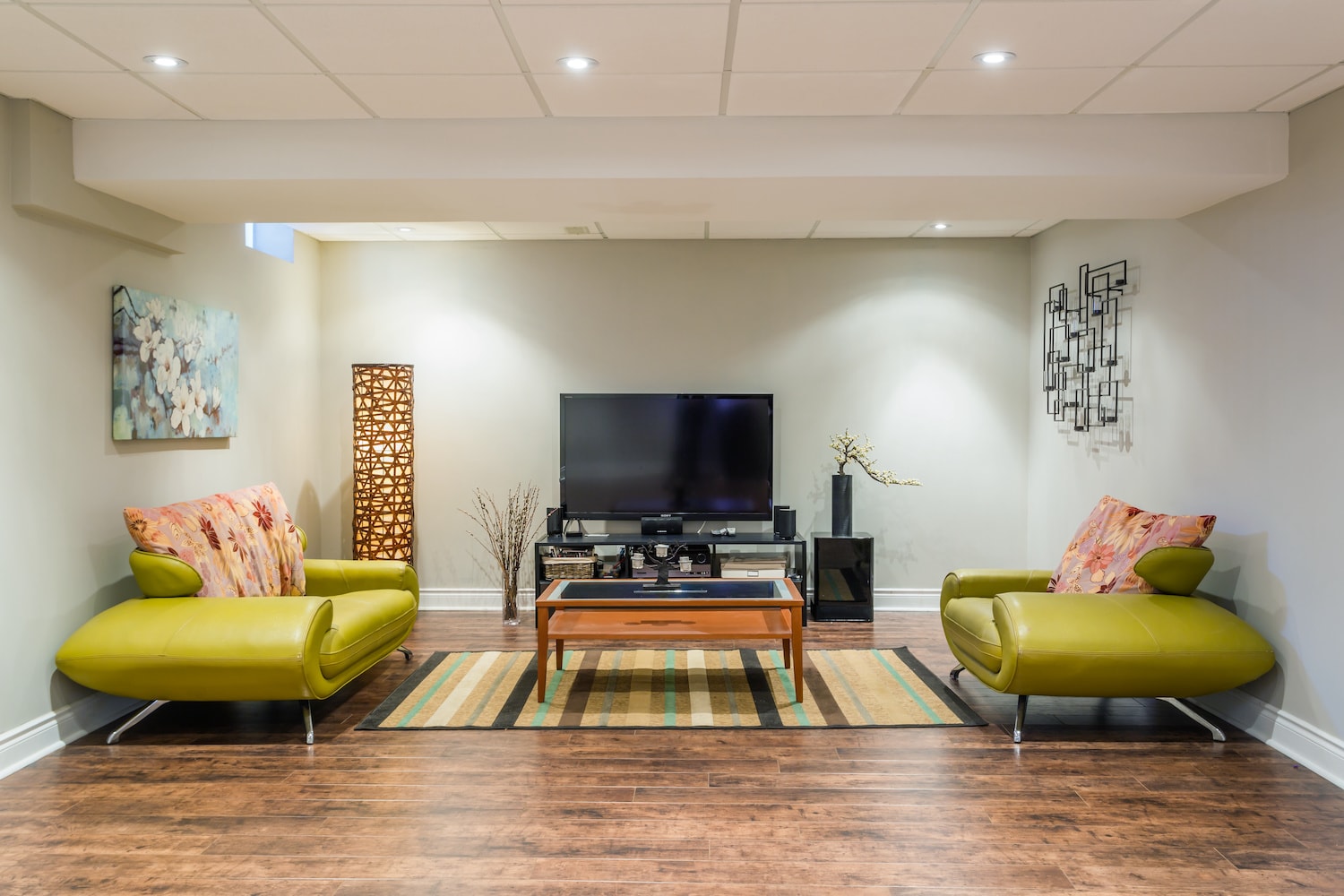 Declutter and Clean Your Small Basement
While it may not be the most fun part of the project, it's definitely essential to clean and organize your basement so that you can take stock of what you have and make space for what you want. Often, bottoms floors act as a catch-all for seasonal decorations, mementos, old furniture, and plenty of other miscellaneous items as well. Take an honest look at these items to declutter, donate, and toss any items that you haven't used in years.
Make a Plan
Next, you'll want to consider how you can use this space. Some questions to consider in this process include:
Do you have a basement room? Do you want to create one?
Do you have an unfinished basement?
Is there a drop ceiling?
Do you have an exterior basement door that provides a separate entrance?
Do you want to cover to keep your exposed beams?
Is there a full or half bath?
Do you want to make the walls, flooring, and ceiling water-resistant?
What is your budget?
Knowing what condition your basement is in and how much you want to invest to create your ideal space will help you set realistic goals that won't break the bank.
For example, if you have a finished basement but you don't like some of the interior choices, you can then focus on tearing out old carpeting, installing new lighting features, and even painting interior walls with a fresh color. Unfinished basements may need a bit more creativity to bring them to life on a budget.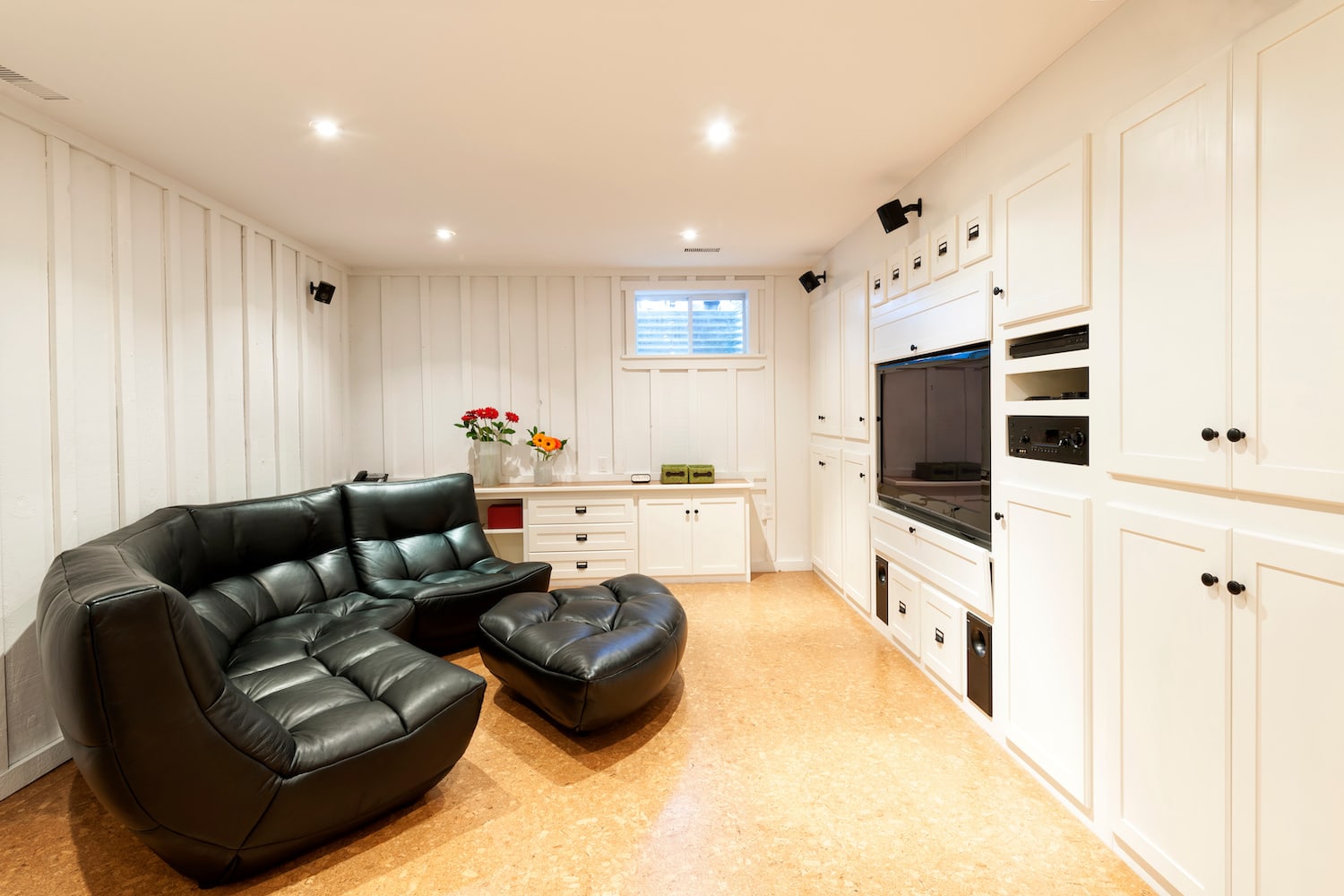 1.) Update Lighting
Too often, basements will have dull or limited lighting. By choosing to upgrade some light fixtures, you can create a brighter, more inviting space. There are many inexpensive ways to say goodbye to gloomy lighting. Check out a couple of great examples below:
Add brighter lights along the stairs
Switch out old candescent bulbs for brighter, more environmentally friendly LEDs
Floor lamps are a quick and easy way to add a cozy aesthetic to any space.
Replace simple ceiling fixtures with ones that match your personality
Brighter lights with new fixtures can instantly give your basement a more finished look since it won't be as dark as before.
2.) Paint, Paint, Paint
A fresh coat of paint can't make an amazing difference to your basement, even if you have concrete instead of a sheetrock finish. For concrete walls, it's best to add water-resistant paint as a base layer to lock in the space from the elements.k You can easily grab these at your local hardware store. Then, try adding a bright color or light colors to brighten up the room.
Why stop at the walls? Some other great ways to use paint include:
Add a focal point on one of your walls
Paint any exposed beams
Use paint with granules to add texture and style
3.) Transform the Basement Floor
This can be one of the biggest improvements you can make to your space! Since unfinished basement floors are usually concrete, they are more susceptible to moisture if they are not sealed. Painting an Epoxy flooring project is a great way to elevate your basement floors while also protecting them from moisture. These options will give you a more glossy, finished look.
Another option for improving the basement floor is with floating flooring. Whether you decide to Epoxy your floors or simply use sealant paint, a quick way to add warmth to your space is with rugs. Add them to give a vibrant, cozy, or clean character to the area. Unfinished basements may benefit from hardier indoor/outdoor rugs that are less likely to hold onto moisture.
4.) Furnish Your Room Within Your Budget
Furniture can add up rather fast, and all new items could blow your budget if you're not careful. Consider what pieces you already have, and then slowly add other pieces as you go.
Search local thrift or discount stores, yard sales, and even Facebook Marketplace to find deals on unique furniture. Keep in mind that including small details with lamps, pillows, and other decors can also help to elevate the space.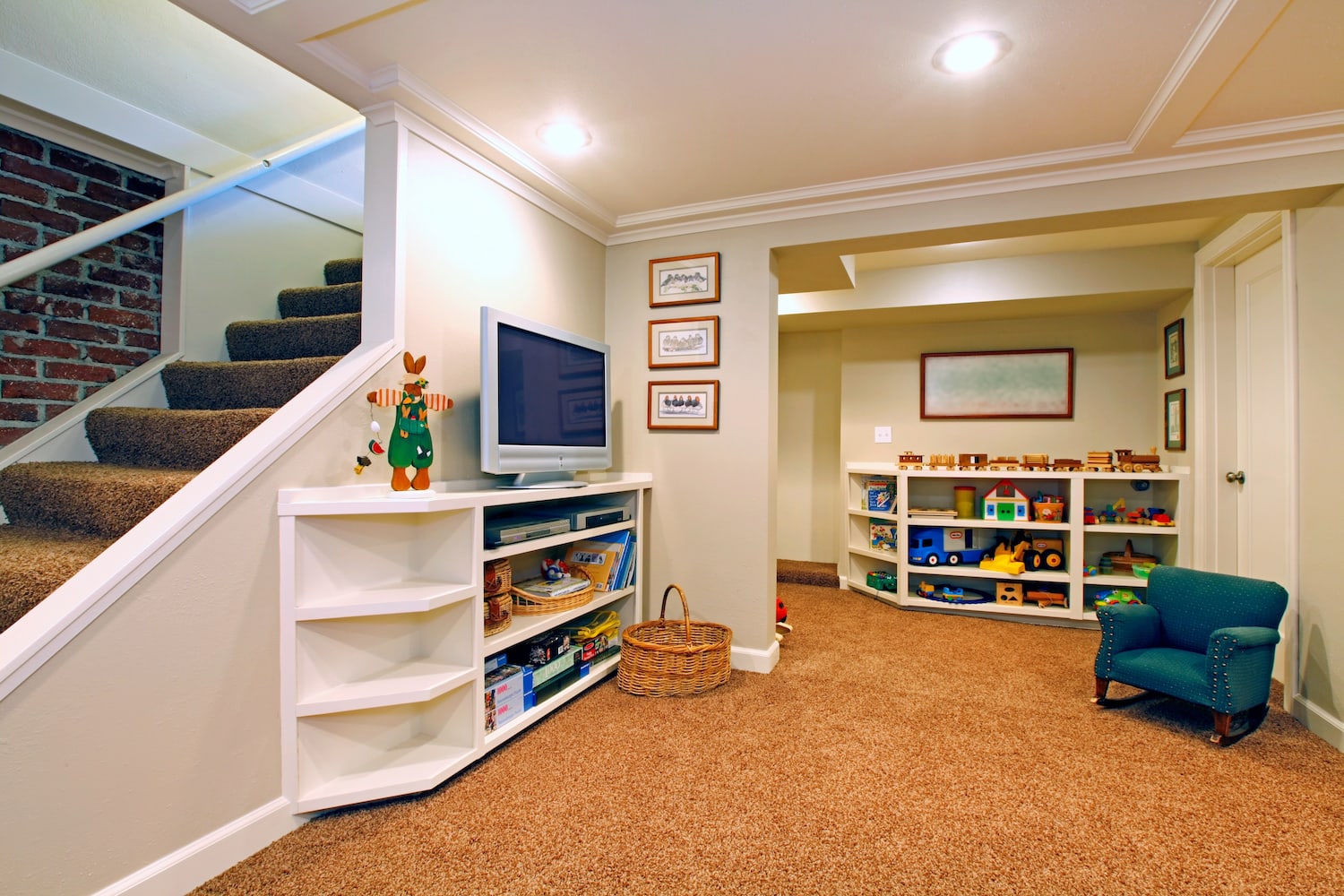 5.) Consider Adding Storage
Small spaces need to approach storage as a fundamental element in any design. Any furniture that you do decide to add should be able to double as storage. Some ideas include:
Pullout couches
Ottomans to store linens
Cabinets that can hide items away from view
Shelves that lift storage off the ground to safeguard valuables
Some basements even have great nooks and crannies where you can add storage space to. Get creative with the space you have, and remember to keep any special items off the floor and in appropriate containers to avoid any potential water damage.
Have Fun Incorporating These Small Basement Ideas on a Budget
Doing DIY projects can be time-consuming and physically demanding, but they can also be so much fun with the right attitude. There are many subtle ways to improve your space without breaking the bank. Mix and match these small basement ideas to create a more finished look within your budget.
If you're in need of some creative inspiration or assistance, reach out to the skilled designers and contractors at Thomas Buckborough & Associates. Our team will help you create a custom basement renovation that helps you use that space to its full potential. Book a consultation today!