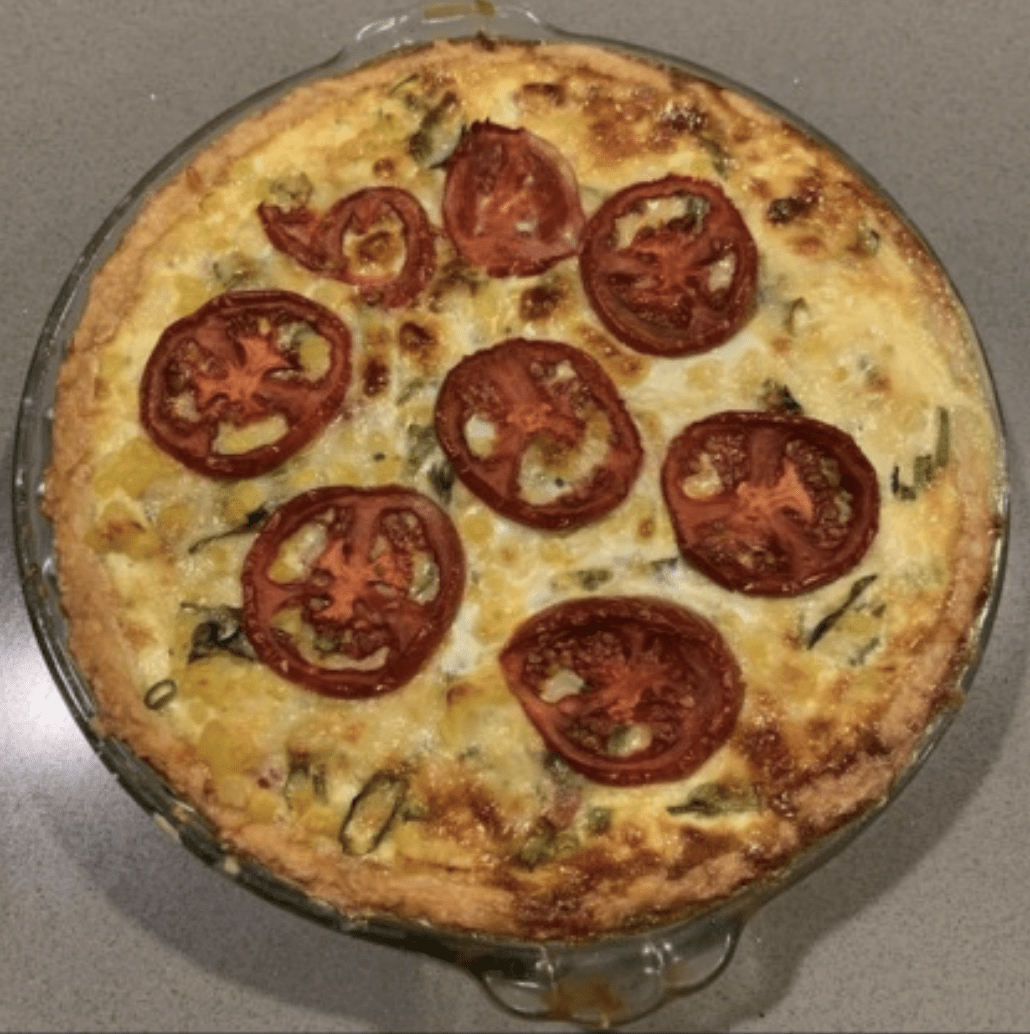 Tomato and Corn Pie with Fresh Basil is a twist on classic tomato pie.  It's the ultimate Southern-inspired summertime quiche!
Prep Time 20 minutes
Cook Time 1 hour
Total Time 1 hour 20 minutes
Ingredients
1 prepared pie crust, homemade or purchased
5 small tomatoes such as Roma (about 1 pound), sliced approximately 1/4-inch thick
Salt
1/3 cup freshly grated Parmesan cheese
2 teaspoons all-purpose flour
1 cup fresh corn kernels (about 2 small ears of blanched corn)
3 scallions, white and light green part only, finely chopped
8 large leaves fresh basil, torn into 1/2-inch pieces plus more for garnish
1 1/4 cups shredded sharp Cheddar cheese
3 large eggs
1 1/2 cups half-and-half
Freshly ground black pepper, to taste
Instructions
Preheat oven to 400 degrees.
If using a purchased crust, roll it out to flatten it slightly. Place in a 9 or 10-inch deep-dish pie pan.
Press the pie crust securely against the pie pan including securing the edge of the crust to the rim of the pie pan. Dock the bottom in a few places with a fork. Place a large piece of parchment over and up the sides and fill with pie weights, dried beans or rice.
Bake 12 to 14 minutes or until crust is lightly browned. Reduce oven temperature to 375 degrees. Let crust cool.
While the crust is baking, line a baking sheet with paper towels. Generously season the tomato slices with salt. Place on the paper towels to absorb the excess liquid that is drawn out by the salt.
Before assembling, blot the tomatoes dry with paper towels.
Remove parchment and weights and allow to cool 20 minutes.
Combine cheese and flour and sprinkle evenly over the bottom of the crust. Top with 1/3 of the tomatoes.
Sprinkle with half the corn and scallion, basil and cheddar cheese. Repeat layering again, finishing with a layer of tomatoes on the top.
Whisk together eggs and half-and-half, 1 teaspoon salt and freshly ground black pepper. Carefully pour the custard over the filling.
Bake 40 to 45 minutes or until set and top is lightly browned. (Keep an eye on the crust. You may need to make a foil collar to keep it from getting overly browned.)
Let rest 10 minutes before serving. Garnish with additional torn basil leaves.