When it comes to home construction projects, the design-build process is only continuing to grow in popularity over the traditional design-bid-build method. That's because these specialized design and construction services make it easier than ever to create the home of your dreams due to benefits like:
Improved communication 🗣
Streamlined ordering 🧾
Lower costs 📉
Better collaboration 🤝
Experienced builders 👷🏻
Faster timelines ⏱
Now, if you don't know about the different design and construction methods that can be used to build residential houses, you might wonder, "what is design build?" or be curious about why it's taking the design and construction industry by storm. And we're here to help answer those questions so you can see why the design-build process is becoming so popular among just over half of American homeowners with each passing year.
What Is the Design-Build Project Delivery Method?
​​
In short, the design-build project delivery method is a process that allows homeowners to work with a single company for both the design and construction phases of their home improvement projects.
With design-build, the homeowner hires a single company to both design and construct their project. This eliminates the potential for miscommunications and errors and the need to coordinate between multiple contractors. As a result, design-build projects often tend to be completed more quickly and efficiently than those completed using the design-bid-build method.
Not only that, but because design-build firms are typically made up of in-house designers, architects, and builders, they can offer homeowners a one-stop shop for all their construction needs. This makes the design build process much simpler and more streamlined than the design-bid-build method, which requires homeowners to coordinate between multiple contractors.
How Does It Differ From Design-Bid-Build Construction Projects?
In design-bid-build, on the other hand, the homeowner first hires an architect or designer to create schematic drawings and plans for the desired construction project. Once those plans are complete, the homeowner sends them out to various contractors to get bids on what it would cost to complete the work.
The homeowner then reviews the bids and chooses the contractor they feel is best suited for the job. Once the contractor is chosen, they begin work on the project according to the plans created by the designer or architect.
This process often leads to increased costs and longer timelines, as there is potential miscommunication between the different contractors involved. It also requires a great deal of coordination on the homeowner's part, which can be both time-consuming and stressful.
Breaking Down the Design-Build Construction Process
Now that you have a better understanding of what the design-build method actually is, we can dive even further into the steps of design-build projects, which are provided below:
1) Finding Land
The first step in any design-build project is finding a piece of land suitable for construction. This land will need to be surveyed and the necessary zoning permits obtained before any work can begin. Work with a real estate agent, broker, or even the bank to find the best vacant lot of land to build your new home on.

2) Brainstorming Ideas
Once you've found the perfect piece of land, the next step is to hire a reputable design-build firm to help you bring your vision to life. This firm will work with you from beginning to end, helping you with everything from brainstorming different ideas about the design of your home to the construction process itself.
3) Creating the Design
After brainstorming some inspiration for your upcoming design build, it's time to create a rough framework for your final design. Don't worry about too many of the nitty gritty details, as you'll get a chance to go back and adjust your design before signing any kind of design build contract.
4) Adjusting Your Design
With your initial concept in hand, you can start to tweak and adjust the design with your design-build construction firm to get closer to your final design. This might be a good time to consider the different materials you want to include or plan the layouts of each room in your new space.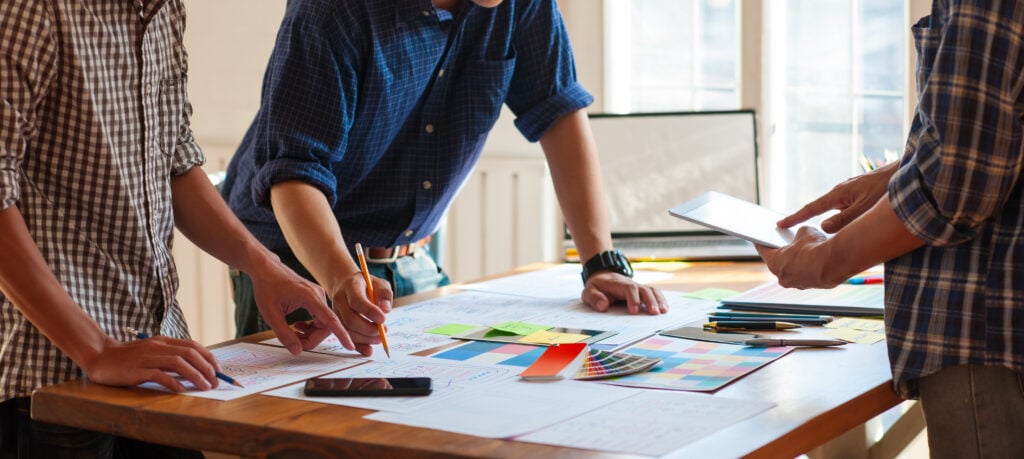 5) Finalizing the Design-Build
After you've gone back and made edits to your design to create exactly what you want, the designer and contractor work to finalize the schematic drawings and prepare to do all of the necessary work for the pre-construction phase, including purchasing materials and setting up an initial construction schedule.
6) Making Material Selections
Once you start bringing your project vision to life, you can start considering the different kinds of materials you might want to include in your design-build project. Remember that construction spending can get pricey, so don't forget to remain mindful of your budget before making any big purchases or selecting something custom.
7) Installing the Foundation
Prior to the start of the actual construction phase, you have to ensure that there's a solid foundation laid down to support your dream home. Once a high-quality foundation is laid, and all necessary inspections are made, you can finally move on to the real construction of your new design build.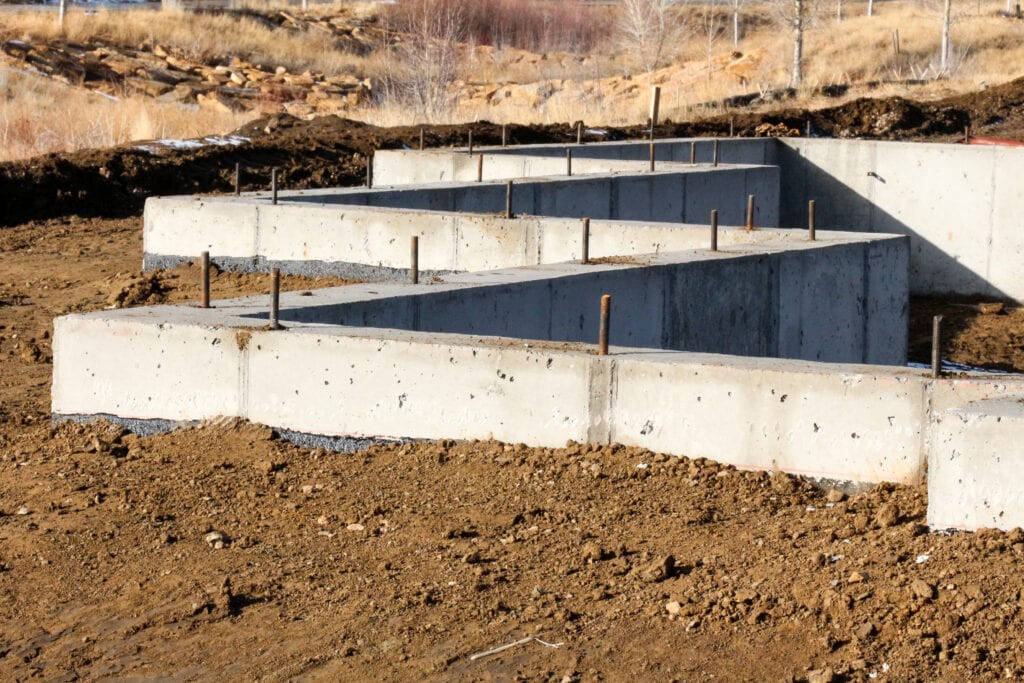 8) Starting the Construction Phase
With the design phase complete, you can get ready for the real fun stuff: getting started on construction. Unlike a traditional project delivery method, you'll work with the same project teams throughout the entire project, so everyone should be well prepared to get things off the ground and give you the dream home you've always wanted.
Can Design-Build Be Used for My Construction Project?
The simple answer is yes! There's really no reason why you wouldn't be able to take the design-build approach to just about any project. You might only have a setback when selecting a design build team to tackle the job.
As a more modern home construction method, there isn't always a solidly experienced firm nearby you can trust enough to hire, unlike the sub-par subcontractors who take on design bid build jobs, who can be found on nearly every street corner in some cities.
For this method to be worth the money and make sense for you personally, it'll be essential for you to find a reputable local design-build construction company that can handle the job and provide timely service.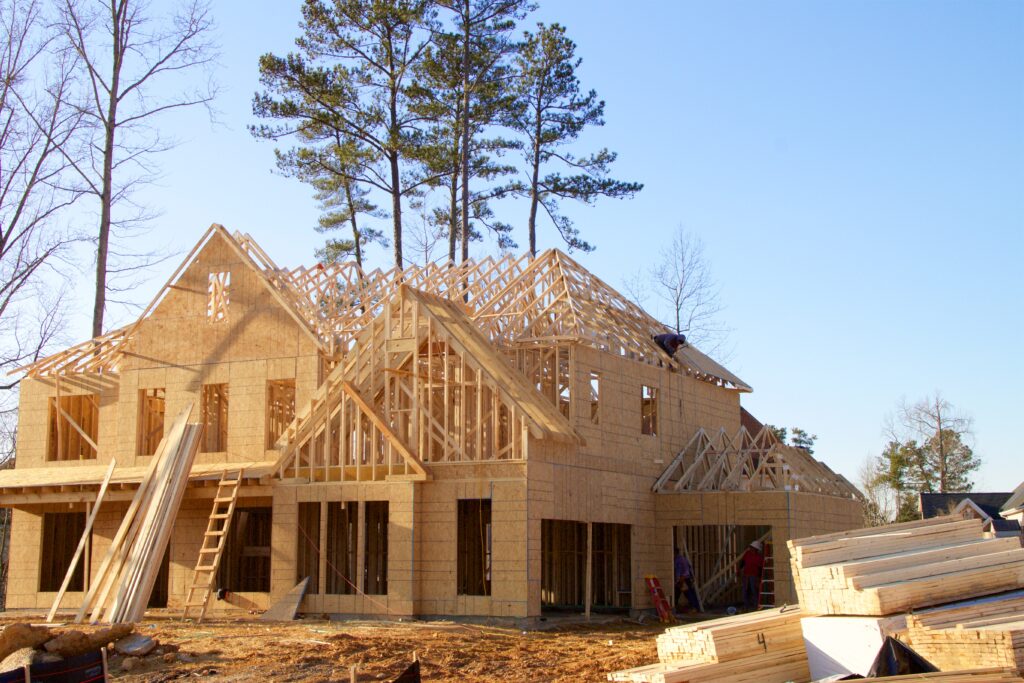 7 Benefits of Design-Build Delivery
With a design-build project, you'll be able to take advantage of a full breadth of benefits to achieve the new home you've always envisioned. No more dealing with unreliable subcontractors or waiting around for different steps in your home remodel to get delivered.
The design build method eliminates all of those annoying drawbacks of the typical design-bid-build project delivery method, making your life much easier throughout the duration of your renovation. Some other positive aspects of the design-build process include:
Design customization – Since you'll be involved in the process from start to finish, you have an ultimate say in the final design. That means you can get as customized as you want when creating your dream home.
Simplified contracts – Perhaps the most attractive aspect of design build is the single contract you have to sign. Standard design-bid-build project delivery methods require separate contracts for each subcontractor used, but since you'll be utilizing one general contractor for the entire process, the paperwork is simplified exponentially.
Open communication – During a design build project, you should have access to the entire team to answer questions or address concerns. One of the best things about design build firms is their emphasis on prompt and transparent communication, instead of playing phone tag for weeks like you would with contractors who use other delivery systems.
Teamwork & collaboration – Your project team should keep you in the loop from start to finish during a design-build, ensuring that you can take full advantage of this collaborative approach and get exactly what you want out of the design.
Contractor accountability – One general contractor will oversee your entire design build project, putting all responsibility and accountability on them. If something goes wrong, that project owner is the one who will have to answer for it, not some random subcontractor.
Time & cost savings – With one unified flow and one team involved in the process, you won't have to worry about waiting around for other workers or managing disparate contracts. The design build process will save you plenty of time and money with everything in one place.
Construction expertise – Since design build teams tackle every aspect of your project, you can pretty much guarantee that you're getting expert work from experienced professionals. You won't have to be concerned about hiring subcontractors who don't actually know what they're doing.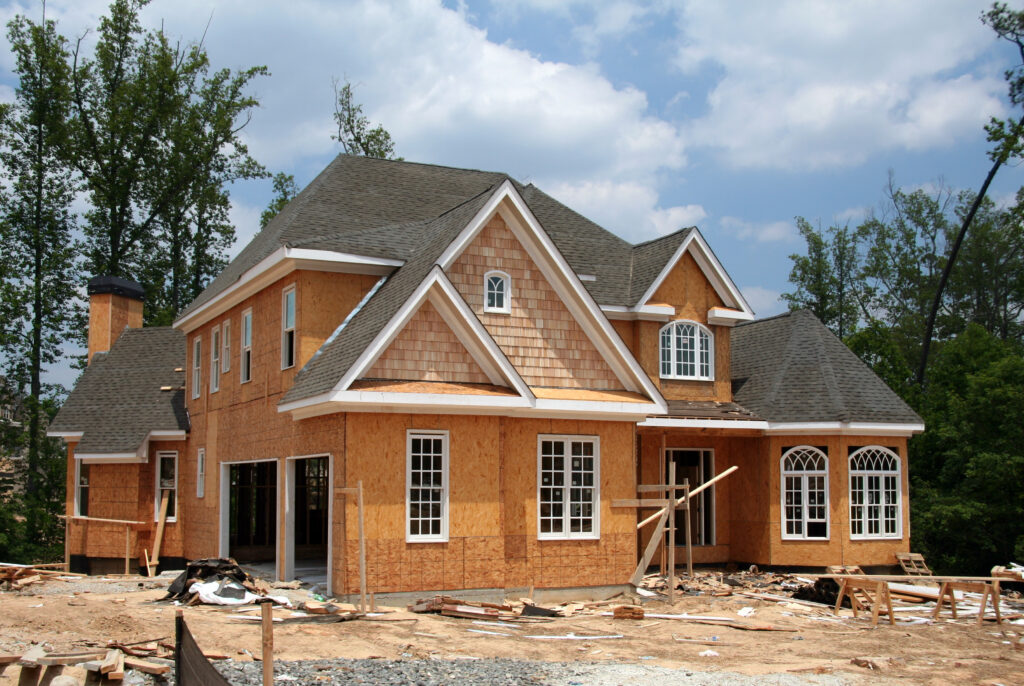 Choosing a Design and Construction Team You Can Trust
If the design-build project delivery method sounds like it might be the right project delivery method for you, there's one more crucial thing to do: choose a design build team you can trust. Look for a construction firm with specific experience in design build projects to ensure everything goes smoothly and you don't hit any snags.
Don't know where to start when looking for a local design-builder to take on your project? The best way to do this is to ask around your neighborhood or with coworkers and friends to find a reputable team that handled their past projects, or do your own research online to see true user reviews for contractors and companies in your area who can handle the job.
The Best Way to Start Your Design-Build Project
Although several project delivery methods can be used to tackle a new home build, we believe the design build method is the best way to achieve your dream design. Don't take the risk on regular design-bid-build projects when you can put your trust in a design builder who will see things through from beginning to end.
Talk with our seasoned design build team today to start your project using this collaborative approach— Contact us now!