Getting your basement finished is a huge undertaking, especially if your basement is still only studs and concrete. But, to help you with your creative block, we've laid out some great ideas to help with your basement remodel.
At Thomas Buckborough & Associates, we want our clients to live in the space of their dreams, but you'll need to dream it up first. So here's your starting place with 15 basement ideas for your home!
Inexpensive and DIY Ideas
First off, before we get too far into all of the slightly more expensive basement finishing options, let's look at some cheaper and DIY options. Each of these ideas is simple, cost-effective, and quick to install in your still-unfinished basement.
Fix Your Moisture Problems
Moisture is one of the leading causes of mold and mildew, two things no homeowner wants in their unfinished basement. So, before we get too far, you'll want to get this taken care of. One of the easiest and most efficient ways to get rid of a little excess moisture is by firing up the old dehumidifier. If you don't have one yet, you can find them for a pretty reasonable price at Walmart or a local hardware store.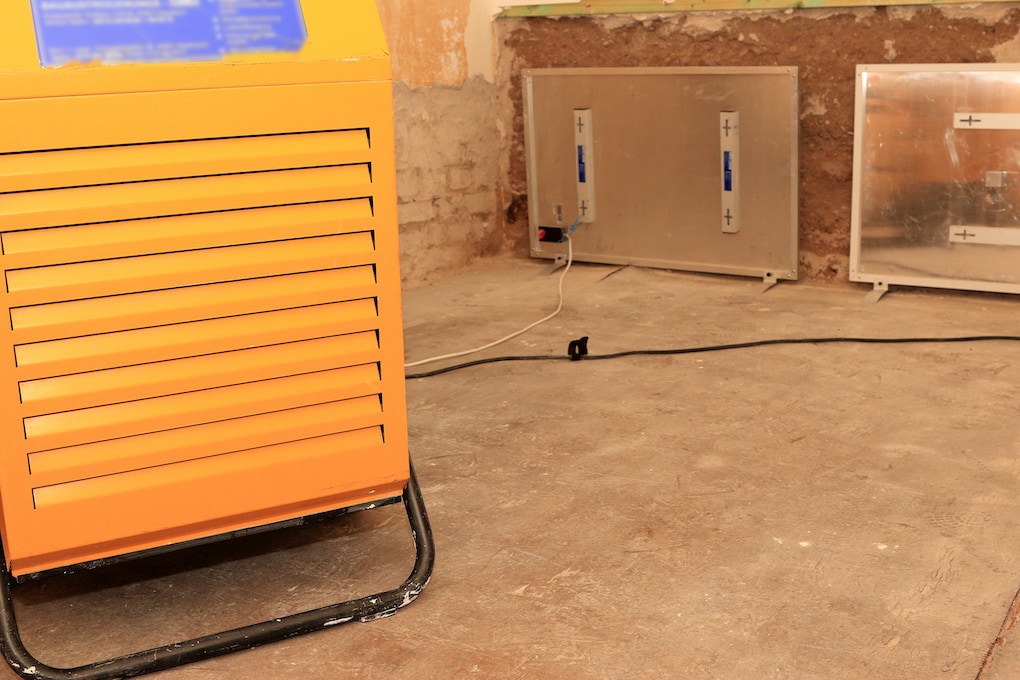 If you have more extensive water problems, you should definitely contact a contractor right away to help you fix the issue.
Add Foam Mats for Comfort
Another inexpensive and quick way to get your basement a little more livable is by adding foam mat flooring. They're easy enough for anyone to put down and are very cost-effective. In addition, because most basements have nothing more than a poured concrete floor, they'll keep your feet warm and make the space feel a little bit more inviting for the time being.
Use String Lights to Create a Cozy Space
You can use string lights anywhere in your home, but they're especially perfect for the unfinished basement. They create a cozy and inviting atmosphere that will make even the darkest of basements feel a little more livable.
If you want to get fancy, you can also add some fabric panels from Walmart or a craft store to the string lights and create a faux wall or ceiling.
Add Area Rugs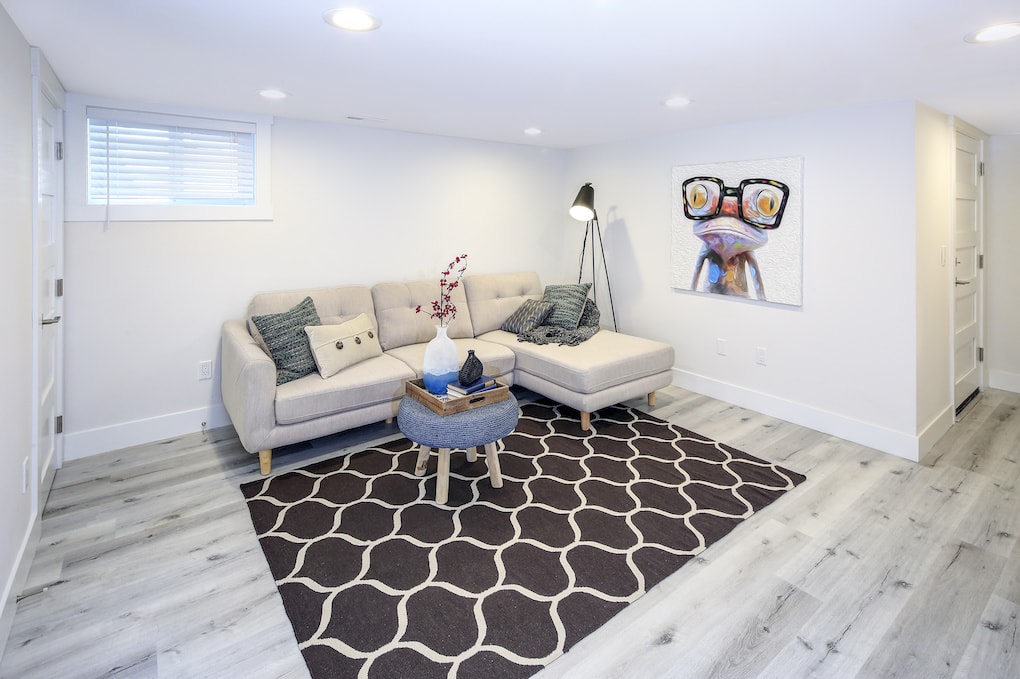 Area rugs are another inexpensive and simple way to make your unfinished basement feel more inviting. The one downside is that you'll most likely need a couple of them if you have an unfinished basement that's larger than 500 square feet.
Install Storage to Make the Most of Your Space
Even unfinished basements need some storage so you can find what you're looking for more quickly. The key is to ensure that all of the storage you install is sturdy and won't fall over.
If you're just looking for a little bit of storage, some baskets or crates will get the job done.
Paint the Cinder Blocks
If you're looking to add a little bit of color or light, painting your cinder blocks is an easy way to do that. You can use any color, but we recommend starting with a nice neutral if you're unsure what to do.
Many homeowners don't realize that you don't have to put sheetrock up to have a nice basement. There's nothing wrong with painting the blocks.
Hang Curtains as Dividers
Hanging curtains as dividers is one of the cheapest ways to create a sense of privacy in your unfinished basement. You can use any type of curtain or fabric to create dividers throughout the space.
Create an Art Studio
Creating an art studio is a perfect way to use the unfinished space as it's intended. A small amount of flooring or rug, some art supplies, and you're good to go. The best part is that you won't have to worry about your artwork making a mess!
Build a Workshop
If you're looking to create a workshop in your basement, the first thing is planning. You'll need to plan out what tools will be needed and where they will go. How you keep the mess clean as you work will be really important as well.
The other thing to keep in mind is that you'll likely need a workbench with some power and storage space for all your supplies. Plus, make sure you have a convenient outlet to power your tools and easy storage solutions that still allow quick access to your tools.
Paint the Rafters or Ceiling
Paint the rafters or ceiling to create a more finished look. It's not as hard as you may think, and if you're not sure about it, you can always do a test section to see if you like the way it looks. White is probably the best color to use for rafters or ceilings.
Professional Remodeling and Finishing Ideas
The next set of remodeling and finishing ideas for your basement are a bit more extensive. You'll likely want to hire a contractor or remodeling company to get some of this work done. If you're in the greater Massachusetts area, TB&A can help you remodel and create the basement of your dreams.
Add a Bedroom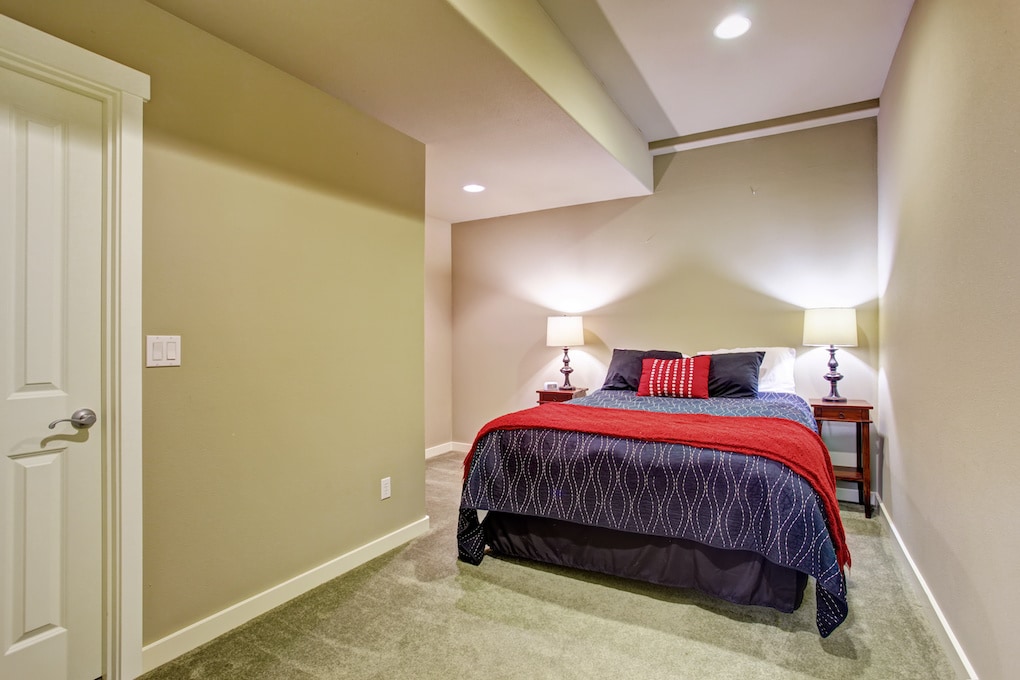 Adding a bedroom is an excellent way to use your unfinished basement and add value to your home. There are several ways that you can go about adding a bedroom, but there are some specific requirements.
First, you'll need to install a few dividing walls to separate the bedroom from the rest of the basement. Sometimes homeowners will use cinder blocks to build these walls, but those can be much more expensive. You'll need to think about other details, including electrical, windows in the room, and sheetrock.
After that, all you'll have left is the finishing touches to turn part of your basement into a finished bedroom.
Put in an Extra Bathroom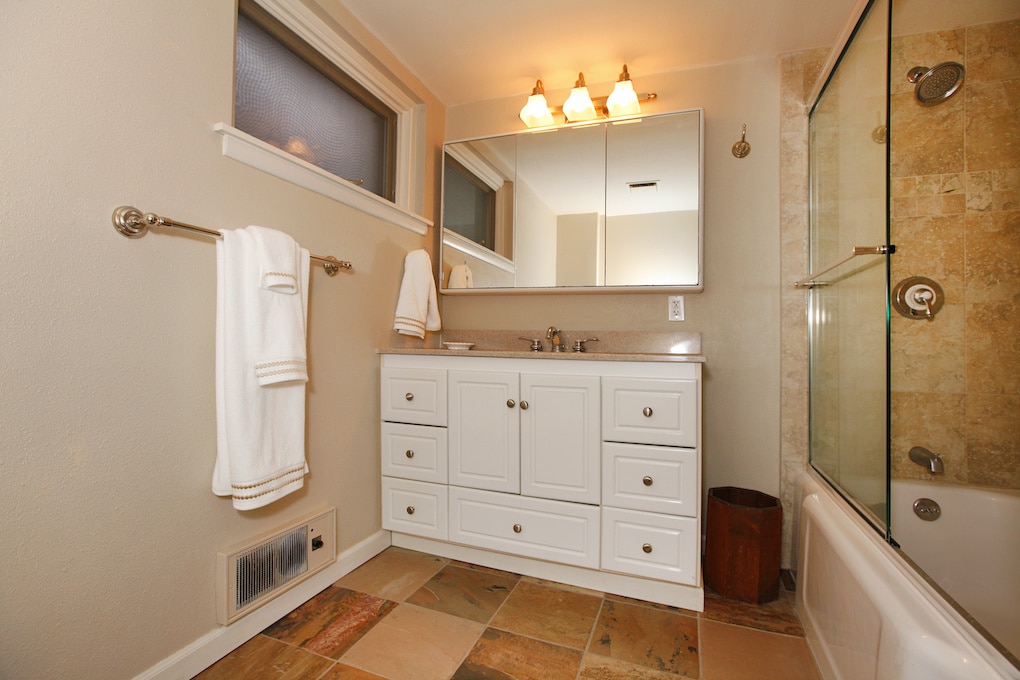 If you're going to add a bedroom in your basement, then you should consider adding a bathroom as well. A bathroom can add immense value to your home and help you save money by cutting down on the need to renovate your main bathroom or make it bigger.
But, installing a bathroom in your basement won't always be easy. So be sure and reach out to a contractor to get a quote on the work that you'll need done.
Design the Laundry Room of Your Dreams
Basements are an excellent place for laundry rooms, and in most homes, the laundry machines are already installed in the basement. But, not everyone has a finished laundry room or one that's been made to match their aesthetic. You'll spend a lot of time doing laundry and folding it; why not do that in a room that you feel at home in.
If you're looking for a new and improved laundry room, then we recommend installing bamboo or laminate flooring in the unfinished basement laundry area. Bamboo and laminate flooring don't absorb moisture in the same way that other flooring products wood. This helps give you a safeguard against any accidents. You can also install some wall-mounted cabinets with shelving to store detergents and other supplies.
Create an Entertainment Center
Creating an entertainment space is a great way to use your unfinished basement. All you need is a few rugs, a seating area, and a TV or projector. But, if you're looking to create a real home theater, then you'll want to install good lighting, a sound system, and more. The range of finished entertainment centers is huge.
From sports to gaming and movie nights, entertainment centers are fun for the whole family.
Add a Basement Bar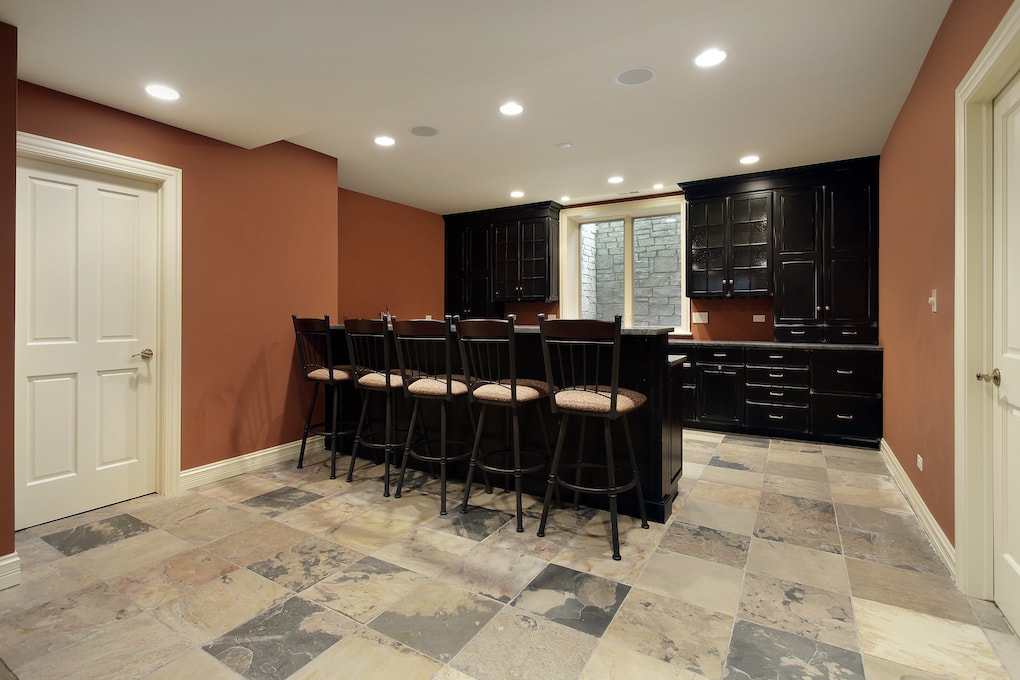 To go along with your entertainment center, consider adding a bar where you can make drinks for your friends and store cold sodas for the kids. This can be a great way to transform your basement into a comfortable space that works well for hosting guests.
Of course, if you're looking for more basement or whole home remodel ideas, you can check our blog. We offer lots of resources for homeowners, but if you're looking to work with us, we'd love to hear from you.
At TB&A, we make remodeling easy. Our start to finish team can do everything from designing your interior space to pulling permits and doing the work. We'll handle the whole job and take the stress off of you. Then, all you have to do is sit back and enjoy the process.