This is absolutely my favorite recipe this year. My girlfriend and I went to New Orleans for New Year's this year. Between that incredible food focused journey and this Christmas seasons feasting and snacking it was time for me to go on a diet and shed a few pounds. I chose a low carb diet and this dish fits both my eating sensibilities as well as that diet approach. Everyone loves lasagna, right? I think this recipe captures what everyone loves about it and puts it in a healthier package. It's best if you can make it the day before and let it "set up" overnight before diving in. The leftovers are great and it can be tweaked in many ways to address your family's favorite ingredients.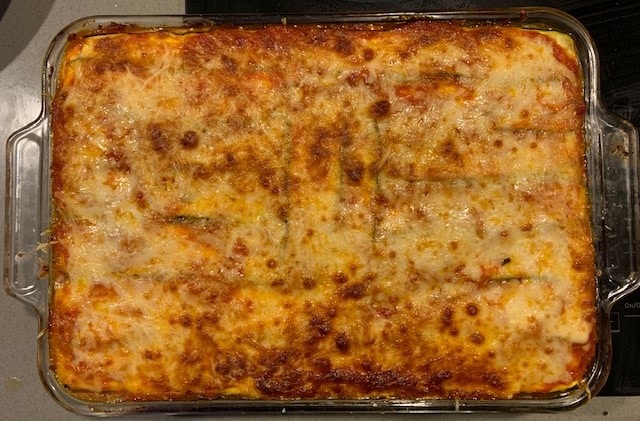 Ingredients:
3 or 4 large zucchinis; 5 if they are smaller
Large container whole milk ricotta cheese
Large mozzarella cheese
2 eggs
2 table spoons oregano
Parmesan cheese
Package of mushrooms
Package of Italian sausage, I prefer "Hot"
1 jar of your favorite marinara sauce
Directions:
Prepare the Zucchini
Thinly slice zucchini throwing away the outside skin on your first cut, to approx. 1/8" slices. Looking for nice even cuts. It helps if you have a mandolin; great inexpensive kitchen tool for slicing if you don't have one, you should get it!
Salt all of the zucchini slices with kosher salt and lay/stack on a cookie sheet to draw out the excess water. It comes right out and is very easy to do. Let them sit about a half hour
Prepare the other ingredients
Grate the mozzarella and add in a mixing bowl to the ricotta
Reserve 1 cup of mozzarella for the top
Grate half of your parmesan and add to the reserved mozzarella for the top
Add the two eggs and oregano, salt and pepper to taste
Heat up the sauce
Remove sausage from skin and sauté till cooked through, breaking it up into small pieces as it cooks
Slice mushrooms and Sauté them in same pan
At this point you could prepare or replace other ingredients that you are fans of. Try these:

Kalamata olives
Sauté spinach and add to ricotta cheese mixture
Caramelized Onions
Assembly
Put a little sauce in the bottom of a 12"x 15 x 2" baking pan and layer a tight or slightly overlapped layer of zucchini, wiping the slices of water and excess salt as you use them
Now a layer of the ricotta mixture
Top that with half of the sausage and half of the mushrooms or add your own additional toppings
Top this layer with marinara
Repeat a 2nd layer of zucchini, ricotta mix, sausage and mushrooms, marinara
One more layer of zucchini with marinara on the top
Sprinkle reserved cheese blend for the top
Bake at 375 degrees for 35/40 minutes until cheeses is lightly browned in spots
Enjoy with your favorite green vegetable, try garlic sautéed Broccoli rabe and a great red wine. AHHHHH! Such great comfort food and low carb to boot!