Are you feeling uninspired by your home? When you look around, do your rooms feel;
Small and cramped?
Big and empty?
One dimensional?
Perhaps it's time to redesign. But you don't need to pull out the sledgehammer just yet. There's a simple and often forgotten way to help bring your home to life.
That's right. We're talking about your ceiling.
It can be easy to dismiss the ceiling when putting together a design plan for your home. But it's a missed opportunity! A ceiling can help make or break a space.
Looking for some ceiling ideas to make your space pop? We've compiled a comprehensive list of the most popular ceiling ideas so that you can pick the one that works best for you.
Why Should I Redesign My Ceiling?
If you are uncertain as to whether or not you should consider redesigning your ceiling, here are some things that can happen when you do:
Change the Feel of Your Space – A ceiling can completely transform the feel of your space. It can make the room feel larger or small and cozy. It can also play into your home decor in surprising and impactful ways.
Boost Your Resale Value – Sure, it might be easier to leave the popcorn ceilings that came with your home. But changing up your ceiling design helps your home look elegant and finished. This can lead to better resale prices further down the road.
1) Coffered Ceiling
Looking to add antique detail to your home? A coffered ceiling will do just that. This classic design choice has been around since the renaissance and is not going out of style any time soon.
Coffered ceilings are a great way to fix a large, echoey room, as the design helps absorb sound. This is a style that works best in rooms with tall ceilings, as the coffered ceiling design will reduce your headspace.
2.) Exposed Beams
The look of an exposed beam ceiling is more popular than ever these days. It's easy to see why. Exposed beams help give a space a rustic, natural feel while helping to add interest and dimension. It can be styled to have a more retro, farmhouse look or a more modern industrial atmosphere.
You don't have to live in an 1800s farmhouse in order to get this look. Check out this tutorial on how to install faux-exposed beams.
3.) Tray Ceiling
Do you like the look of a coffered ceiling but want something that's a bit easier on your wallet? A tray ceiling adds the elegance and drama of a coffered ceiling while being much more versatile.
Tray ceilings help draw the eye upwards, making them an excellent choice for homes that have limited ceiling height. A tray ceiling can make your whole room feel larger.
4.) Painted Ceiling
One of the simplest ways to add style and dimension to a room is by creating a painted ceiling! Painting your ceiling can totally change the look of your space. The best part? It's affordable and easy to do by yourself.
Did you know that a painted ceiling could actually make your room look bigger? By continuing your wall color onto your ceiling, it will create an optical illusion that makes your ceilings look taller.
5.) Wallpaper Ceiling
Looking for unexpected ceiling ideas? Try wallpapering your ceiling! Adding wallpaper is an unconventional way to add texture and color to your space. When choosing busy patterns, we recommend choosing a neutral color for your walls to balance out the room.
6.) Tin Ceiling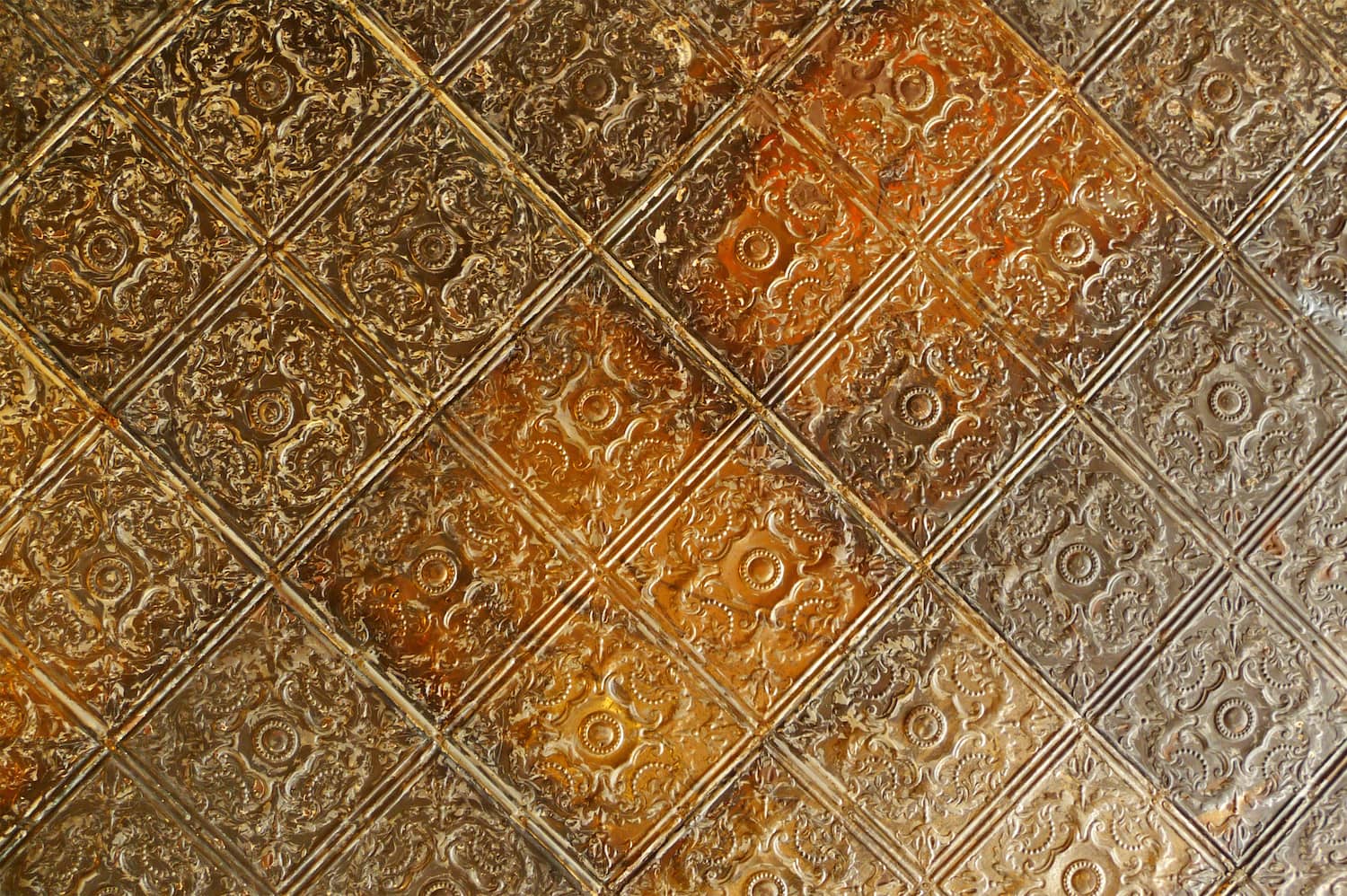 Tin tiles are an absolutely gorgeous choice if you want to create a focal point out of your existing ceiling. Despite their timeless feel, tin tiles are surprisingly underutilized in the world of ceiling ideas. We love the warmth and shine copper tiles bring to spaces like kitchens and bathrooms.
7.) Drop Ceiling Tiles
Do you have a basement with a drop ceiling? You might have become used to the cheap, textured ceiling tiles that came with it. What if we told you you could easily elevate the room just by switching out your ceiling tiles? These days, you can purchase drop ceiling tiles in a variety of styles and colors. Whether you like a rustic cabin, french countryside, or a minimalist look, there is a tile option for you.
8.) Tongue-in-Groove Ceiling
Want to get rid of your pesky popcorn ceiling but don't want to spend time scraping it all off? You can cover it by using tongue-in-groove boards! Not only does tongue-in-groove save you time, but it can make a huge impact on the overall feel of your space. If you love a farmhouse chic style, tongue-in-groove can help you achieve that alternatively, pair it with some crown molding for a more refined look.
9.) Crown Molding
Adding crown molding is a simple way to elevate your whole room. Molding helps a space look like it has a more finished design. In the grand scheme of ceiling ideas, crown molding is quite simple to install, making it the perfect DIY ceiling makeover project.
10.) Vaulted Ceiling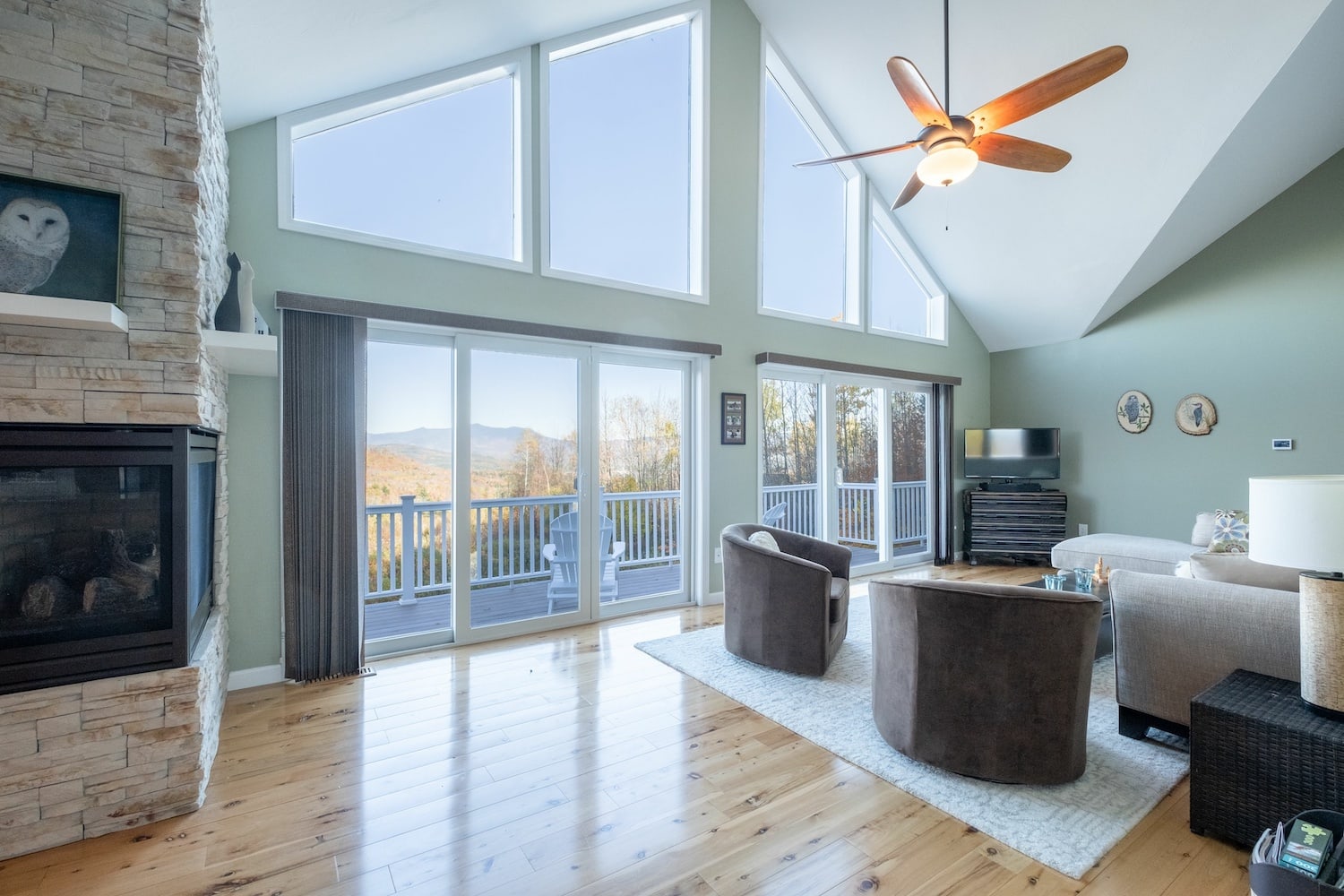 When you want to create a major transformation, you can't go wrong with a vaulted ceiling. In terms of ceiling ideas, this one requires extra planning (not to mention a higher cost) but is hugely impactful. A vaulted space will help your space feel bright and open. In terms of architectural details, this one is a guaranteed stunner!
11.) Add A Skylight
If you like the idea of having a space with lots of natural light, a skylight might be one of the ceiling ideas that will work for you. Natural lighting is a great tool when it comes to opening up your space. We love adding skylights into kitchens, living rooms, and even dining rooms, to create an indoor-outdoor living feel.
Contact a Professional
Ready to turn your ceiling ideas into a reality?
At Thomas Buckborough & Associates, we've been transforming homes since 1988. Our design and remodeling experts are more than happy to talk you through every step of your ceiling transformation. From initial designs to final installs, you can rest easy knowing that your home is in good hands. Contact us today for a virtual consultation!