Are you thinking of giving your living room a much-deserved upgrade? Remodeling is an exciting journey, but it can also be overwhelming. If you're hoping to avoid some of the common pitfalls, here are five tips that will help guide your plans and make the best use out of one of the main areas in your home. From budgeting correctly to shopping around for creative solutions – these tactics will put you on track towards achieving the living room remodel results you've been dreaming about!
5 Things To Consider When Starting Your Living Room Remodel
Your living room is where you do most of your—well, living. As you prepare to tackle your remodeling project, it's important to invest in updates that will have the most lasting impact on a space. You want to make changes that not only increase the room's aesthetic appeal but also make the room more enjoyable—and livable.
1. UPGRADE THE LIGHTING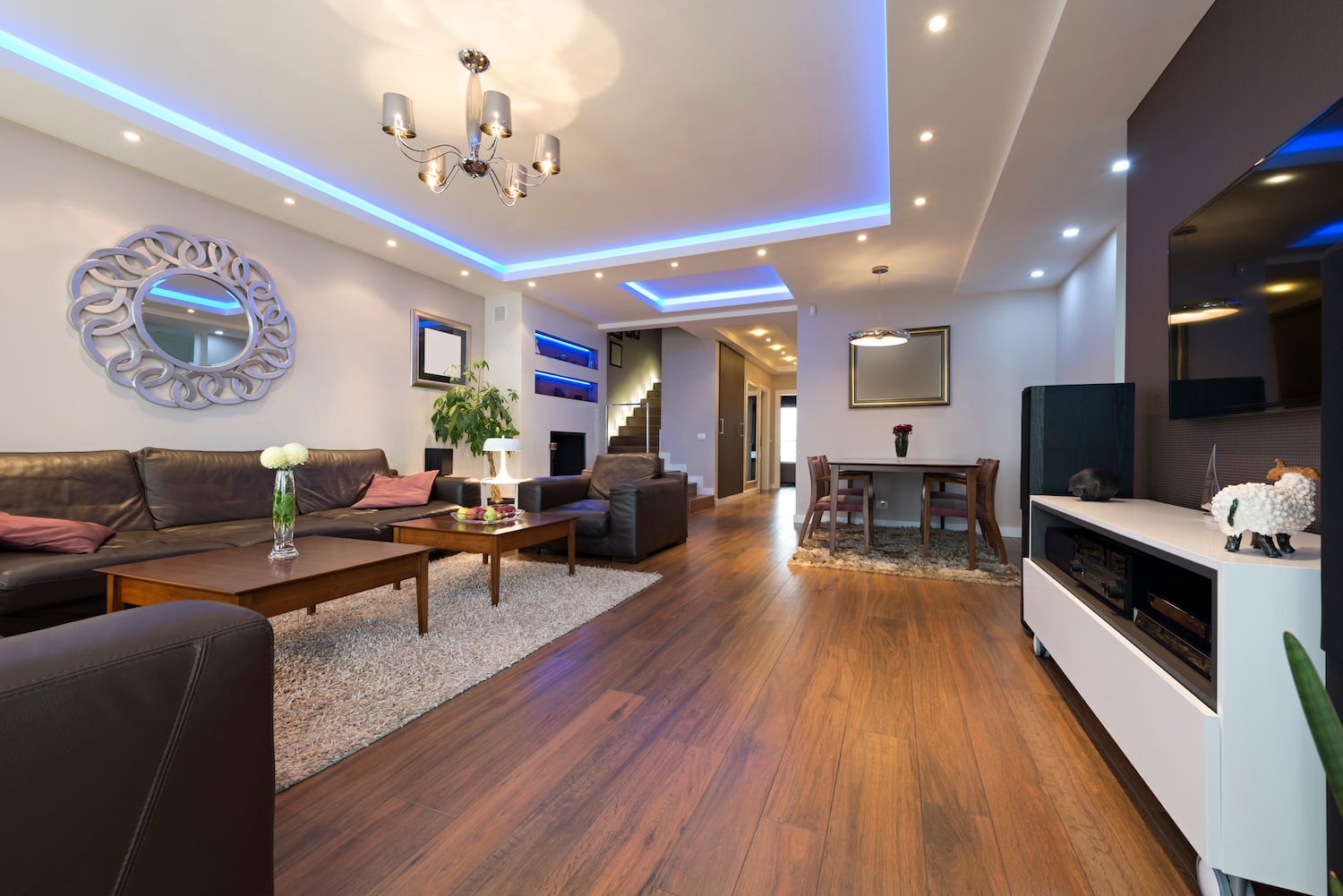 Builder-grade fixtures are okay, but lighting can truly make or break the functionality and look of a room. Given that a living room can be used for anything from reading a book or playing a game to enjoying a glass of wine or watching the latest blockbuster, it would be helpful to have a variety of lighting options to choose from. Work with your remodeling partner to develop a lighting plan for your room. Regardless of the styles and fixtures you choose, your room should include ambient (general), atmosphere (mood), and task (focused) lighting.
2. CREATE ARCHITECTURAL DETAIL
Bring depth to your design with the beautiful detail of wall paneling, trim, and crown molding to name a few. This will add a custom look that is sure to make a bold statement. Take your room dimensions to the next level and achieve a one-of-a-kind design! For added functionality, consider incorporating built-in storage or bookshelves. Both of these fixtures can become part of the overall aesthetic and really add flair to your space. With architectural details such as these, your living room atmosphere will be improved almost instantly!
Some Other Examples Of Architectural Details:
Incorporating natural elements into your living room's architecture. Adding a skylight or large windows will let in more natural light and give the room an open, airy feel. You can also add unique accents like stone fireplaces, exposed beams or even an indoor garden to bring some of the outdoors inside.
Consider removing any walls that are separating rooms unnecessarily or adding additional wall features to create a more dynamic environment.
Painting is another great way to bring architectural elements into your living room remodel. Consider bold statement colors for accent walls or use classical prints or patterns on other walls for an eye-catching aesthetic.
3. RECONSIDER LAYOUT
Remodeling is the perfect time to evaluate the flow of the room and make any necessary adjustments. Is there an awkward doorway in the layout? Does the closet jut out too far into the room? With strategic rearrangement and remodeling, you can modify the space and create a personalized area that fits with your specific requirements. Fine tune the details and make adjustments that better suit you and your vision for your home. More than just creating an aesthetically pleasing environment, you can generate landscape solutions that respond to your unique needs. With careful consideration, use this opportunity to adjust the layout to achieve results that work for you.You'll be glad you took the time to make your home more functional!
4. INCREASE NATURAL LIGHT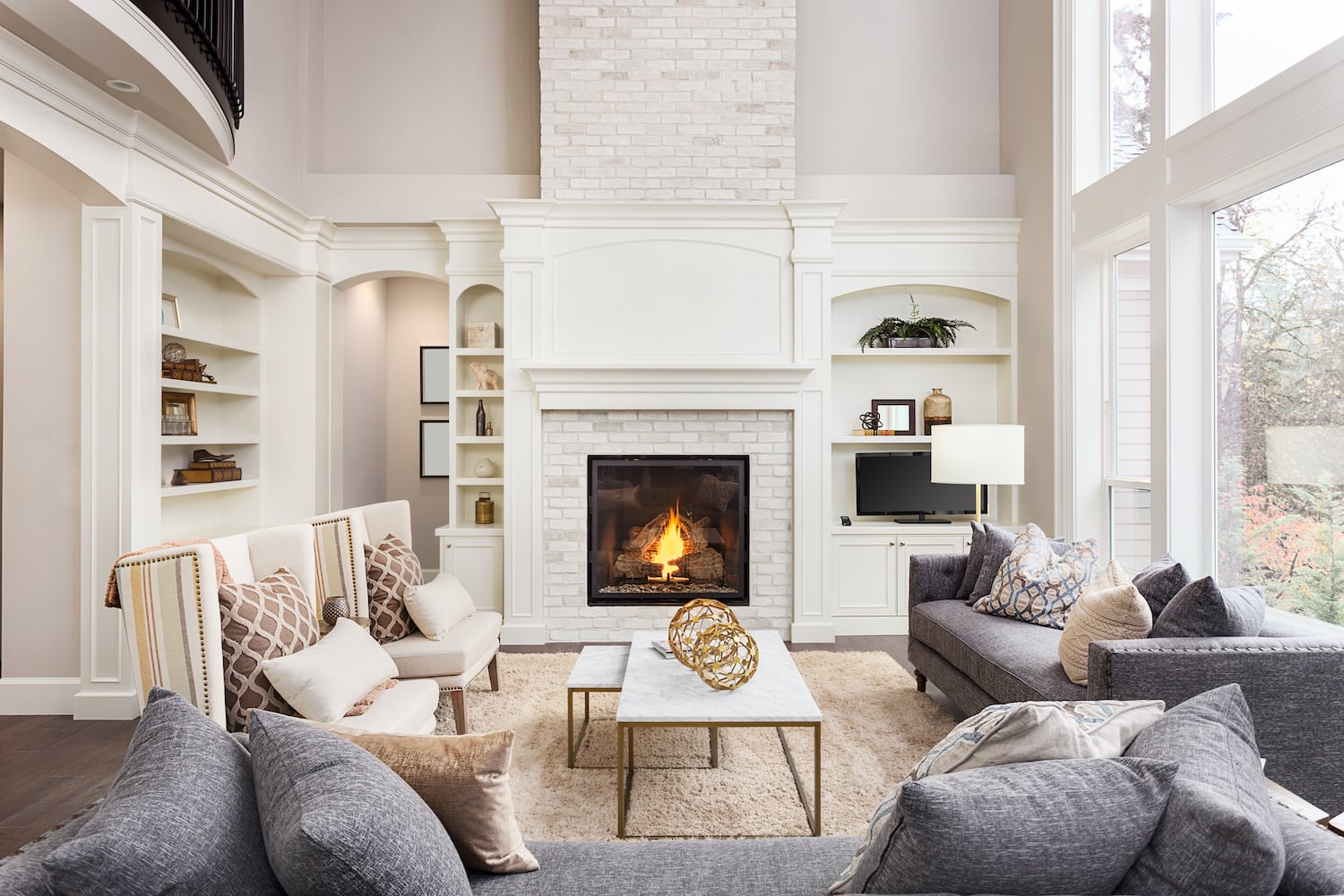 Another way to improve your living room is to add more natural light. There are several ways to do so, but you'll have to work with your remodeling partner to assess which option is best for you. To add natural light to your living room, use any of the following features (or a combination):
Added windows
Bay window
Solar tube
Skylight
French door
Sliding glass door
5. REDO FLOORING
One of the largest surfaces in your living room, the floor is a simple yet major element to update. Work with your remodeling partner to find the right flooring material for your space. If you have an open concept home, you may also consider taking this update to other areas of the house. Doing so will instantly elevate your home's interior and provide a clean, cohesive look.
For example, if you have hardwood flooring, it can be refinished or stained as part of the project to provide a smooth and glossy finish that looks new and will last for years. In addition to making the home look more stylish, refinishing wooden floors can also make them easier to clean and maintain. On the other hand, if you want to opt for something more modern, you could consider installing tile or vinyl flooring that comes in a variety of colors and designs. Another great benefit of redoing your floors when remodeling is that it gives you an opportunity to improve your home's energy efficiency by adding insulation between the subfloor and new flooring material. Lastly, updating your floors is an affordable way to keep your home looking its best while creating an inviting atmosphere for family gatherings or entertaining guests.
Get In Touch With The Pros At TBA Designs!
If you're looking for a trustworthy remodeling partner, count on the professionals at Thomas Buckborough and Associates. For 30 years, the team at TB&A has provided superior remodeling services to homeowners throughout the greater Boston area. As a premier design-build firm, we work hard to deliver creative solutions, outstanding workmanship, and comprehensive services to each of our clients. Book an appointment to get started on your remodeling project.