Taking on your first DIY kitchen remodel is intimidating.
Questions like: 'Do I have enough space?' 'Do I have the right tools?' 'Can I really accomplish this on my own?' can persuade you to stop before you even start.
We're here to say we've been there before and want to help.
Every kitchen remodel has its unique challenges. Your project will probably take longer and cost more than you expected – but if you are patient with yourself, you could end up with a stellar new kitchen that will last you years into the future.
So whether you're talking yourself out of doing your kitchen remodel or just about to get started, here's a few things to consider as you get started.
9 Things To Include In Your DIY Kitchen Remodel
Now before you start tearing down cabinets, make sure you have a solid plan. With so many things to consider, here are a few of the most important things to keep in mind when planning your DIY kitchen remodel.
1. Increase Your Kitchen's Square Footage
Your kitchen may have been the perfect size when you purchased it, but for whatever reason, that isn't the case anymore. Adding square footage to the floorplan of your kitchen can immediately increase its functionality. This may require you to knock out a non-load-bearing wall, but adding space will make a massive difference for your kitchen remodel. Here are a few ways you can 'make space' for your kitchen remodel:
Knock out a non-load-bearing wall.

Build the kitchen into an adjacent room if you are doing a larger remodel.

Take out any over-hanging cabinets to create the feeling of added space.

Move appliances around (if possible) to find a more efficient layout.
We understand that not every option listed above will work for you – so get creative. Increasing your kitchen's usable square footage will make the most significant difference for your remodel.
2. Add Storage To Make Your Kitchen More Functional
Have you ever heard someone complain about having too much storage in their home? Of course not! That being said, there's a pretty good chance your kitchen will enormously benefit from added storage. Kitchen storage options aren't just limited to cabinetry (although cabinets will make a big difference), so if you don't have space for additional cabinets, you should consider the following storage options:
Add a pantry or extra kitchen closet

Consider modifying your current cabinets to increase their storage

Get creative with countertop storage options

Find ways to hang or display kitchen items that would typically take up cabinet space

Add a kitchen island complete with doors and extra counter space.
We know you didn't major in creative storage space, so don't worry if this is a difficult step for you. Take a look on social media for kitchen storage ideas, and ask your friends who've already completed their DIY kitchen remodels.
3. Consider An Open Floor Plan For Your Kitchen
You love your kitchen, but the choppy floor plan and cramped cooking area are enough to drive you mad.
If you can relate to this, we strongly consider opening your kitchen's floor plan. Opening the floor plan is similar to adding square footage, but it's a bit easier. You could knock out walls and take more extreme measures to add square footage, but that isn't entirely necessary. Sometimes kitchen floor plans are bad because the person who designed them didn't think about making it functional. Here are some things to think about when improving your kitchens floor plan:
Where do you currently feel the most cramped? Start with adding space there.

What parts of your kitchen do you use the least? Could you remove it or make it more functional?

Does your kitchen flow well? How could you rearrange your kitchen to increase the floor space?
Admittedly, opening the floor plan frequently results in adding square footage to your kitchen. However, just because you are adding space doesn't mean you are adding functional space. Always keep in mind the ideal flow for your kitchen.
4. Add Natural Light; You Won't Regret It
The last thing you want is a kitchen that feels dark, dingy, and closed off from the outside world. Indoor lighting options can improve this, but nothing beats natural light from the great outdoors. Incorporating windows, solar tubes, and skylights are excellent ways to let more natural light into your kitchen. While natural light is a significant aesthetic improvement, it has numerous other positive effects on you and those in your kitchen:
Improve the overall health and mood of the people in your kitchen

Decrease your utility bill by reducing the need for electric lights

Showcase the interior beauty of your home in the best way possible
No matter how you choose to add natural light, it will enhance the look, feel, and functionality of your kitchen.
5. Choose Practical And Aesthetic Kitchen Appliances
It's important to remember that your kitchen appliances serve both a practical and an aesthetic role.
Old, dingy appliances instantly date your kitchen, and they probably don't work as well as they once did. For these reasons, updated appliances are pretty much a must-have for any kitchen remodel. Energy-efficient and stainless steel appliances are attractive to prospective buyers, potentially giving an added boost to your home value. If you're going for a high-end look, consider custom-paneled appliances to match your cabinetry.
6. Invest In Quality Kitchen Countertops
Laminate countertops wear out, become grimy, and inevitably bring down the look and feel of your kitchen over time.
While upgrading countertops can be expensive, hardened surfaces will last a lot longer. Consider a stone surface like granite, quartz, or marble. Updating your countertops to gorgeous, durable surfaces like these can add both market value and functionality to your kitchen. If you need help selecting a surface, get in touch will a local builder. They'll be able to help you choose a surface that fits your needs and your home, as well as configure your kitchen's layout to maximize the amount of counter space you have to work with.
7. Make The Most Out Of Your Kitchen Cabinets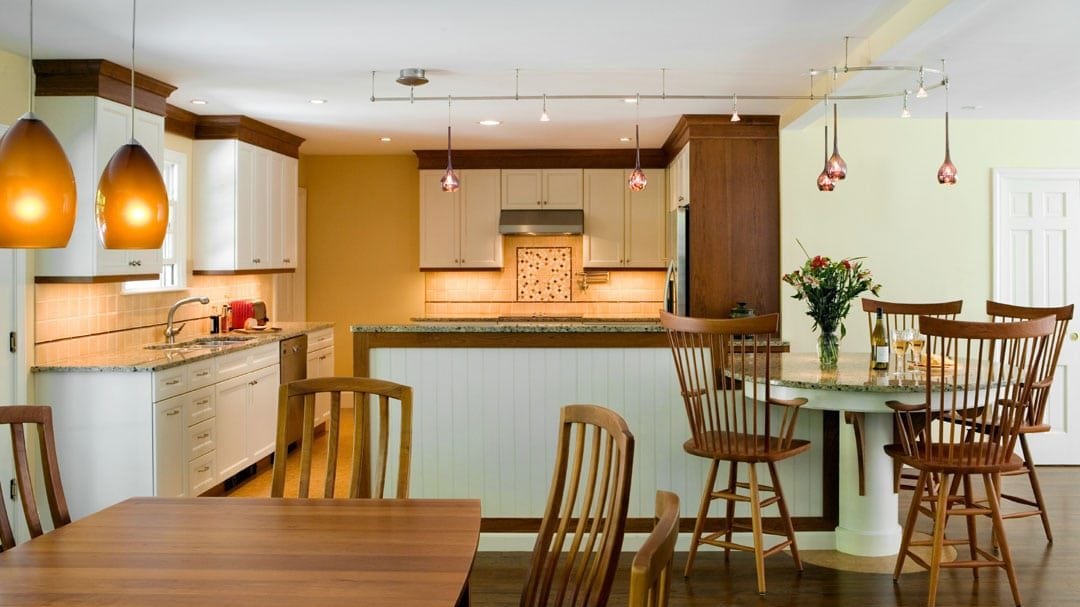 While elegantly designed kitchen cabinets may be tempting, keep in mind the work associated with upkeep.
Scalloped edges and ornate trim tend to collect dust and weigh down your kitchen's design. Go for clean lines that can go well with any style. If you're entirely replacing your cabinets, look for creative storage solutions like corner units or pull-out drawers. A well-designed kitchen will be easy to use and pleasing to look at. Work with your design team to create a layout that maximizes your cabinet space (because there's no such thing as too much storage).
8. Add Functional Lighting To Brighten Your Kitchen.
While natural light is crucial to the aesthetic of your kitchen, building in functional light options is a great way to get the most out of your kitchen. Inevitably there will be dark spots where you'll need additional light. Also, having dimmers can make a big difference for after-dark mood setting. Here are some lighting options to consider in your kitchen remodel:
Ambient Lighting:

This is the main source of light in a room. Create ambient light with a single main light fixture or series of fixtures like recessed lights.

Accent Lighting:

 A fun way to add color or texture to your room. Try adding pendant lights or wall sconces to create dimension in your kitchen's design.

Functional Lighting:

Task-oriented lighting is especially important in the kitchen. Try under-cabinet lights to make prep time a breeze!
9.
Remodel Your Kitchen For The Long-Haul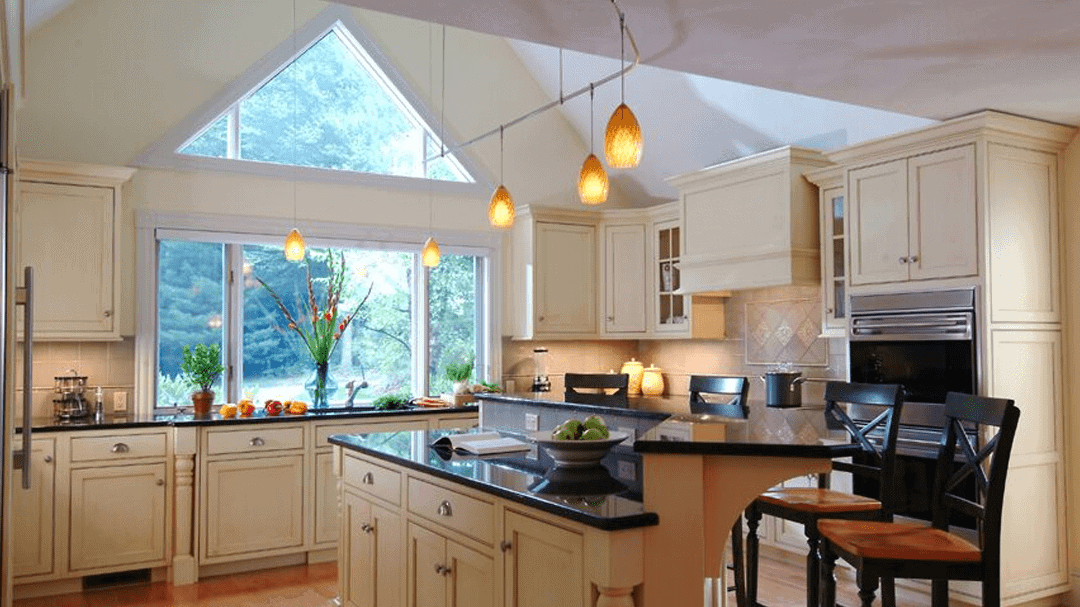 Your current home may be one that you want to spend the rest of your life in. A kitchen remodeling project can incorporate the changes necessary for functional living in the days, years, and decades ahead. This is the perfect opportunity to step your kitchen up to where you'll want it for years to come. 
As you start your kitchen remodel, keep in mind how long you plan to be at your home. It may be easier to get the hard work done now.
The Best Way to Tackle a DIY Kitchen Remodel
Whether you're doing the remodel yourself, or hiring a contractor, a kitchen remodel is one of the most intensive projects you can pick up and you're going to make sure everything is done right. That's why we recommend homeowners to take the extra time to plan and vett any contractors to ensure your home is in the right hands.
If you're starting to feel like you're in over your head, that's completely okay! There's no shame in needing a little help. 
If you're ready to improve the functionality of your Boston-area home, contact Thomas Buckborough and Associates. The team at TBA can work with you to develop a comprehensive remodeling plan that will improve all areas of your kitchen's function. Regardless of your needs, our experts have a remodeling solution. Schedule your consultation today!