Have you been wondering how long it will take to remodel your home?
Maybe you want to start on a remodel project, but you're nervous about the timeline and how long you might have to work around the construction.
If that's the case with you, then this post will help you as we are answering the common question "how long does it take to remodel a house?". The timeline will obviously vary from project to project depending on how much of the home will be remodeled, but that doesn't mean that there aren't some similarities throughout the industry.
Different Home Remodel Types
It's easy to put all the different remodeling projects into one category. Still, the best way to ensure that you're able to accurately estimate the time it will take to remodel your home. Here are some of the different types of remodeling projects and their varying degrees of work.
Cosmetic Home Remodel Project
Cosmetic remodel projects are the simplest that you'll undergo. These projects are so simple that, in many cases, you may choose to do most of the work on your own. But we understand that not every homeowner feels comfortable with DIY projects, so there's no shame in calling in the professionals.
Some things that might get work during a cosmetic remodel project include:
Interior or exterior paint.
New appliances.
New countertops.
New flooring.
Each of these projects will offer a different skill level to complete and a different amount of time. But, for most cosmetic projects, you can expect the project to last anywhere from a single weekend to 3 months. The projects that might take slightly longer will likely be a combination of a few of the different ideas laid out above.
Functional Home Remodel Project (Medium Difficulty)
A medium difficulty project or a functional remodel project will add a lot to your house. These projects will likely be thoroughly planned and could last anywhere from 2-3 months or 6 months and more. We like to call these types of projects functional remodels because they tend to add or enhance a function that your home already has. Here's an example of some different projects that would fall under this scope:
Full kitchen remodels
Master bathroom remodels
Adding a new fireplace to a room
Adding a new garage
Finishing an existing basement
It's important to note these projects might seem really simple, but there's a lot that goes into each one of them. For instance, if you're undergoing a kitchen remodel, you're likely to receive new countertops and new flooring in your kitchen. Not to mention that larger projects such as the one we're describing will require a demo of the old kitchen.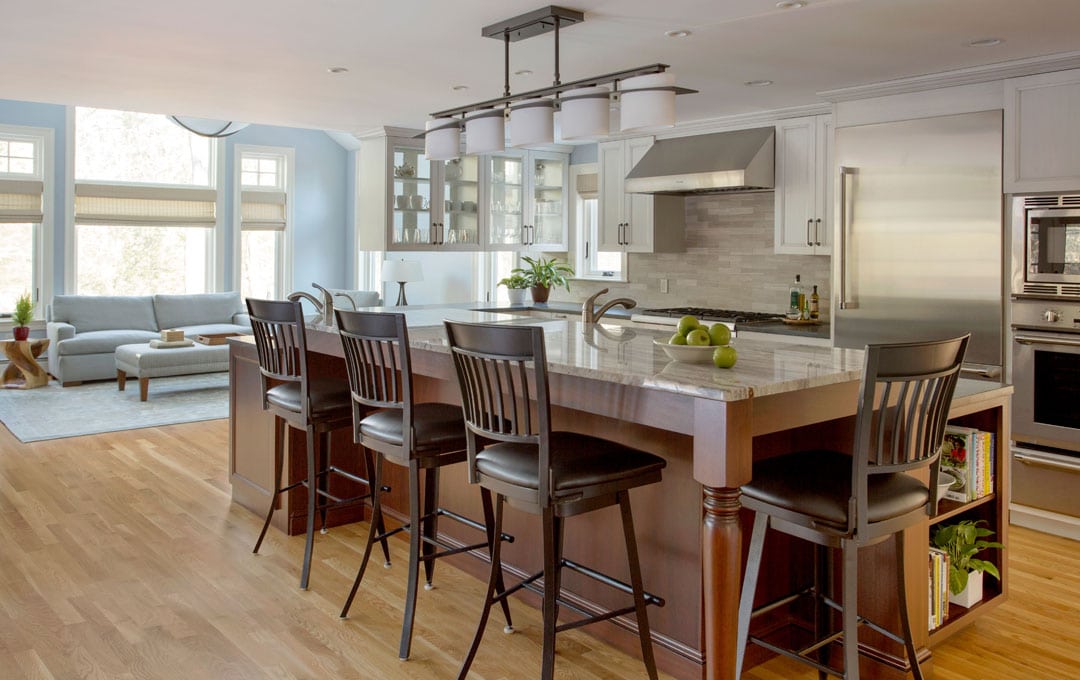 Major Home Remodel Project (Largest Type Project)
Major remodeling projects are projects that can be large enough that make your home unlivable for a season. These large projects almost always include adding large amounts of square footage. If the project isn't adding square footage, it likely has to do with major repairs to your home's foundation. Here are some of the different projects that would fall under this type:
Foundation repair
House lifting
Structural repair
Major addition
So How Long Does it Take to Remodel A House?
Now that you have a better idea of the general size of your home remodeling project, we can dive into average project timelines we have seen at TBA.
Our Average Project Timeline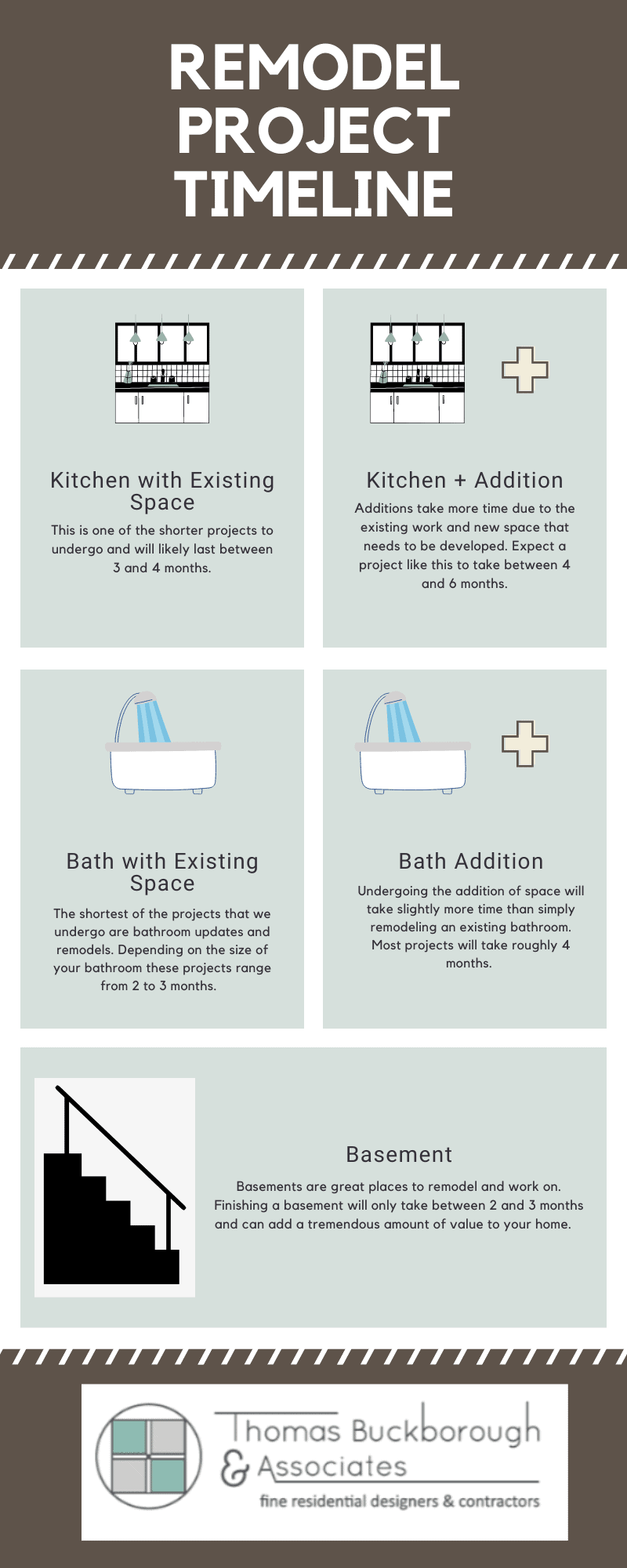 At Thomas Buckborough & Associates, we specialize in several different types of projects, but we pride ourselves in being some of the best midsized remodel project contractors in the country. We wanted to help our customers get a good idea of how long some of the projects we commonly perform take. Here are a few different examples based on an average of how long most projects take.
Kitchen with an existing space: 3-4 months
Kitchen addition: 5-6 months
Bath: 2-3 months / addition 4 months
Basement: 2-3 Months
Even with these estimates to go off, it's difficult to know how long it takes to remodel a house. Considering the dozens of variables at play, a given project can take anywhere from a few months to over half a year. The best way to get a true estimate for the time frame that might be needed for future projects is to contact your local contractor talk to them about the scope of work you're looking to have done.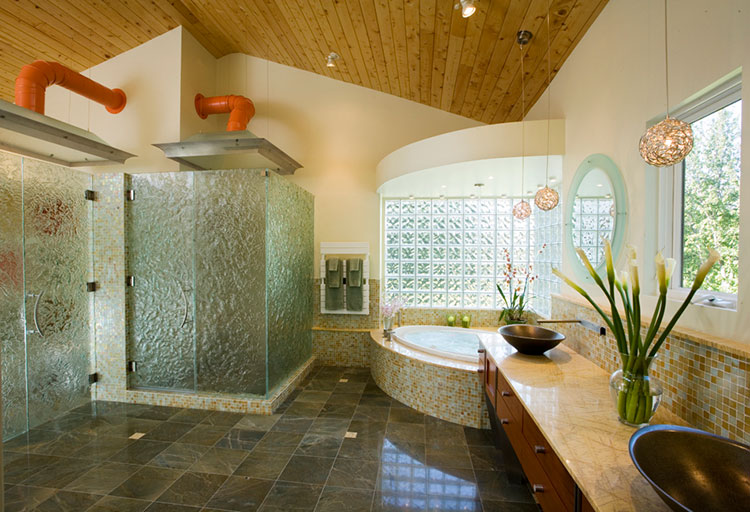 How to Get the Most Out of Your Home Remodel
When you are going through a home remodel, project duration is just one factor. If you are looking to get the most out of your home, you are going to want to find a quality contractor who will not only get the project done in a timely manner, but also complete the project to the same level of perfection they would want in their own home. At TB&A, we treat each and every project as if it were our own home. This owners mindset goes for budgeting as well. At the end of the day, we are here as a resource to ensure you are getting the most out of your home remodel!
If you're near Acton, Massachusetts, and are thinking about remodeling your home, we would love to chat with you about the dreams and aspirations you have for your home. Reach out to us today to learn more about what TB&A can do for you and your home!