What is the room in your house that you use more than any other? If you answered your kitchen, you are in good company! After all, we all need to eat, and at least three times a day we're headed to our kitchen.
Many homeowners find that their kitchens are used for many things throughout the day, including:
Eating 🍽️
Cooking 🍳
Family gathering 👨‍👩‍👧‍👦
Entertaining 🍷
Home office 💻
Regardless of how you use your kitchen, you likely want it to be a cozy, beautiful space that you enjoy spending time in. However, if your kitchen is outdated or poorly designed, it might be making you feel more frustrated than relaxed.
If it sounds familiar, you are likely in need of a kitchen remodel! We understand that even saying those words out loud may make you feel overwhelmed. But don't panic! We're here to help you break down everything you need to know about a kitchen remodel.
Why Remodel Your Kitchen?
We already know your first question. "Why should I remodel my kitchen?"
We hear you. After all, when you live with a space for a long time, you learn to work around its many quirks and find a way to make it work for you. You are comfortable in it. You know it.
The truth is, though, you might not even know what you are missing! Here are some of the top reasons to remodel your kitchen.
Resale Value 💵 – If remodeling your kitchen for you isn't appealing, you may want to consider the resale value! A new kitchen is hugely appealing to future buyers and could increase the value of your home significantly.
Functionality 👩‍🍳 – Outdated kitchens sometimes aren't particularly functional for a modern family. With different appliances, electrical outputs, and storage needs than other generations, you might find that a kitchen renovation helps you use your space more efficiently.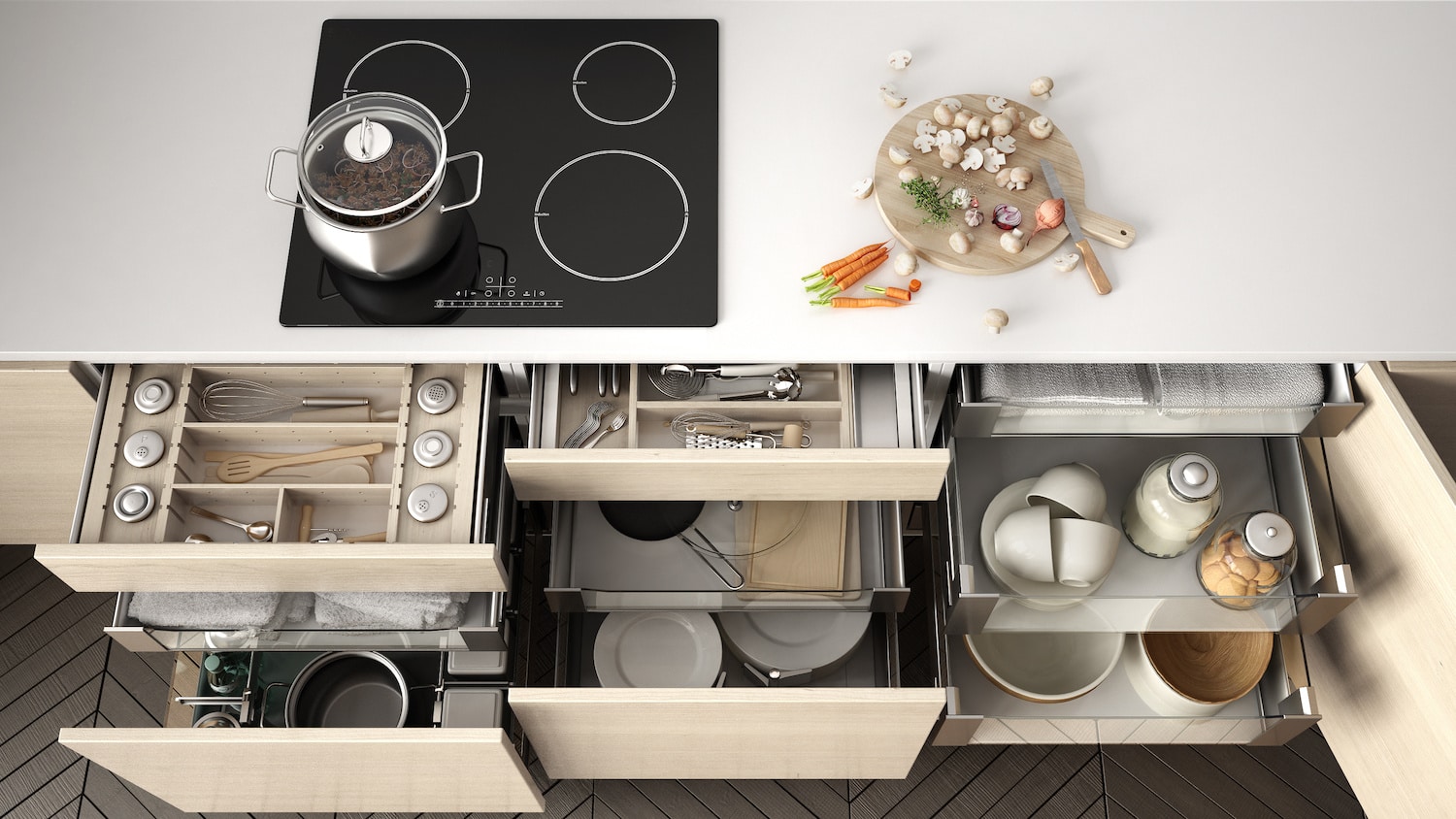 Aesthetics ✨ – We've all been guilty of endlessly scrolling Pinterest, looking for inspiration for our dream home. Why wait to make your dream home a reality? Updating your kitchen to match your personal taste can help create a space that you want to spend time in.
Energy Efficiency 💡 – If you have older appliances, such as a refrigerator, they may not be meeting current energy standards. Remodeling and adding new appliances can help you save money on your energy bills and also be more eco-friendly.
Extra Storage 📦 – Are you always struggling to find places to store your pots, pans, and other kitchen gadgets? Maybe you've always wished for a bigger pantry area. Whatever your needs are, a remodel can help you get the storage space you've always wanted.
How Much Does a Kitchen Remodel Cost?
One of the biggest reasons homeowners put off any sort of major home remodel is the cost. And it is true that a full remodel can be expensive. So, how much should you actually budget for?
The answer is a little complicated. All kitchen remodels are different because all kitchens are different! Your remodel costs will change depending on the materials you choose, the area you live in, and the size of your kitchen.
Still, the average kitchen remodel costs $15,000-$50,000. As you are researching contractors, be sure to check and see if they offer free quotes. This can help you create a budget that you feel comfortable with and plan accordingly.
What Is The ROI of a Kitchen Remodel?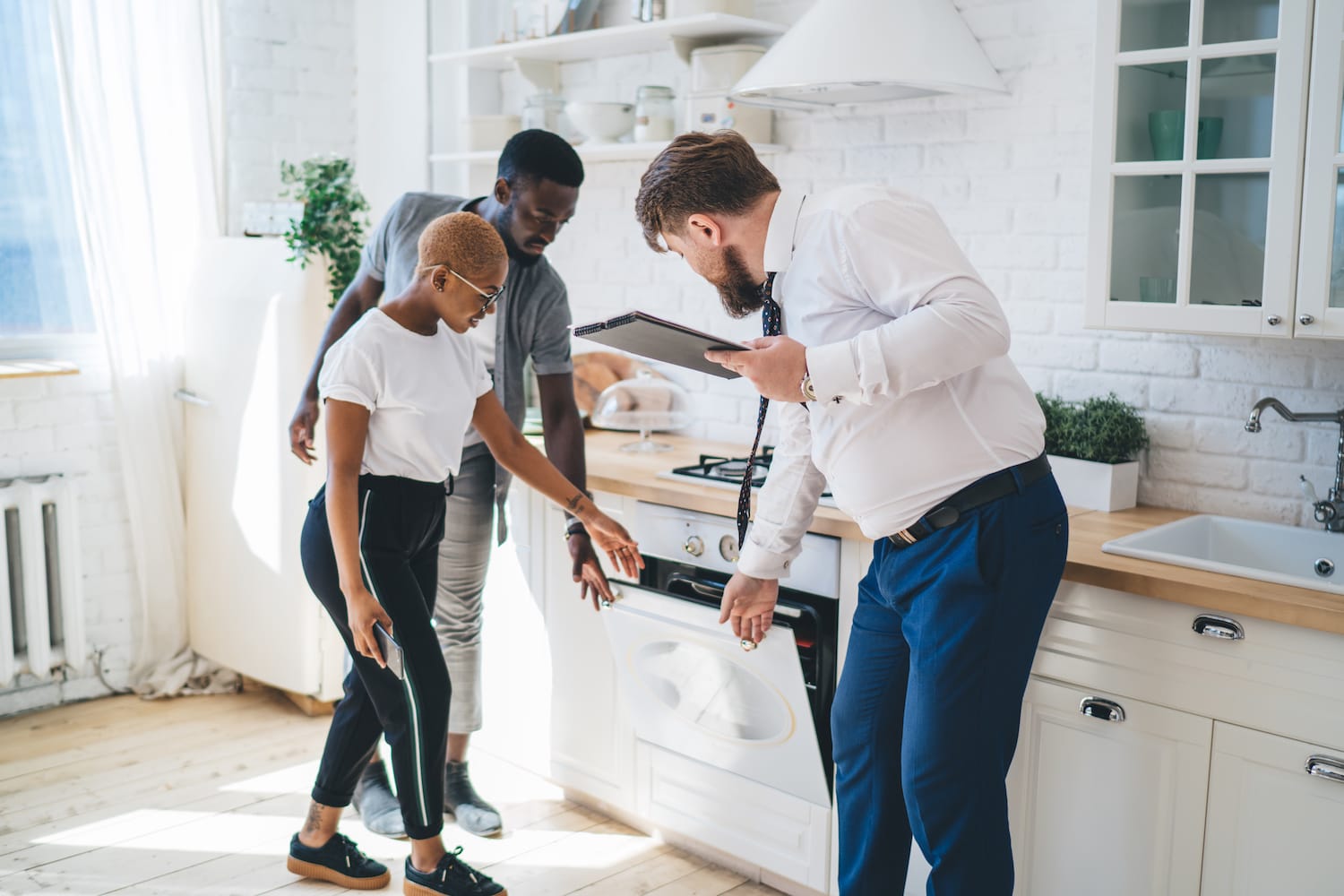 We mentioned the potential increased resale value of a home with a remodeled kitchen. But what exactly is the ROI or return on investment of a kitchen remodel?
The good news is that the kitchen is one of the most important rooms to future buyers. This means that your ROI? It's going to be fairly high.
Studies have shown that the average ROI of a major remodel is about 54%! For smaller kitchen remodels, you can expect to get about an 80% return.
Can I DIY My Kitchen Remodel?
For many homeowners, their primary goal when it comes to a kitchen remodel is to save money. The obvious solution is to DIY as many of your kitchen improvement projects as possible.
Is it possible to DIY your kitchen reno, even if you don't work in construction or design? The answer is yes! There are all sorts of projects that you can take on by yourself and save some money.
That being said, DIY skills are not the same as professional design. If you want to make sure that things are installed correctly and in the most effective layout, you may want to consider reaching out to a professional remodeling company.
15 Kitchen Remodel Ideas
Looking for ideas on how to create a kitchen remodel that will be functional, gorgeous, and stand the test of time? Here are some of our favorite design ideas to create a kitchen that pops.
1) New Flooring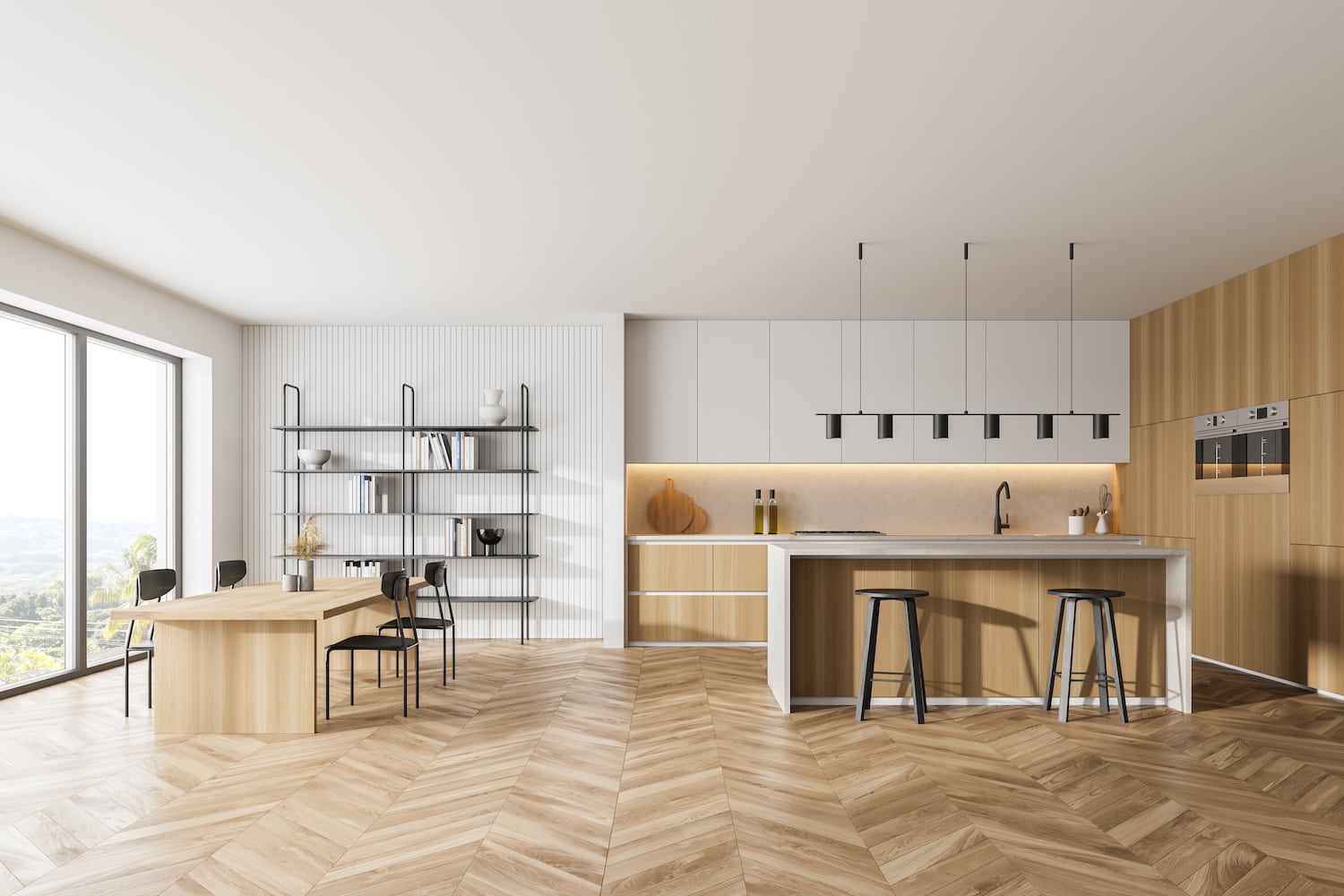 One of the best ways to help a kitchen space feel fresh and modern is to update it with new flooring. These days, there are more flooring options than ever!
One of our favorite flooring solutions is to invest in vinyl wood planks. They are more durable than traditional hardwoods, and eliminate stress over water stains and wear. Despite that, you can still have the classic look of wood.
Other great options include refinishing your existing wood floors or adding tile. Looking for a budget option? Rolled vinyl flooring has come a long way over the past few decades. Whatever your style is, there is a design to suit you!
2) Farmhouse Sink
One of the biggest trends of the past few years has been farmhouse design. And while farmhouse style is slowly making its way out of fashion, the appeal of a farmhouse sink remains.
It's not hard to see why! Not only is this a beautiful option, but it is also a totally functional style of sink. It provides you with a bit more space than the standard kitchen sink, which is typically divided into two sections. The extra depth can also be really helpful when it comes to doing dishes.
3) Paint Your Refrigerator
Looking for a budget way to make the most of your old appliances? Why not try painting your refrigerator?
A painted fridge is a strong style statement that can create a gorgeous focal point. While you can stick to standard colors, we love using this opportunity to make a bold choice that can add a lot of style to a space.
4) Built In Seating
Dealing with a smaller kitchen and no dining room? When the square footage is small, every inch counts. And a clunky kitchen table can take up more space than it's worth.
Instead, consider creating a built-in seating unit. Adding comfy seating can help create a cozy vibe in your kitchen and encourage your whole family to gather together. Built-in seating also creates immediate style and can also provide extra storage if you choose to create things such as bench storage!
5) Paint Old Cabinets
Are your cabinets perfectly serviceable but a little outdated? You don't need to splurge on new cabinets. Instead, you can create a fresh feel by painting the cabinets.
When painting your cabinets, it is a good idea to invest in high-quality, self-leveling paint that will create a beautiful finish. While you certainly can hand paint them, you will get the most professional look by using a paint sprayer.
6) Open Shelving
One of the most popular design choices over the past few years is to create open shelving. Open shelving is great because it creates functional storage space that can also be used as wall art.
Are you proud of your artisan pottery? Maybe you collect antique china or plants. You can use your open shelf to display your prettiest pieces and add interest to your kitchen while freeing up cabinet space to store your other kitchen tools.
7) Kitchen Island
A kitchen island is a great addition to a spacious kitchen. It provides you with hand workspace, extra storage, and a casual seating area. There are tons of different kitchen island styles for any taste, but we prefer one that has cabinets underneath.
This can be a fun way to mix and match your countertops as well. Have granite countertops everywhere else? A butcher block kitchen island can mix things up, and provide you with different surfaces to work on. Plus, it saves you time cleaning all of your cutting boards!
If you already have a kitchen island, you can still switch things up. We love the look of a painted base that stands out from the rest of your cabinetry and adds color to the room.
8) Consider Your Countertops
Countertops are a big selling point for future buyers, and it's no wonder! Not only do quality countertops affect the overall look of a room, but the material that you choose can last for years or need replacement.
Over the years, granite and quartz countertops have become quite popular. Still, proficient bakers tend to gravitate towards marble countertops, as they are good for kneading and working dough.
Not ready to invest in real stone countertops? There are still some great options for you! Synthetic countertops can be less visually appealing but will last you for many years and come in a variety of colors. Looking to go more natural? Butcher block has been an increasingly popular choice for countertops. A wood countertop will be slightly more high maintenance, though, so be sure you are willing to take that on before installation.
9) New Lighting
Lighting is one of the most powerful tools in a homeowner's arsenal. It is also one of the most underrated.
When it comes to freshening up your space, you can't go wrong with adding new light fixtures! We are especially fond of using pendant lighting to help draw the eye upward. If you don't have space, recessed lighting can also be an understated and modern option.
10) Tile Backsplash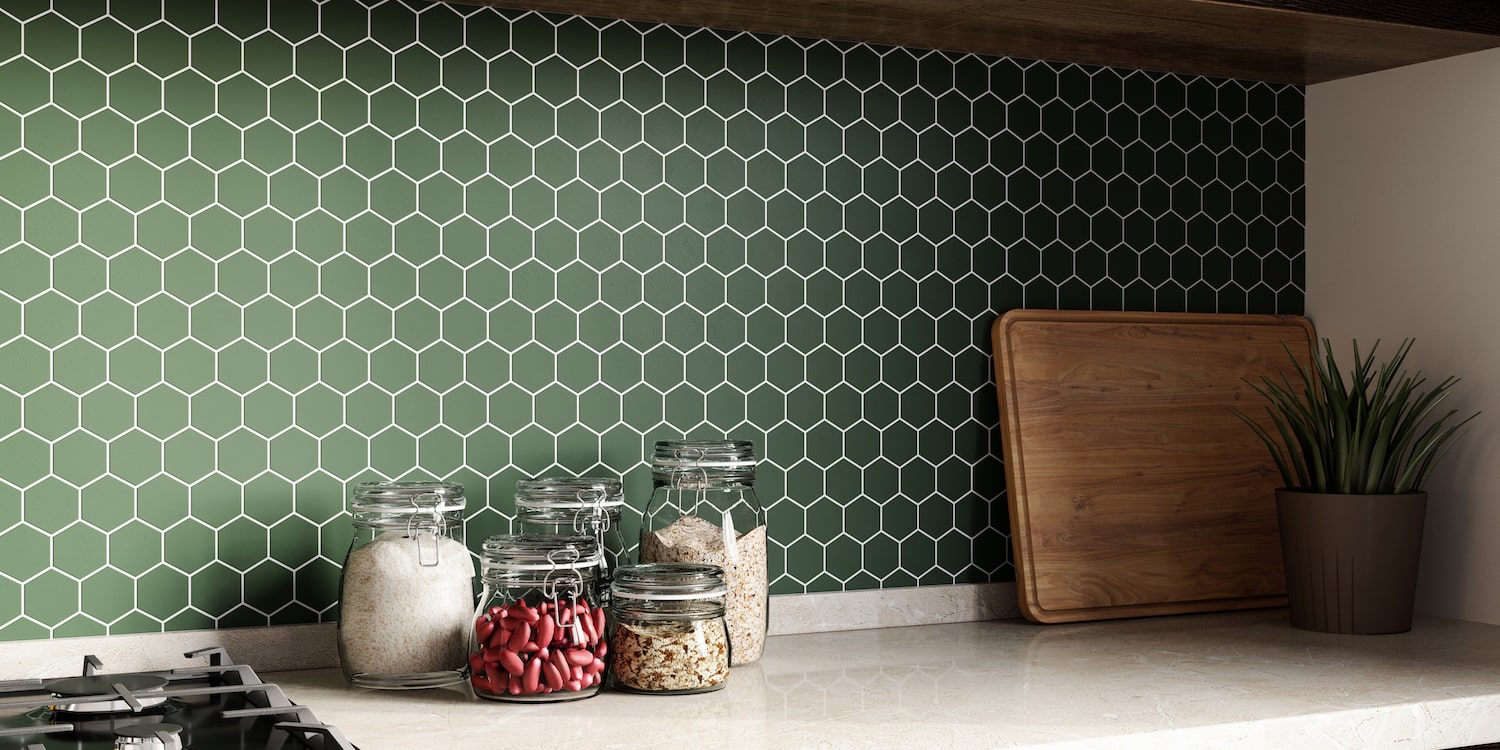 Adding a tile backsplash is one of the easiest ways to elevate your kitchen and make it look professionally designed. It also has many functional benefits. The biggest one? Tile is much easier to clean than painted walls.
These days, the most popular tile backsplash for homeowners tends to be subway tile. This is a classic and affordable look that is both modern and homey. That being said, there are thousands of tile options on the market, so be sure to look around and consider your options. These days, we love the look of square, off-set tiles to keep the clean look of subway tile without feeling overdone.
Tile backsplashes are also great ways to make a statement. We love when homeowners are willing to play with pattern and color. Above the stove is an excellent place to create a stand-out tile backsplash that will leave your kitchen looking chicer than ever.
11) Add New Windows
Windows are important when it comes to filling a space with natural light and also providing insulation. If you have windows in your kitchen, you might not think about them all that often. However, you'd be surprised what a big difference new windows can make for your entire kitchen.
New windows let in more light and may help you lower your heating and cooling bills by being more energy efficient than older models. Don't feel like you need to stick to a standard single or double-hung window, either! The kitchen is a fun place to add a statement window like a skylight or an arched window.
12) Use Wallspace
The walls are one of the most underutilized spaces in a home. In a space like a kitchen, where storage is king, why not use your walls?
Make the most of your space by creating wall storage! This could include hooks to hang and display your favorite pans, spice racks, or even a place to hang cooking tools like ladles and tongs. This will help free up space in your cabinets and drawers and allow you to show off your favorite cooking tools. We also adore how easy it is to access all the tools you need when they are hung on the wall.
13) Frame Your Fridge
A brand new refrigerator is nice, but the truth is that new appliances can stick out and feel out of place in even the most well-designed kitchen. You can help your fridge blend in by framing it in wood that matches your cabinetry.
Not only will this give your kitchen a more seamless look, but it also has the potential to give you extra storage space. You can have custom cabinetry added above the fridge to give you upper cabinets that will save you space.
14) Create a Focal Point
In design, it is always a good rule of thumb to create a clear focal point. Maybe for you, that is your stove or eating area. This can be done through adding an accent wall, statement tile, or maybe just a really fabulous piece of art. Take some time to decide where you want the eye to be drawn to.
15) Update Cabinet Hardware
Want a simple fix with a big impact? Updating your cabinet hardware can help modernize your space in a very affordable way.
Consult with A Remodeler
Need some help on your kitchen remodel journey? Our team at Thomas Buckborough and Associates is here to help! We have over three decades of design and remodeling experience. Contact us today to experience the Thomas Buckborough difference!